Location: JP & Lorna's
Local time: Sunday, 5:20pm
Music: Island 92FM

Weeee! I have a new job. I'm currently in training to get certified as a PADI Rescue Diver (which the company is paying for) but I'm already taking small groups of people on trips out in Cay Bay to see the aquatic life and a few shipwrecks (including the Lady Mary - JP & Lorna's old floating restaurant that was killed in Hurricane Lewis in '95). Check out snuba.com. This is what I'm doing. There's anywhere from 90 to 150 people on the boat we go out on (we pick them up from the cruise ships in Philipsburg) for a snorkelling trip, and us Snuba dudes take up to 16 of them on a Snuba trip ('snuba' being a cross between scuba and snorkelling - ie. an air tank floats on a small raft on the surface, the punters wear only a mask, fins and a breathing regulator attached to the tank via a 20ft tube, so they're free to dive to the bottom and stay there) (have I already gone through this before methinks?). I work with a bunch of Jamaicans and Dominicans, and we all have a good laugh. After the trip we take the punters on a cruise around to Simpson Bay before heading home again, so I can even point out my house on the beach to them. The rum-punch flows freely, and they play tacky Caribbean reggae music and the Jamaicans don rasta wigs and pull women out of the crowd and dance with them (so last week I did the same - minus the wig! - and apparently earnt a lot of respect from the guys, for being the first white guy to do so) ;o)

I've also moved into my own studio apartment for the next month. The previous occupant has gone to Europe, so I'm looking after the place rent-free. Air con, cable TV and a cat. And the biggest damn bed I've ever seen in my life. Sorted. And then when she gets back, I move back into the house I've been in for the last few weeks, and they leave to go to the States for a month, so again I have a place to myself which is groovy.

Okay, I'm gonna go grab some dinner then head to Sunset Bar (Sunday is it's biggest night). (apparently it's the closest bar in the world to an airport runway) (Dad - this is the bar you can see in the background in that powerpoint slideshow you sent me, on the St Maarten airport).

Oh, and here's a few more photos...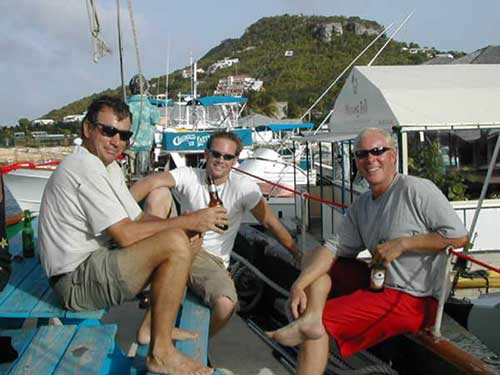 Aussie John, me, and Dutch Martijn, taken on the Lady C last Sunday after the lagoon cruise.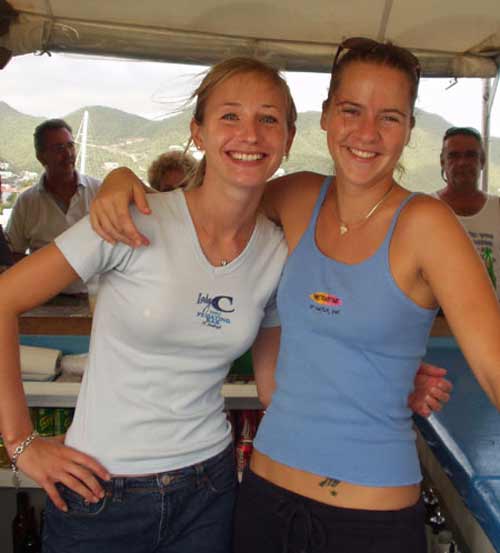 A couple of good mates who also work at the Lady C. (American) Maureen on the left, and (French) Elodie on the right.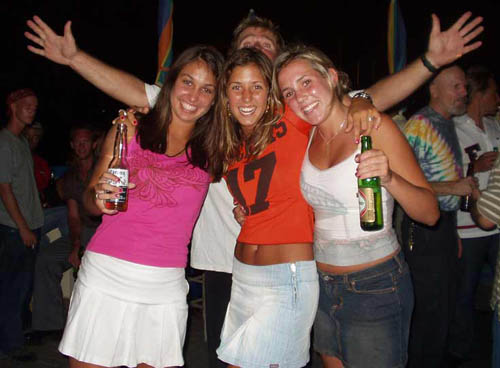 Some girls I met a few times. I'm the faint one sitting on the left at the back.





PS. I have a new/another address for my diary site... http://deviant.cyberdeath.org (just changed the 'd3viant' to 'deviant'. They'll both work, so it doesn't matter what you use - it's just gonna be easier for me to tell people about it.


< previous&nbsp&nbsp&nbsp&nbsp&nbspnext >