Location: Dubrovnik, Croatia
Local time: Monday, 12:30am
Music:

Part I - Italy

Well, what a trip so far. My head is swirling with images of renaissance art, incredible churches, ancient ruins, fashion victims (why do they all seem to wear black?), and pizza by the slice. And my stomach's swirling with too much pizza, gelato (oh but it's sooo good!) and Italian wine.

Rome. Thousands of years of history jostling for space with pizzerias and chic boutiques. The hostel turned out to be quite cool (free internet, breakfast, dinner and wine) and nicely central. I met up with an Italian friend I had known in France, and ended up teaching her and her friends the haka (famous Maori war dance performed by the All Blacks before an International rugby game). What a laugh. (Thanks to my brother for teaching it to me only a few months ago back in France).

As far as cities go, I felt that, unlike Paris or St. Petersburg, Rome isn't 'pretty' or grandiose - there's few wide, tree-lined boulevards packed with elegant and well-kept baroque or gothic buidlings. To me it seemed like a fairly typical European city, but every 15 mins you round a corner and happen upon a piece of 1500-year-old history. Amazing.

Florence was a pretty city, but after Rome I'd completely had my fill of Renaissance art. Since by a stroke of good timing all museums were free during the days I was visiting (as was the Vatican City in Rome), I did manage to see Michelangelo's David and some other big-name art, but it was generally just a blur of masterpieces! The Florence wine tasting event outside the palace was a fun way to spend an afternoon sampling Tuscan wines and pretending to be able to tell them apart. Oh how cultured I am.

Venice - now that city is something else. Sure, Amsterdam and even Copenhagen have their canals, but not like this! Not thousand-year-old manor houses lining a stretch of (admittedly polluted) water, patrolled by water taxis, police boats, drinks boats, cement boats, postal boats.... Such a unique place, and so romantic given the right company (which I was unfortunately lacking). I think this sinking city (which is predicted to sink a further 50cm by 2050) ranks right up there in my top-five favourite cities, along with Barcelona, Paris, Vilnius and St. Petersburg.

Strangely enough, I bumped into a good friend of mine from NZ (we went to uni together, and I recently crashed on his couch in Wellington during my visit home in April). Of all the tiny tourist-packed alleyways in all the cities of the world... how random! We spent the rest of the afternoon drinking wine in the sun (there's that wine again) whilst watching Gondola races (seriously!) and being photographed by tourists (possibly due to the large number of empty bottles scattered around us - I guess we looked like well-dressed bums).

The coffee in Italy is great - any local bar/cafe does a fantastic cappacino, which is never more than a euro if you have it at the bar or a standing-only table. The French should take note - I've found that they tend to serve up something resembling murky dishwater, a l'Americain!

Italy's been fun, and I'm glad I finally managed to see the major sights. Now, as I write this, I'm sitting in a cafe in Trieste (in the far north-east) with a panini and a coffee, admiring the ruins of a Roman amphitheatre across the street, the handling skills of the scooter riders negotiating the hectic traffic, the smile of my typically-Italian waitress, and await my bus to Croatia. Aah, la dolce vita!*


* 'The sweet life'. Shortly afterwards it was soured only a little when the aforementioned waitress presented me the over-inflated bill for 8 euros. With a smile of course.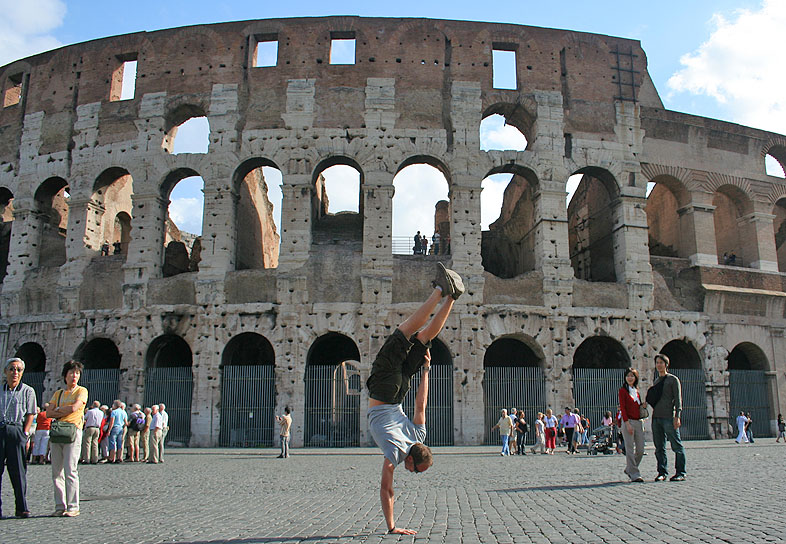 The obligatory one-hander, in Rome, in front of the Colosseum (built 72AD).





The famous baroque Trevi fountain - throwing a coin into it over your shoulder is supposed to ensure your eventual return to Rome.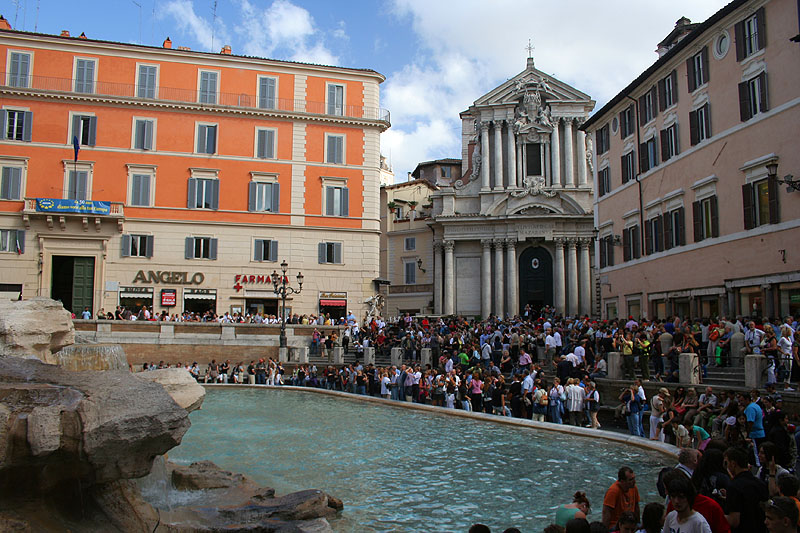 And the crowd gathered around the fountain. Makes me glad that I wasn't visiting Italy during the peak summer season.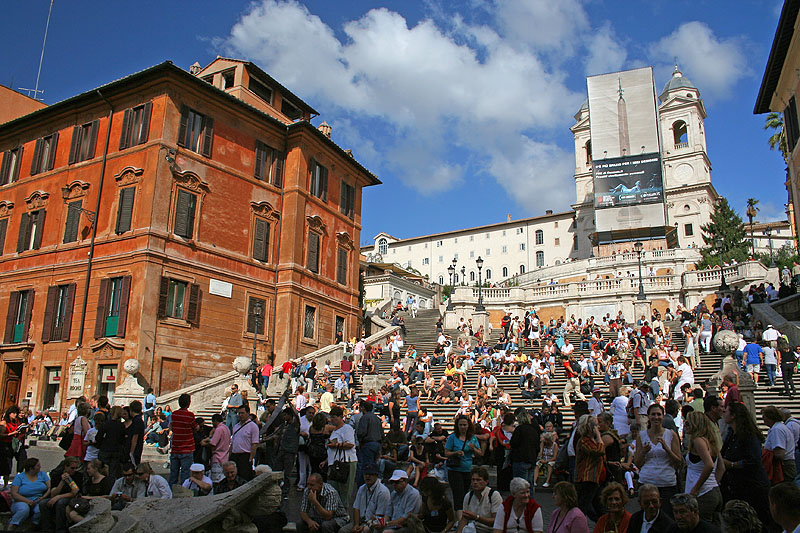 The Spanish Steps, a popular spot to meet and just chill in the sun.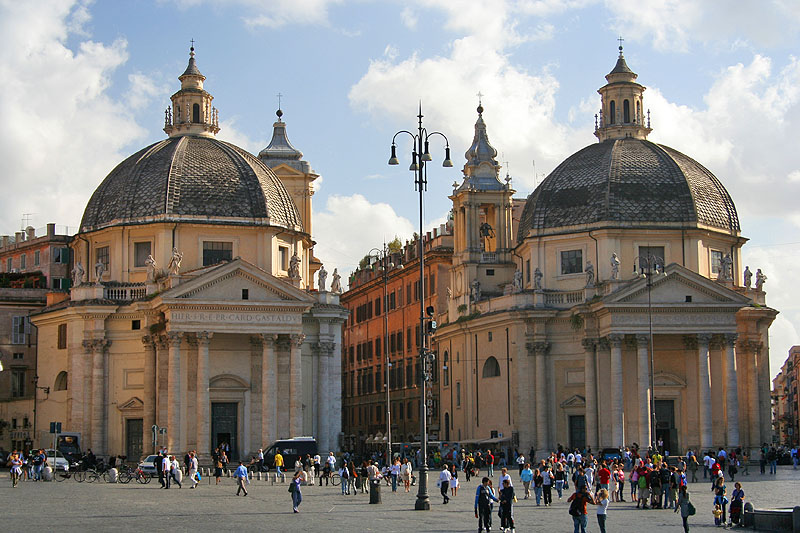 The 17th century twin churches Santa Maria dei Miracoli (on the left) and Santa Maria di Montesanto.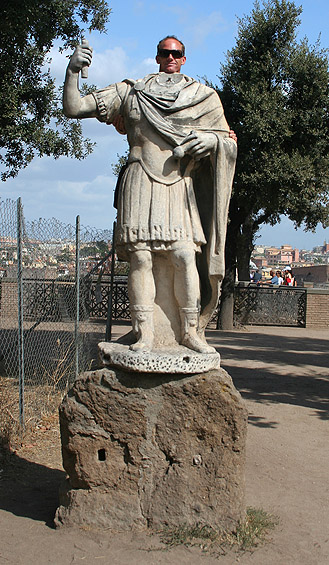 A headless Roman soldier. With the head of a backpacker. Poor fellow.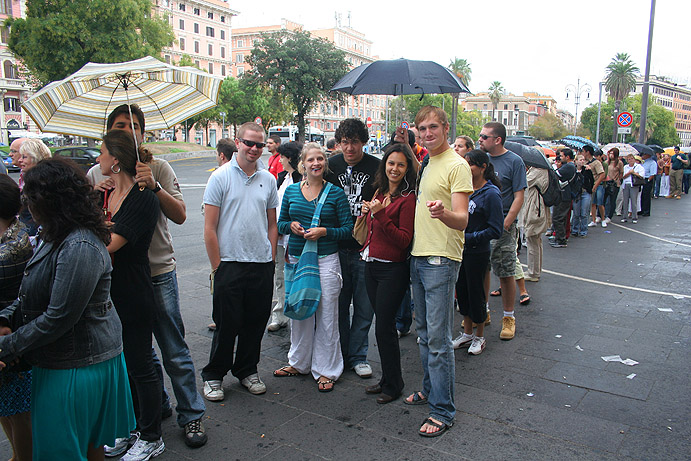 The group of people from the hostel I visited the Vatican City with. We went on a free day,
and the line to get in must have been a kilometre long. Thank God for gelato.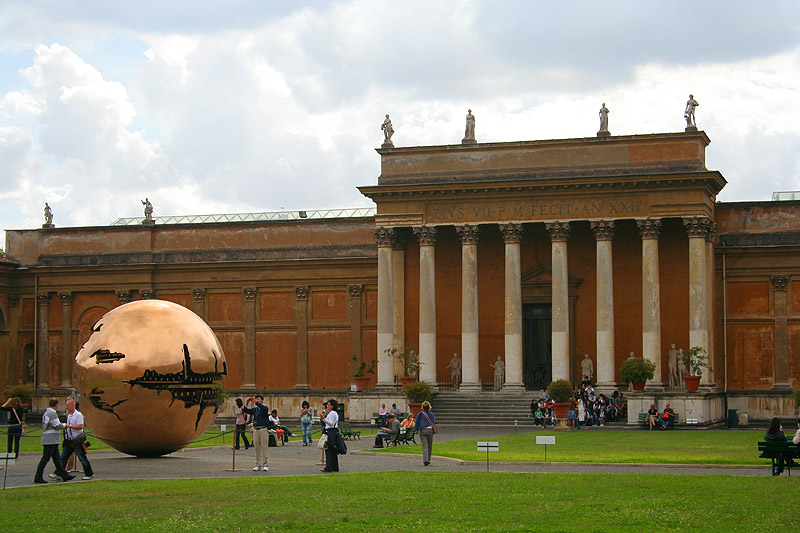 Inside the City.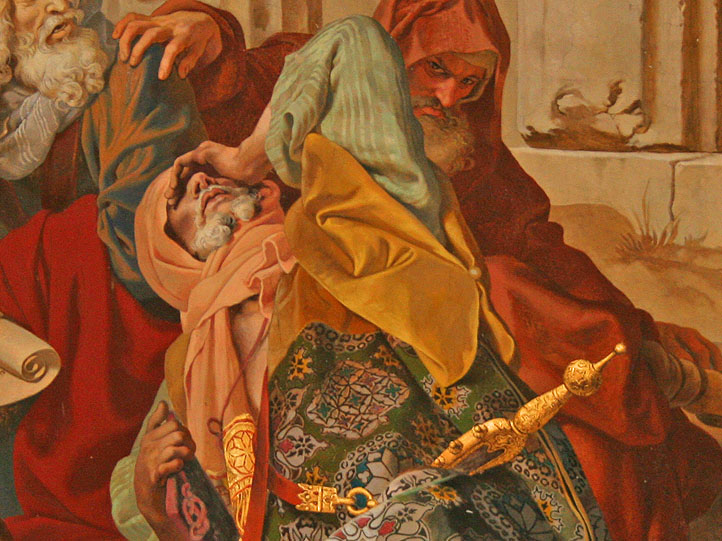 The Vatican buildings were just incredible. 500-year-old ceiling paintings containing so much minute detail.
It all became a bit visually overwhelming after a while.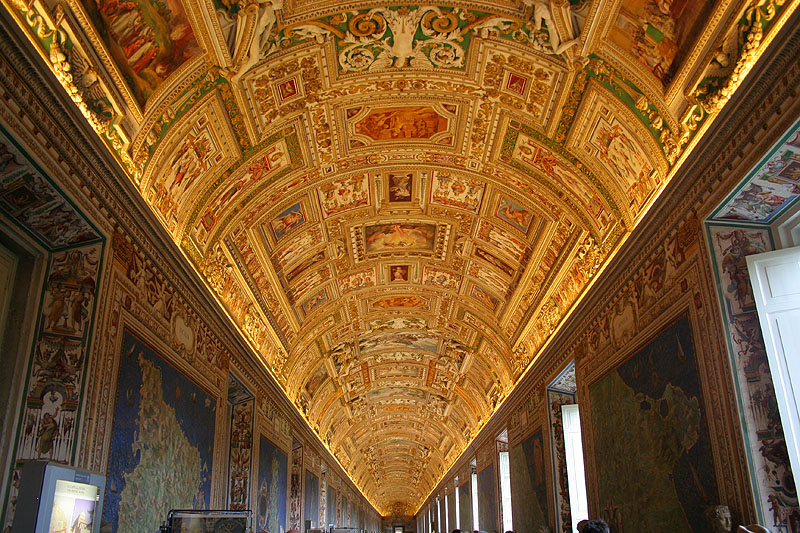 The ceiling of one of many long hallways containing innumerable priceless works of art.
It was fantastic, but I have to admit that I was looking forward to a plain grey room by the end of it all.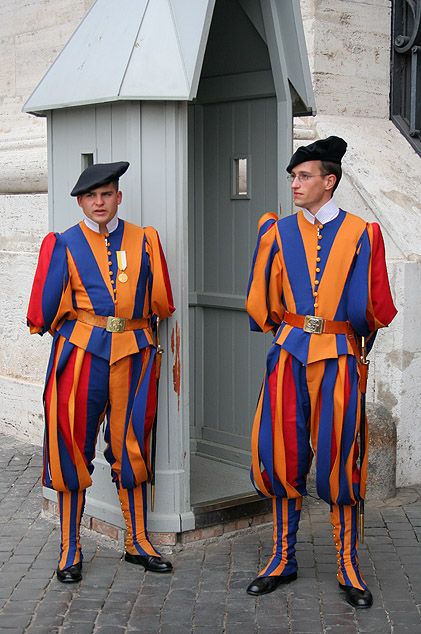 The Swiss Guard, dressed up like court jesters. Not sure if I could pose
for hundreds of photos a day wearing this get-up!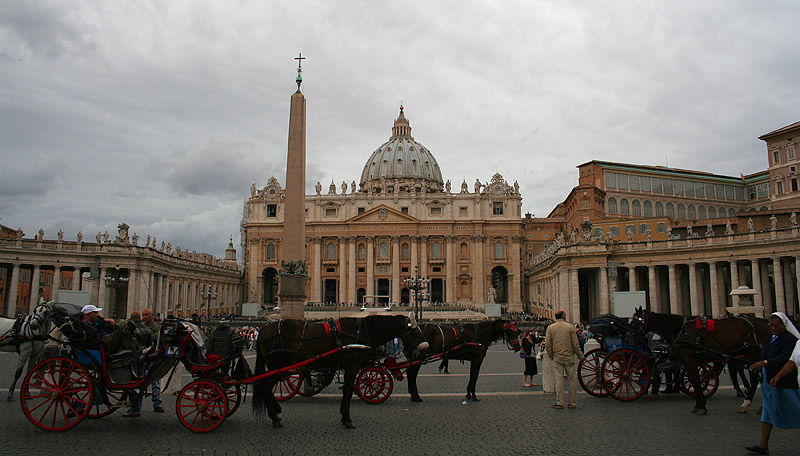 St Peters Basilica - the largest religious building in the world. Completed in 1626, it has a capacity for 60,000 people.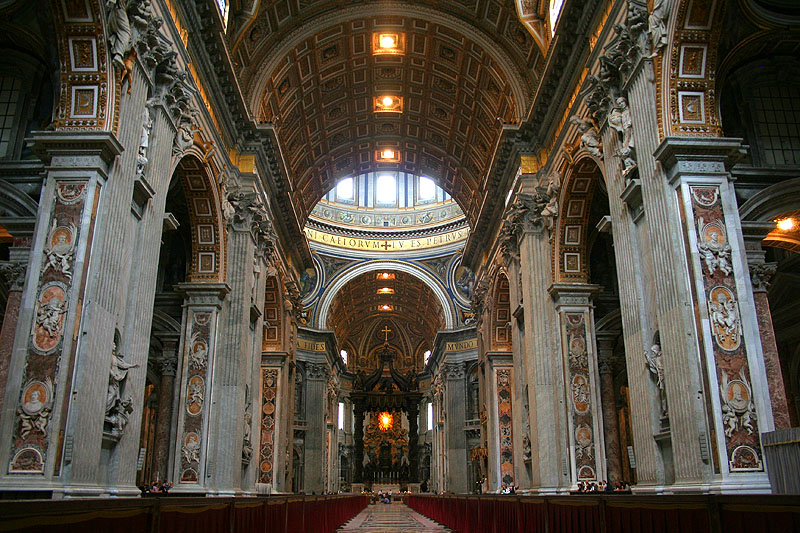 Hard to show in a photo, but it sure is big inside.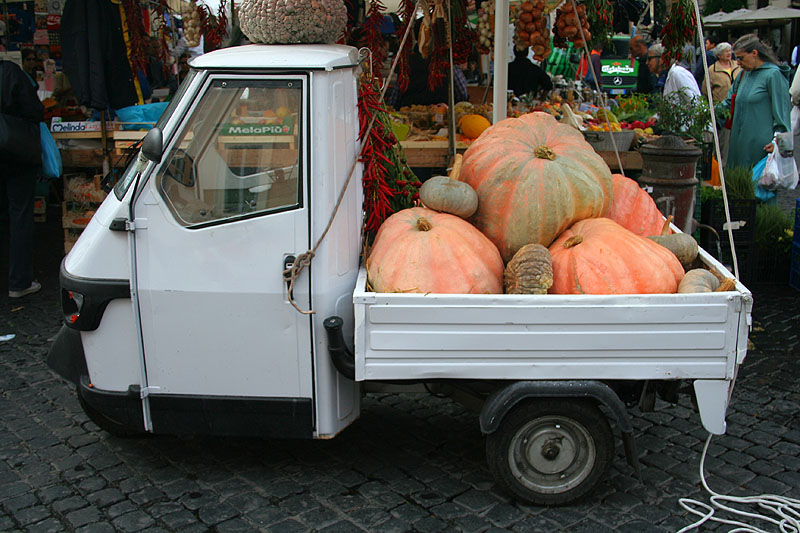 Giant pumpkins in a tiny three-wheeled truck, in a Roman market.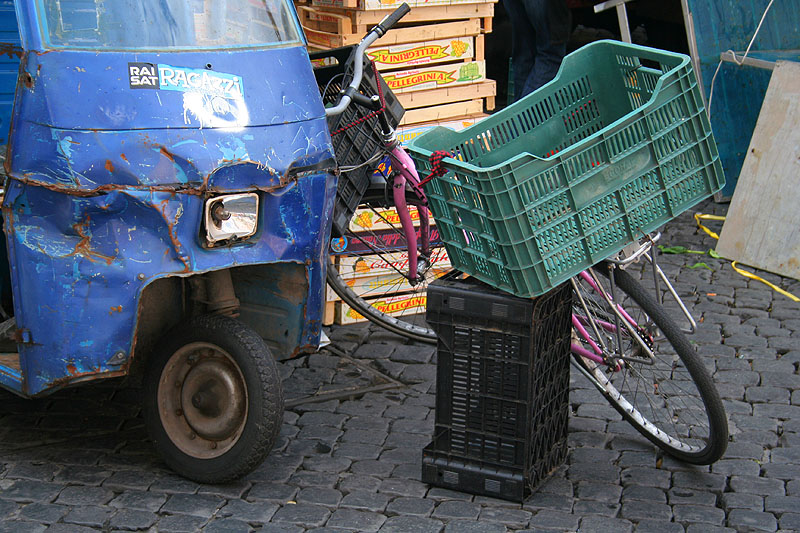 No Smart cars or 400cc luxury scooters here. Long live tradition.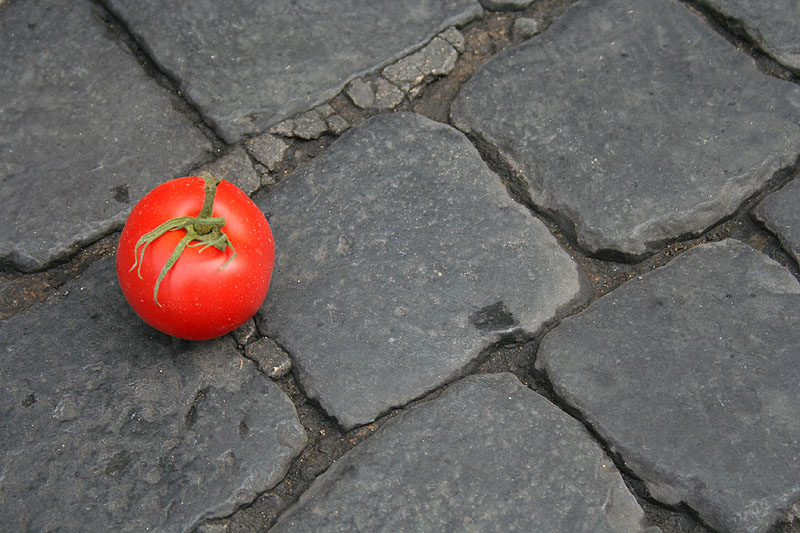 Art for art's sake, I guess.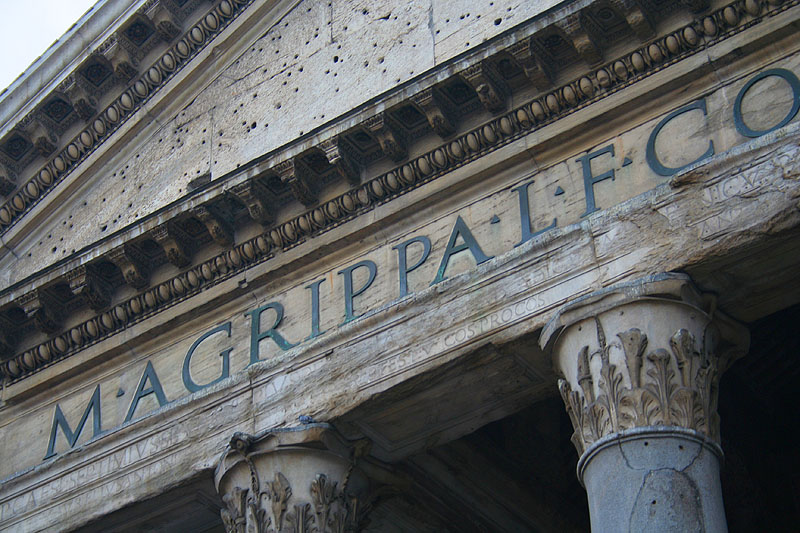 Closeup of the Pantheon (Greek for "Temple of all the gods", built 125AD) - the best preserved of all Roman buildings.
It has been in continuous use throughout its history, and became a Christian church in the 7th century. This building blew me away.
The inscription reads "Marcus Agrippa, son of Lucius, three times consul made it".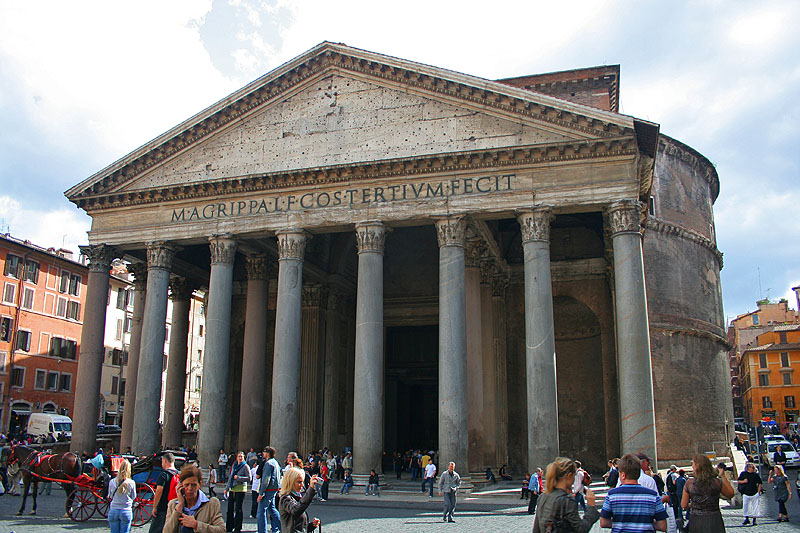 Hard not to be gob-smacked when confronted with this!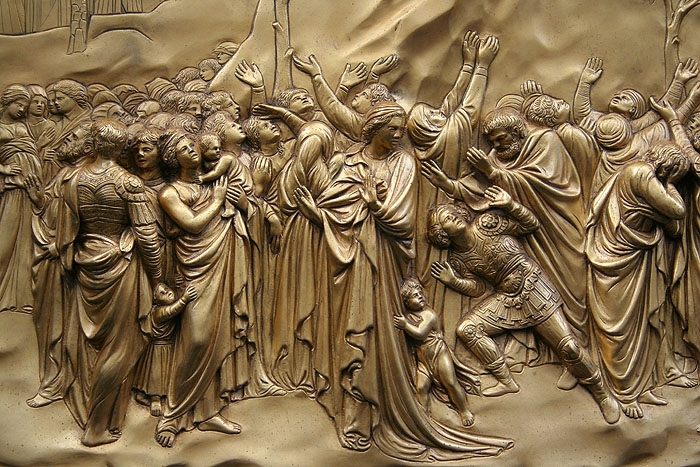 Closeup detail of the bronze Gates of Paradise door on the battistero tower of the Duomo in Florence.
The door (one of three) took Lorenzo Ghiberti 20 years to complete. That's dedication.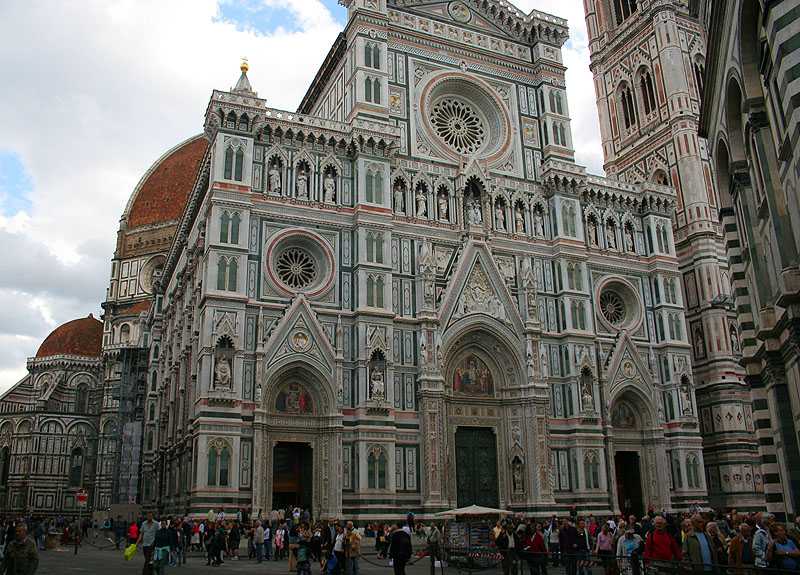 The colourful Basilica di Santa Maria del Fiore (Duomo) cathedral, complted in the 1400s. Huge.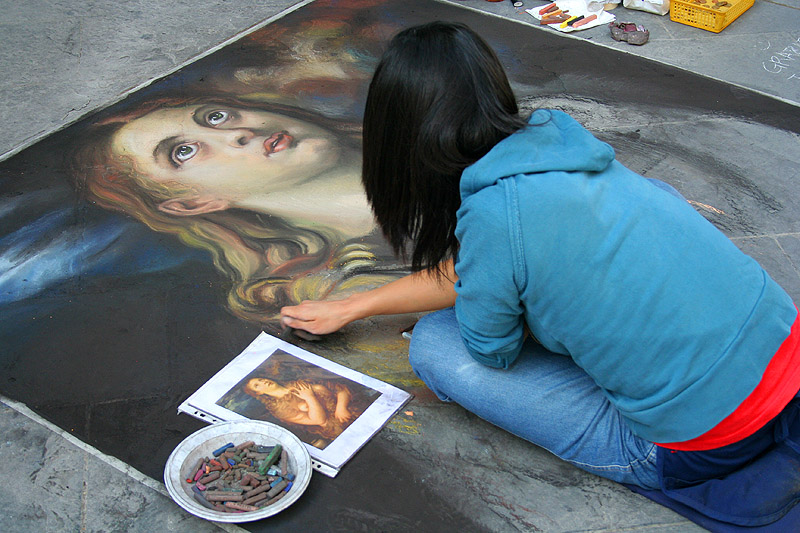 Street art in Florence.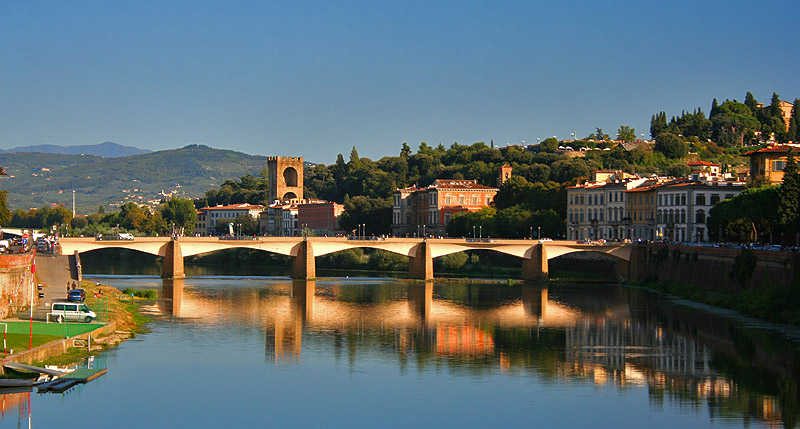 A bridge over the Arno river.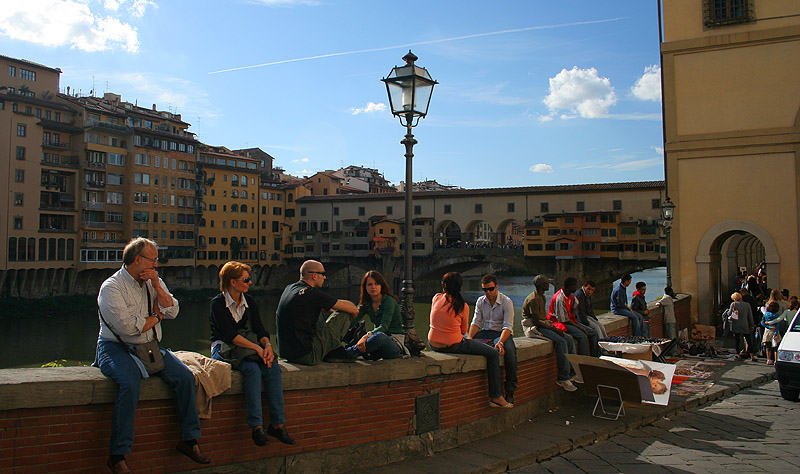 A crowd sits along the Arno, with the famous Ponte Vecchio bridge in the background. Butchers initially occupied the shops,
but the present tenants are jewellers, art dealers and souvenir sellers.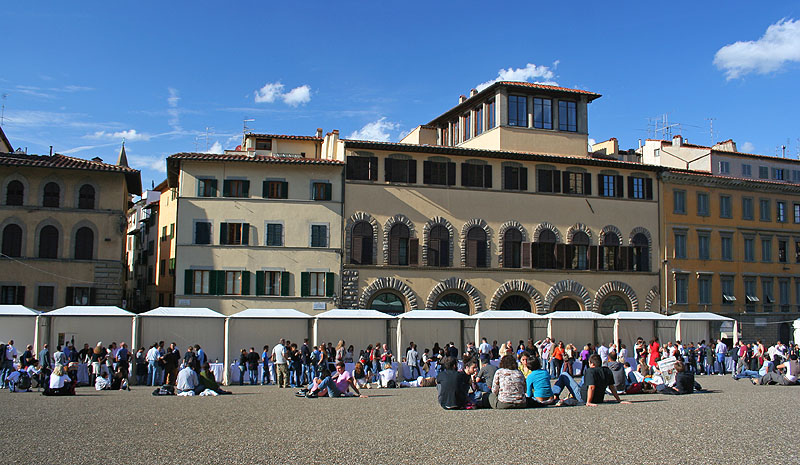 The wine tasting event, outside the palace (not in photo). Lots of jolly tourists pretending to give a damn about Tuscan wine!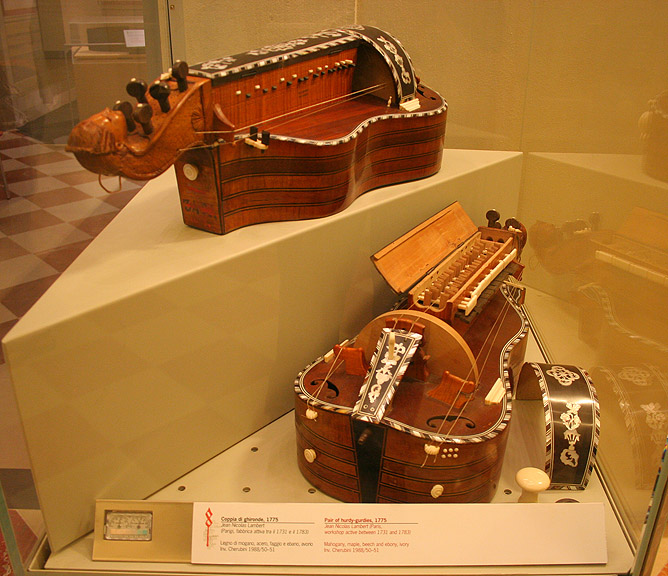 Two very ancient 'hurdy-gurdies' (essentially a mechanical violin) in the musical instrument museum. Very cool.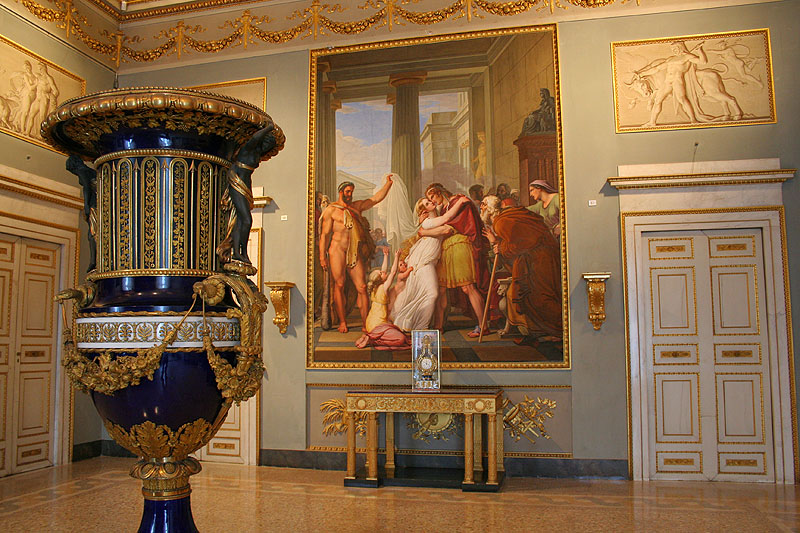 Inside the palace... just before I was told to put the camera away. Oops.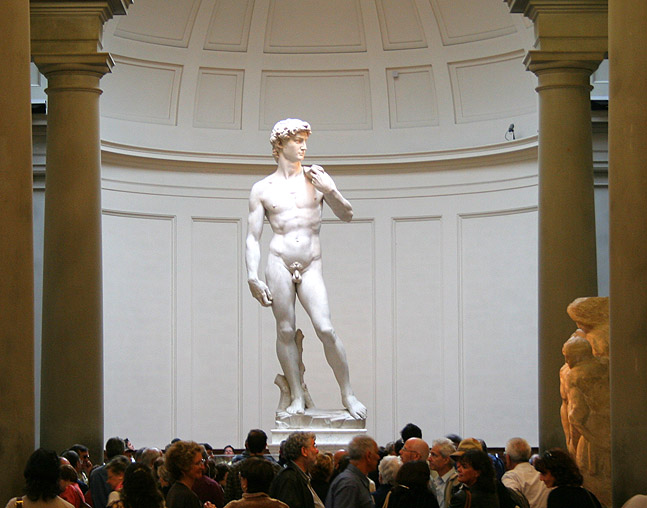 Michelangelo's David (1504) inside the Ufizzi Gallery. Just before I was told to put the camera away. *ahem*.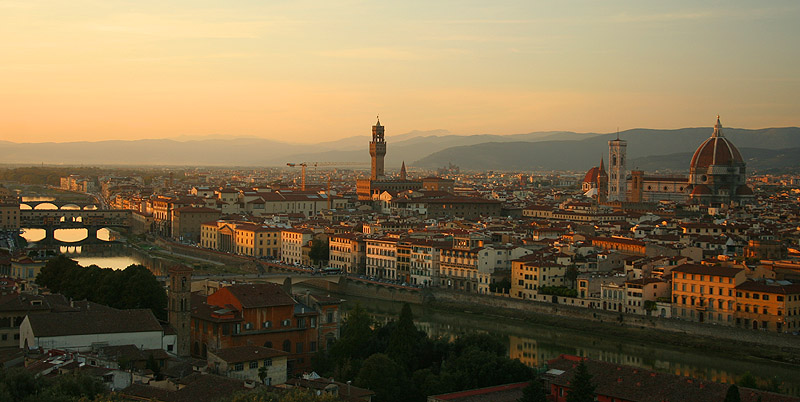 The Florence skyline.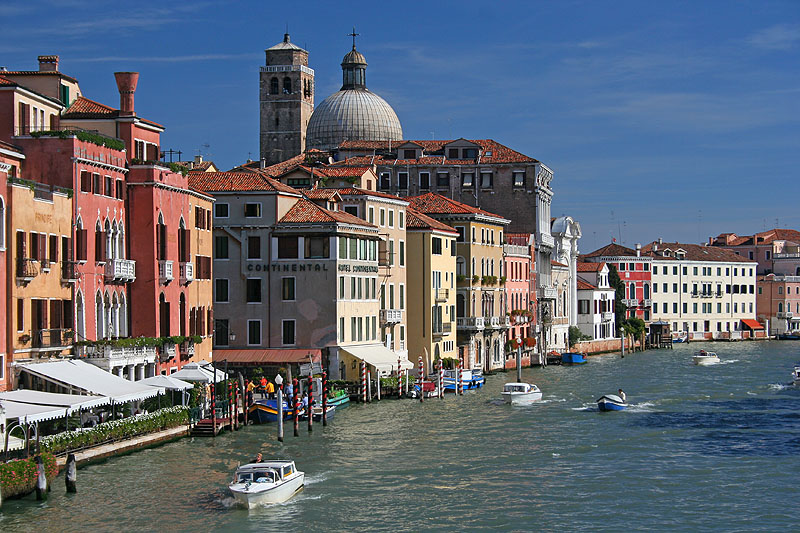 The Grand Canal in Venice.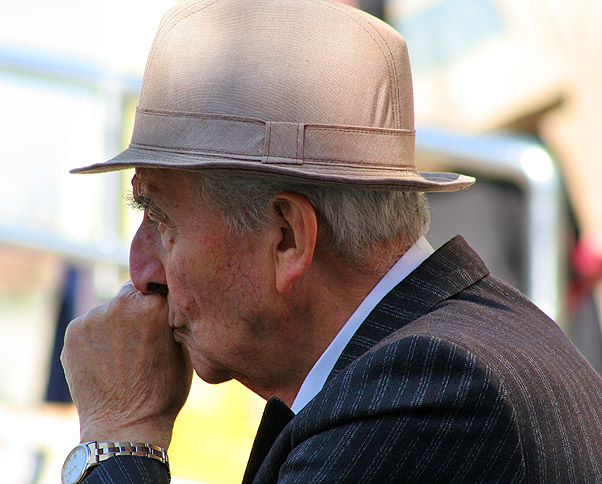 Old Man Venice. All dressed up and nowhere to go. Might as well watch life go by in style I guess!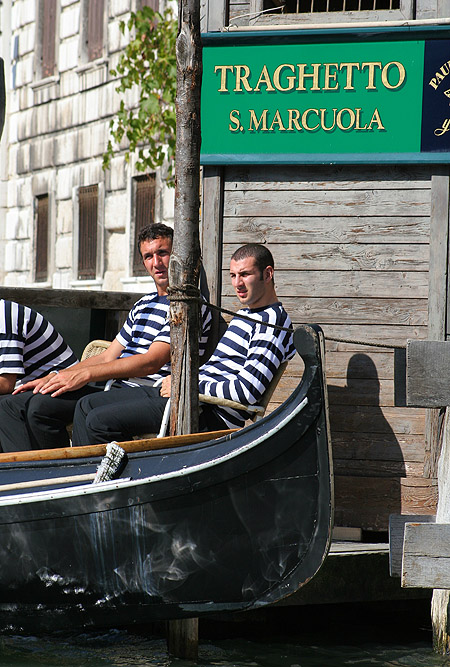 Gondoliers waiting in the sunshine, for their next fare (50c to cross the canal).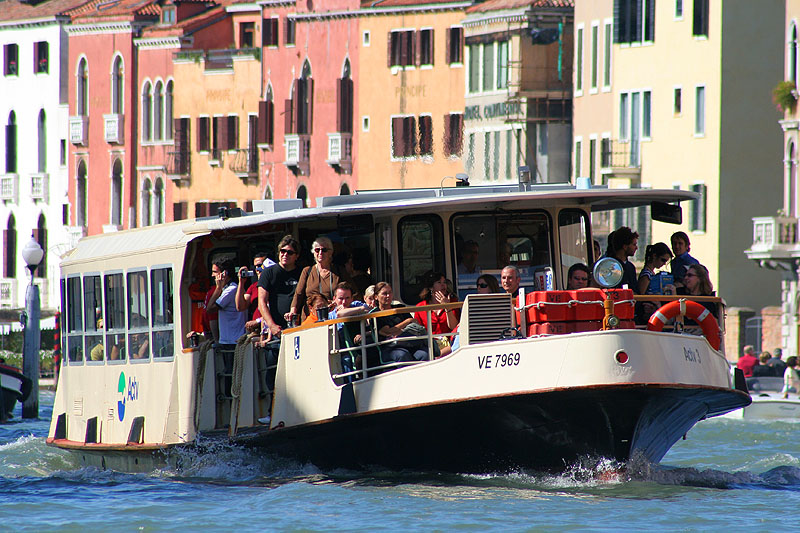 The vaporetto water taxis.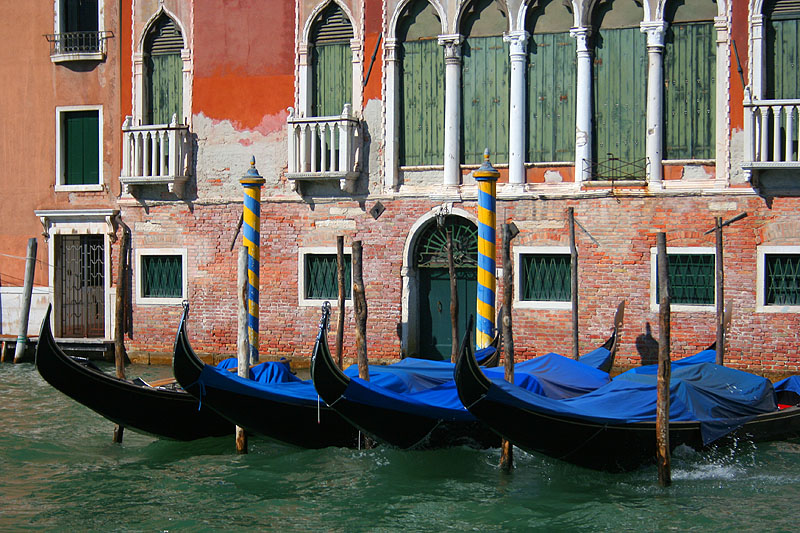 Gondolas. To me, they represent quintessential Venice.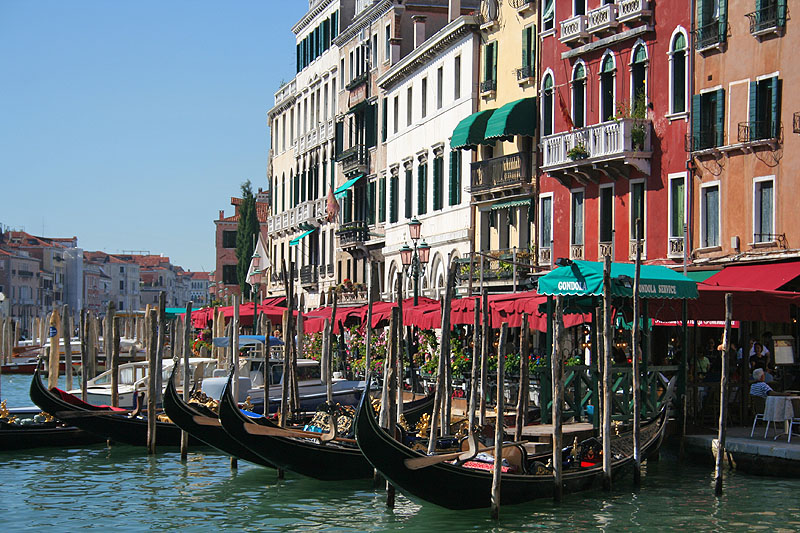 So here's some more.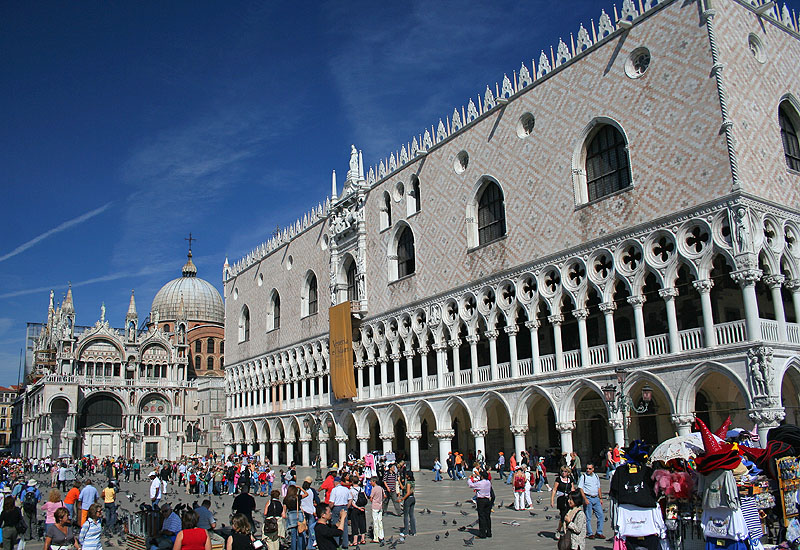 Piazza San Marco, Venice's principle square. Wikipedia says that "it is the only great urban space in a European city where human voices prevail
over the sounds of motorised traffic, which is confined to Venice's waterways". So there you have it.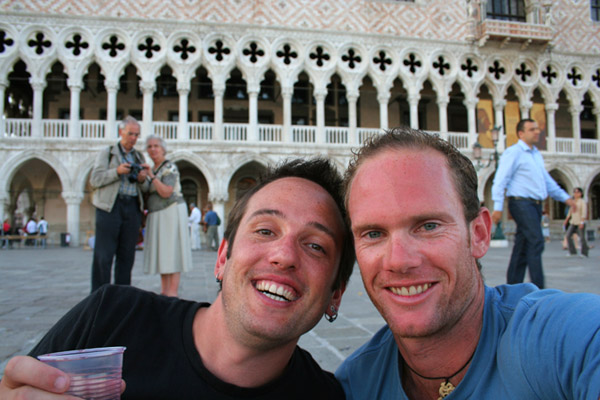 My mate Stoo and I, during our afternoon of 'culture in Venice'.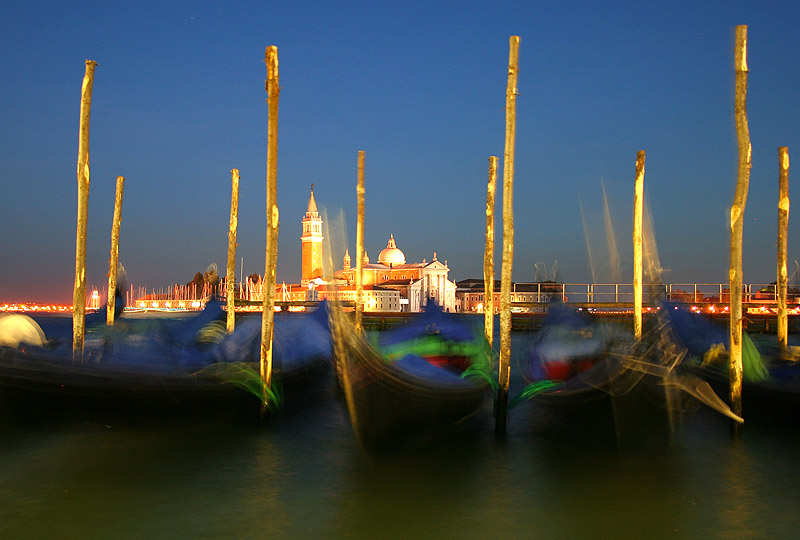 What a city.



< previous&nbsp&nbsp&nbsp&nbsp&nbspnext >