Location: Surrey, England
Local time: Monday, 4:45pm
Music:
Part II - Croatia, Bosnia-Herzegovina, Serbia-Montenegro, Slovenia

The bus trip south from Trieste was long and slow, but provided some fantastic coastal scenery including a spectacular sunset over the Croatian islands dotted along the Adriatic coastline. After spending an hour or so in the northern city of Rijeka, I eventually arrived in Zadar late in the evening (having significantly underestimated travel times on these winding Croatian coastal roads). After the hustle and bustle of touristy Italy, this sleepy Slavic town felt a little too slow-paced for my liking. But it felt good to catch up on some sleep.

I'm writing this section while sheltering from the rain in Jelsa, a small town on the island of Hvar, a two-hour ferry journey from the city of Split. I've just had coffee (the Croats seem to make them well too) and Goveda Juha - beef soup (think a bowl of oily water with a few bits of rice floating near the bottom... mmmm).

Split (pop 190,000) was a pretty little city with a great waterfront promenade and cafe culture. Unfortunately it was also where I watched the All Blacks lose to France in the Rugby World Cup semifinals. I almost lost my voice from screaming at the TV. Poo. After Split I headed to Dubrovnik (pop 44,000) - 'the pearl of the Adriatic' according to Lord Byron. Another cute, historic Croatian coastal city, and where I ended up meeting my two travel partners, Anthony (US) and Carla (Aus), who stayed with me for the next few countries.

Bosnia-Herzegovina wasn't particularly spectacular to visit. Other than it's interesting, turbulent political past, it's somewhat lacking in fantastical or grandiose architecture that so many other European countries are known for. What was interesting, however, was walking through a city that felt both European and Turkish/Muslim at the same time. European-styled apartment buildings stand side-by-side with the tall minarets of islamic Mosques. The beer was good and cheap though (a euro a pint), and meat is definitely on the menu.

Belgrade, Serbia's capital city, wasn't especially exciting either, although it felt much more cosmopolitan than the cities of neighbouring Bosnia. It was in Belgrade that some of Sarajevo's meat dishes caught up with me, and remained with me (or tried to get out of me) all the way into Slovenia.

Ljubljana (pop 270,000), Slovenia's capital, is a very cool little city, with lots of cafes and students and brightly-coloured old buildings lining the river. And it was also nice to use the euro again and not get exhausted from all the mental arithmetic. Out of all the places I visited (after Italy), I think this city is my favourite spot.


*After having travelled through three Yugoslav countries heavily involved in trying to bomb the crap out of each other for political and religious reasons only a decade ago, you might have expected me to delve into what's behind it all. However after listening to all the stories, reading the travel articles etc, I profess to being more confused than ever about who was right, who was wrong, who won, who lost, and why it all happened in the first place. Thus if you're really that interested, maybe you can start here.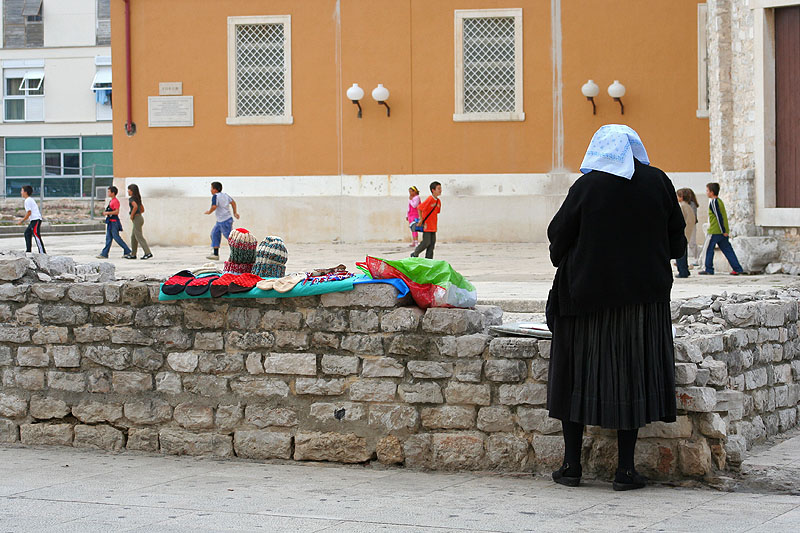 An old woman sells her wares in Zadar, Croatia. I waited patiently for her to turn around so I could zoom in on her, but to no avail.
The sneaky old thing knew what I was all about obviously.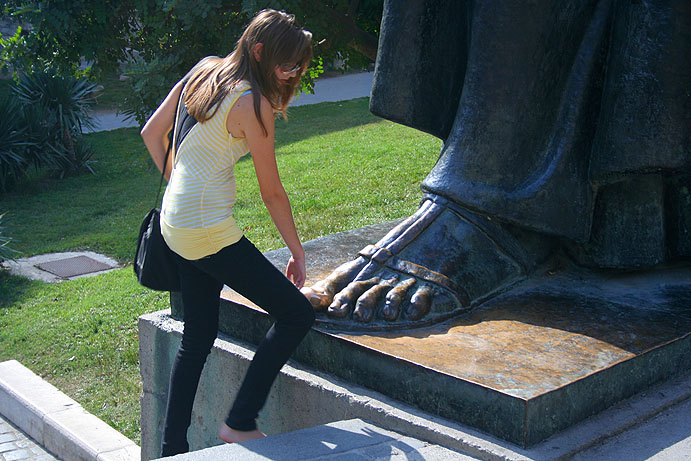 For good luck, a local touches the big toe of the statue of 10th-century Slavic religious leader Gregorius of Nin,
outside the palace walls in Split.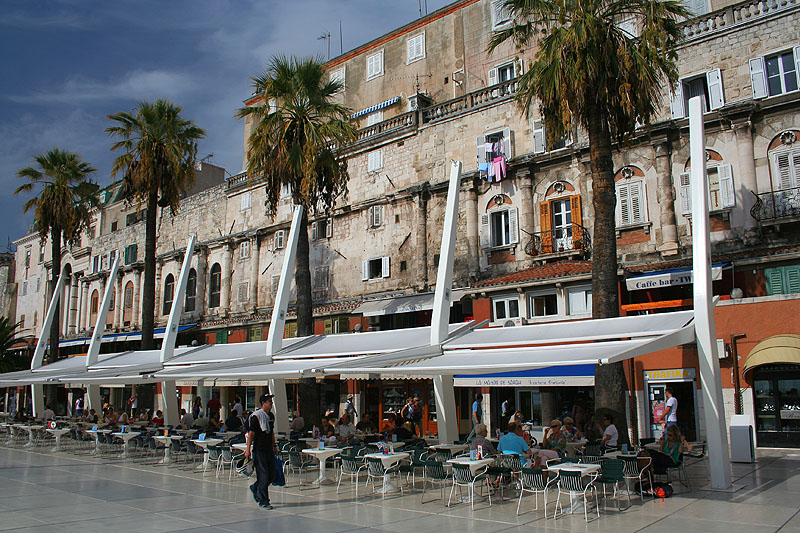 The marble-floored promenade running along the walls of the palace. Split is the largest Croatian city on the Adriatic coast,
and became famous when the Roman emperor Diocletian (245-313AD) had his retirement palace built there.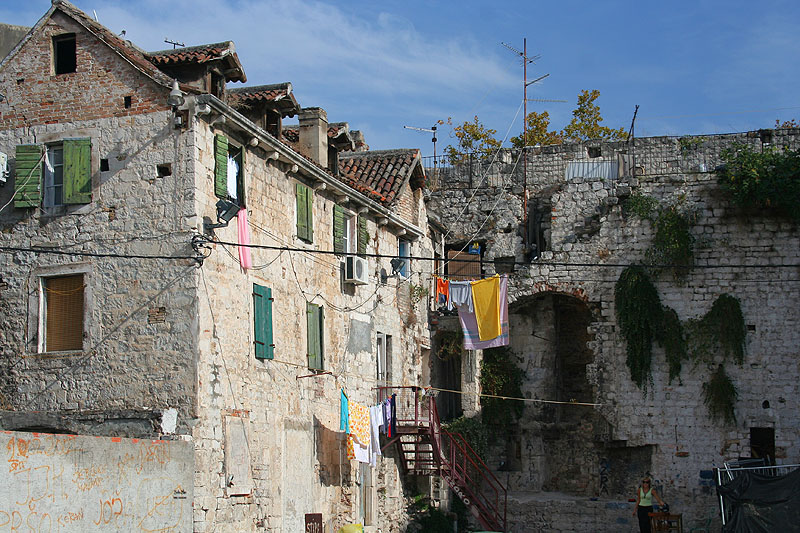 People still live within the crumbling 3rd century walls of the palace.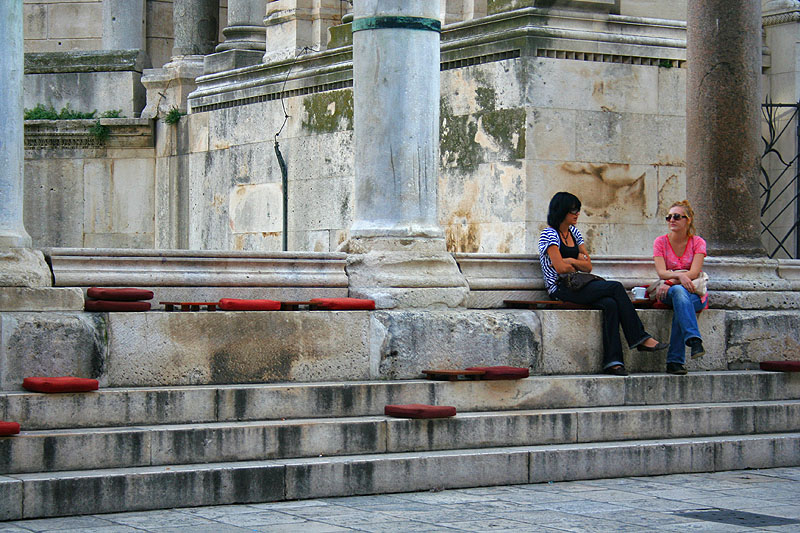 A great location to set up a cafe, within the palace grounds.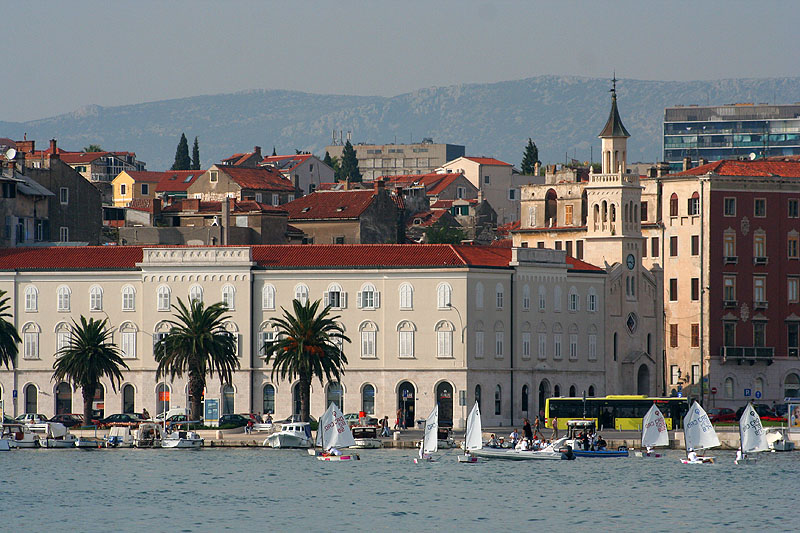 Split from the water. It could be one of a million scenes I've photographed before along the French or Italian coastlines.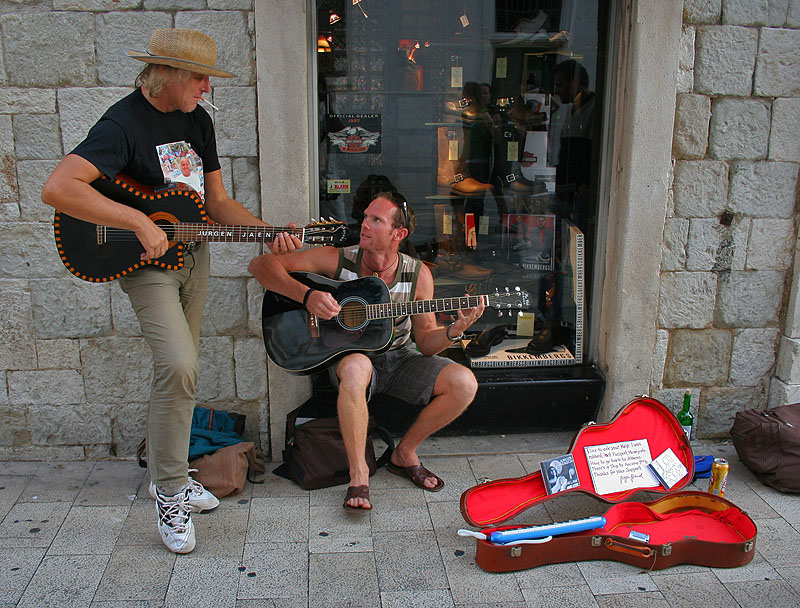 I met a down-and-out German guy (with a few screws loose) busking in the street, so played a few songs to earn him a little extra cash.
He only does Leonard Cohen covers (?!!), so I chose some tunes a little more crowd-friendly, and they seemed to like it. The sign in his
guitar case reads: "I like to ask your help. I was robbed, lost passport, money etc. Have to go back to Athens. There's a ship to
Ancona 9pm. Thanks for your support." I don't think he ever made that ship.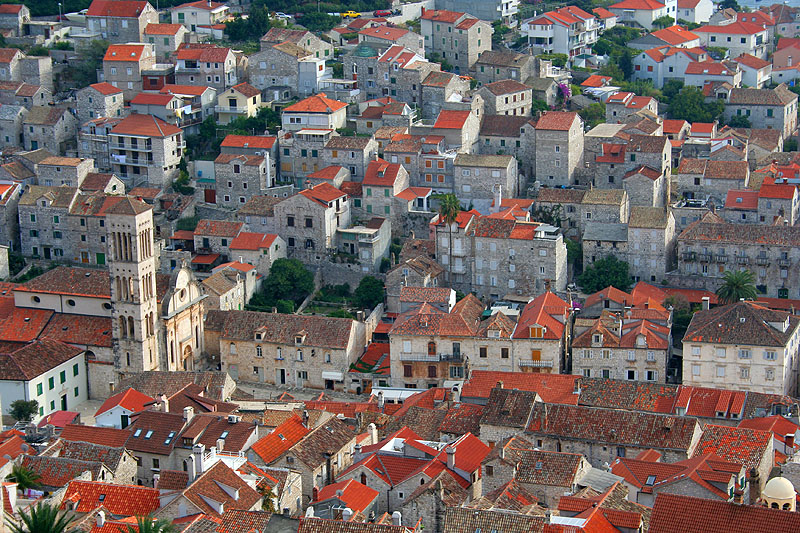 The rooves of the town of Hvar, viewed from the Venetian Fortress (1551), on the island of Hvar.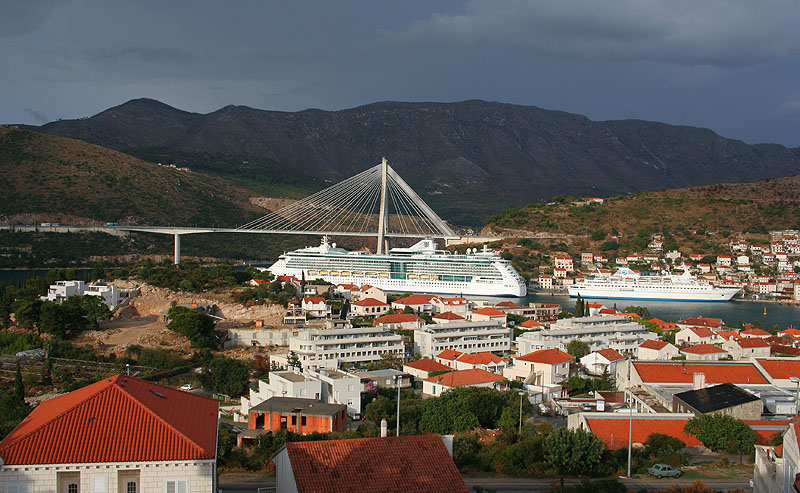 The view from the hostel in Dubrovnik. Not bad not bad.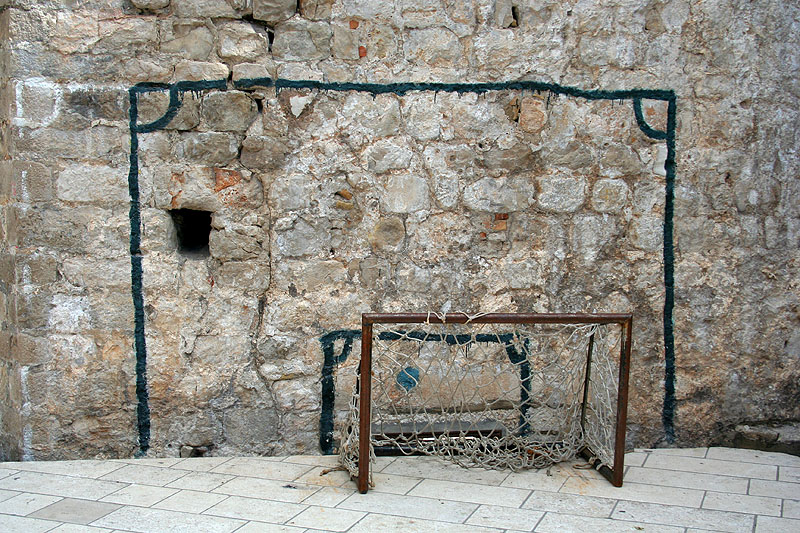 A makeshit soccer goal inside the walled old town of Dubrovnik.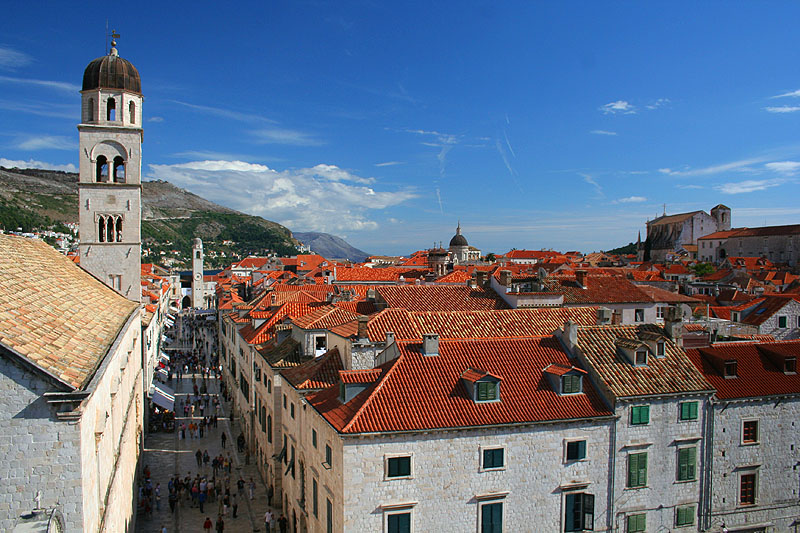 Dubrovnik's old town.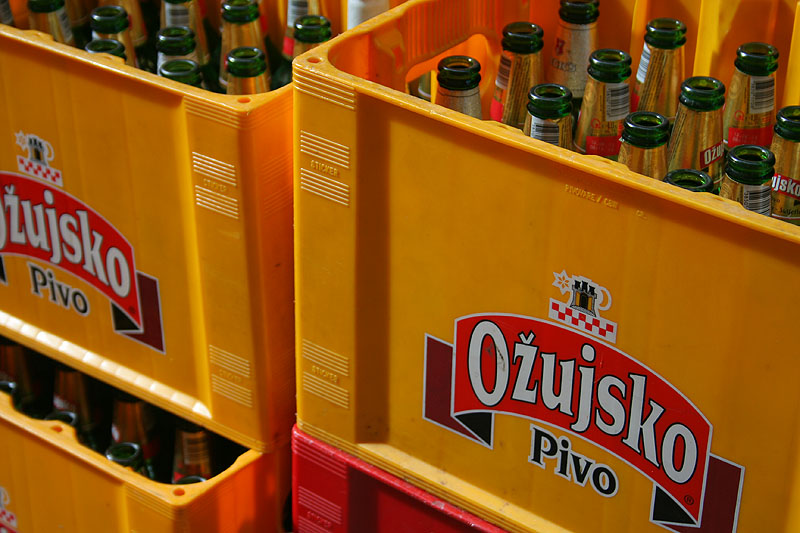 Mmmm... beer... Not too shabby either.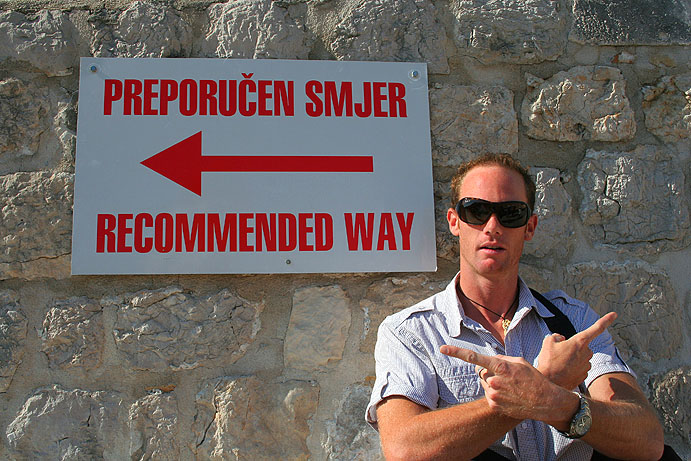 A difficult decision.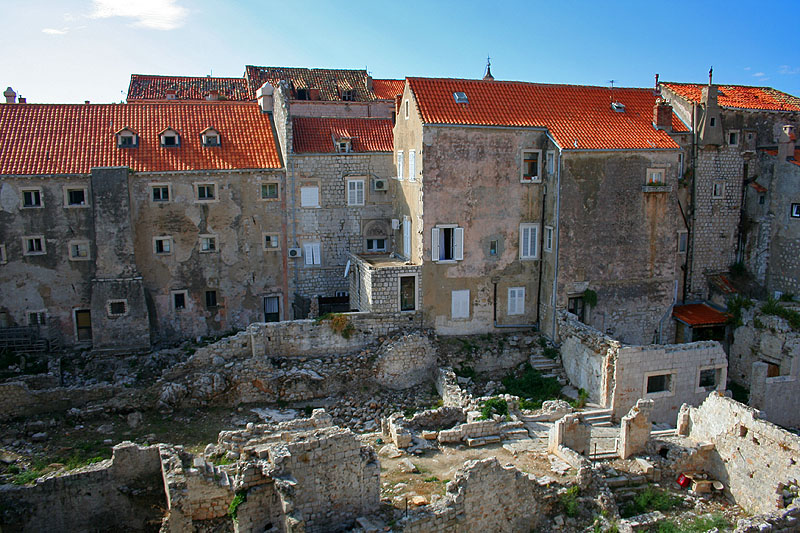 In 1991 the Yugoslav army deliberately (and pointlessly) bombed the city.
Most of it has been rebuilt and is looking better than ever, but some crumbling areas to remain, to serve as a poignant reminder.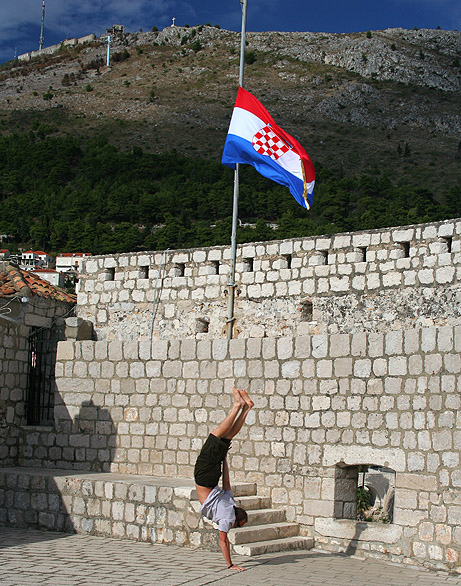 Ah yes, the obligatory one-hander, Croatian style.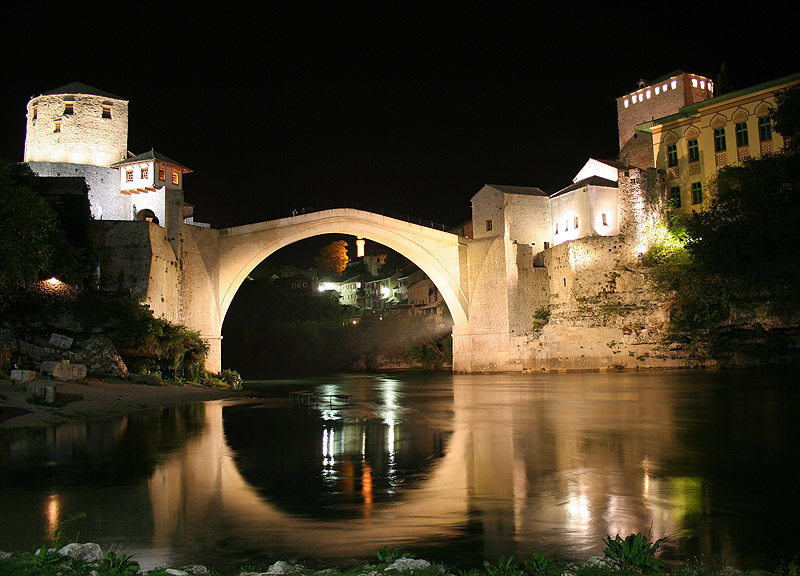 The recently-reopened 16th-century Stari Most (old bridge) spanning the Neretva river, which was destroyed by Croats during the war, in 1993.
It's now a famous symbol of the town of Mostar, to which it gives its name.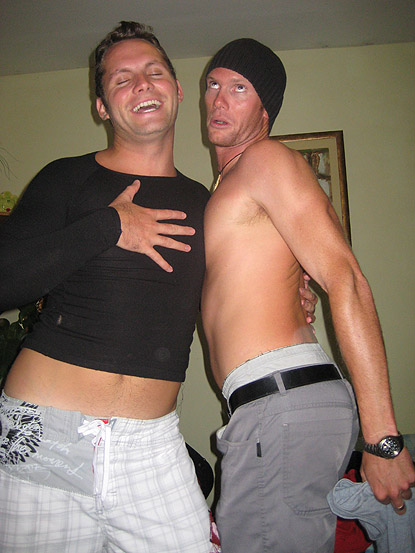 Errr, *ahem*... no comment.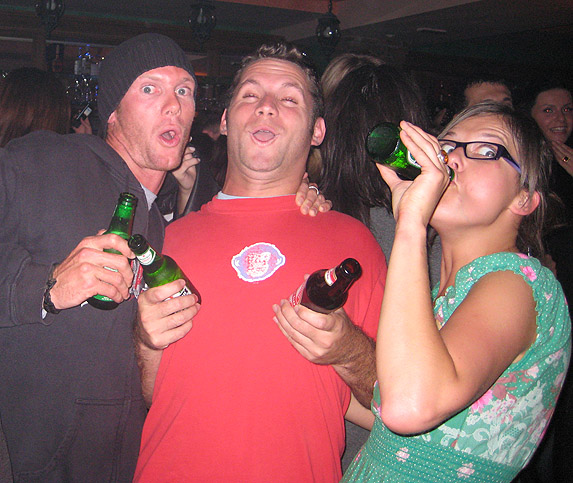 The three amigos, in a club in Mostar. When the club's owner learned where we were from,
he decided to ply us with free drinks. Word spread that we were out-of-towners,
and we acheived a sort of minor celebrity status for the night!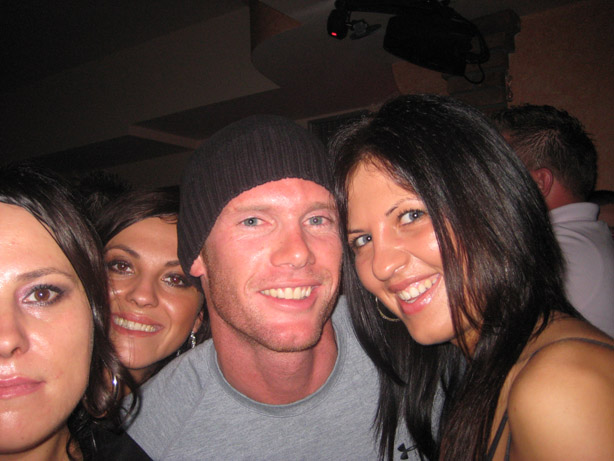 And we had to oblige to photos, of course.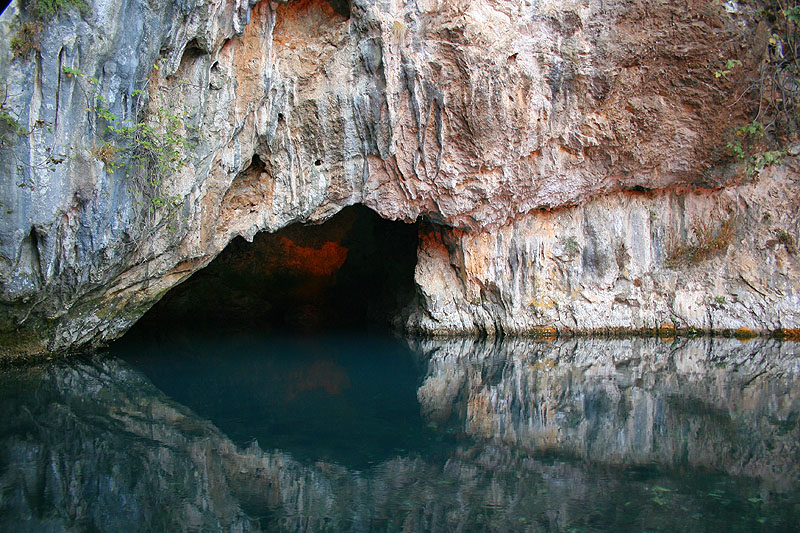 The Buna spring, in Blagaj, near Mostar - one of the strongest springs in Europe.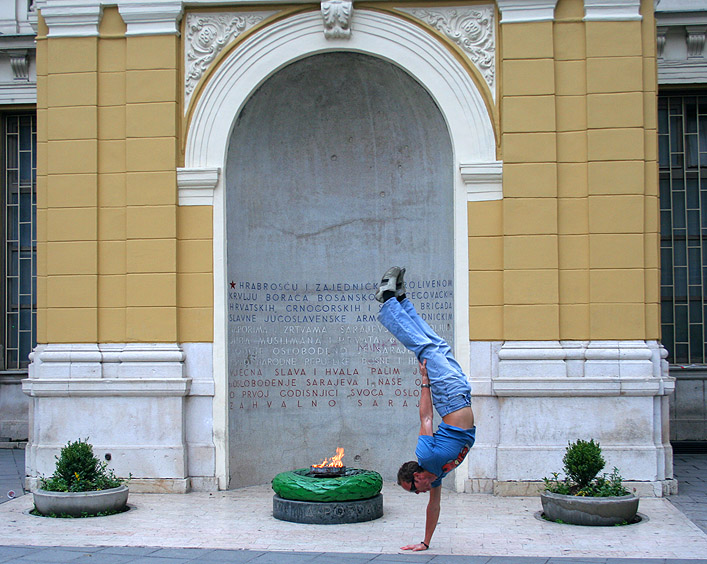 The one-hander, beside Sarajevo's eternal flame -
a fire that is kept burning to commemorate Yugoslavia's triumph over fascism after WWII.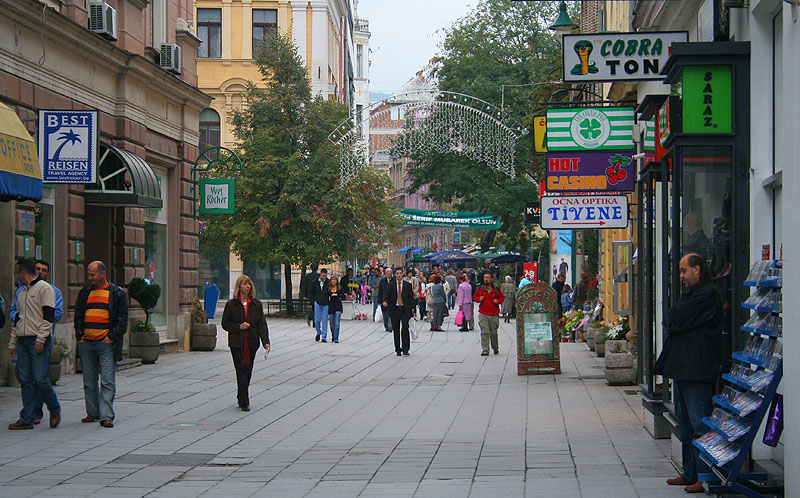 The main pedestrian zone of Sarajevo.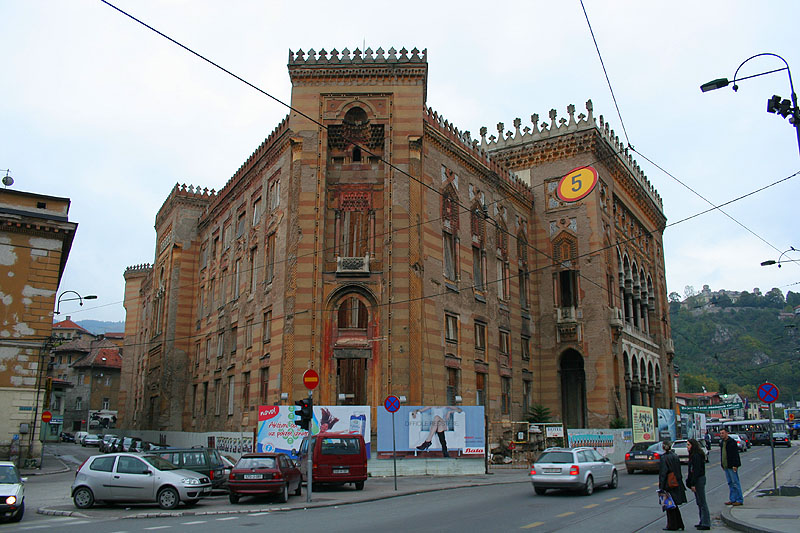 The city's old library, now bombed-out and not in use.
Today the Spanish government announced that it is donating one million euros to reconstruct the facade.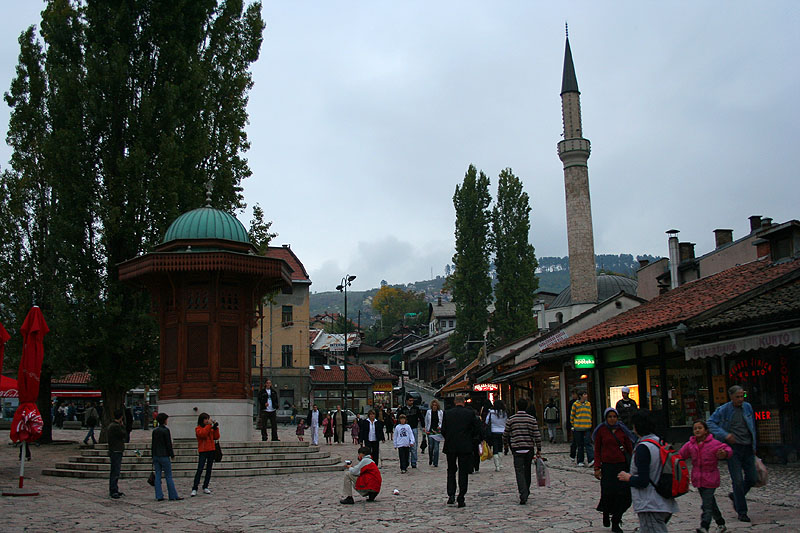 The Turkish quarter of Sarajevo. Like a little corner of Istanbul.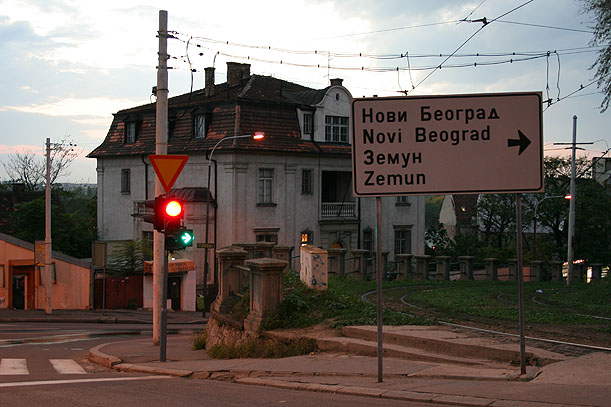 Seems to be some confusion as to how to write things in Serbia.
So they write everything twice, once in Cyrillic text, once in Latin text.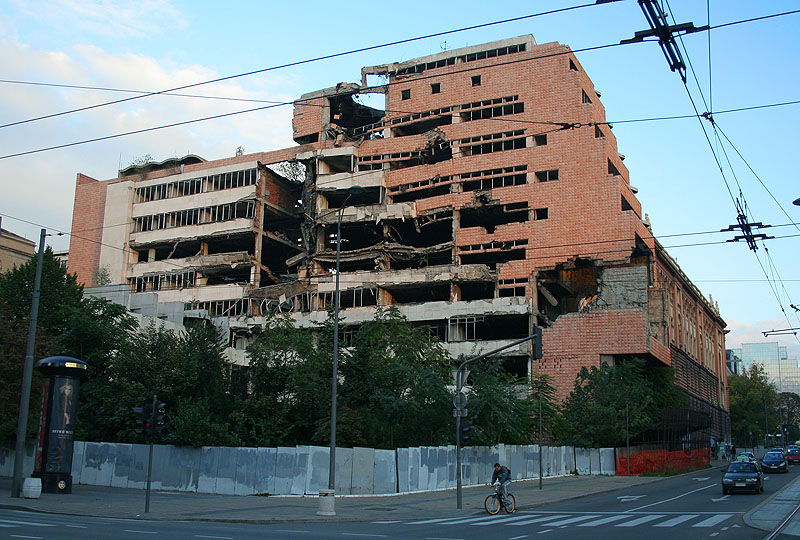 A bombed building in Belgrade. We spoke to a local about it, who said that because of the expense of tearing down the ruined buildings,
a lot of them have been left standing.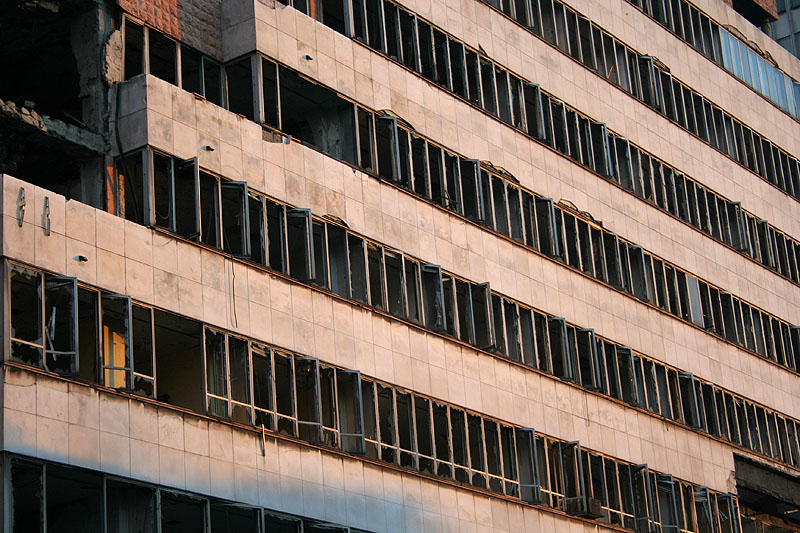 Eerie.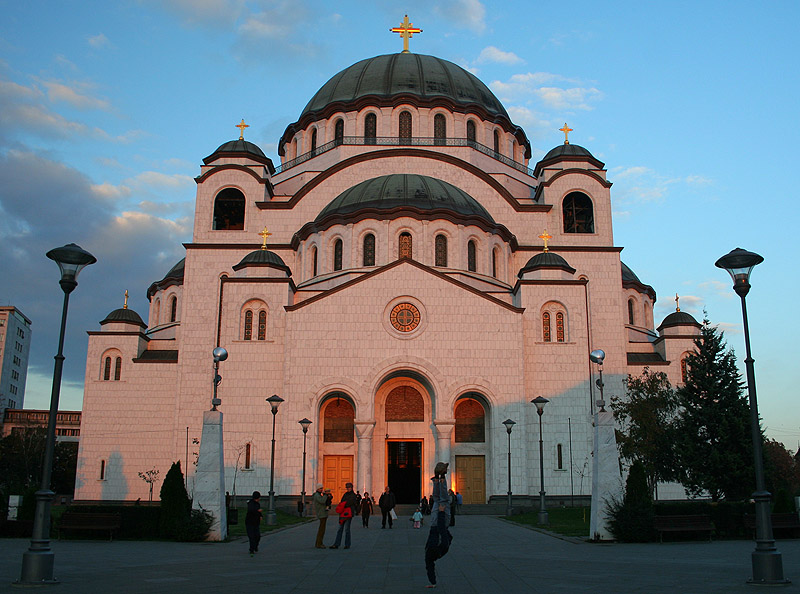 Sveti Sava, the largest Orthodox church in the world. Started in 1935, it's never been finished. Good place for a one-hander though.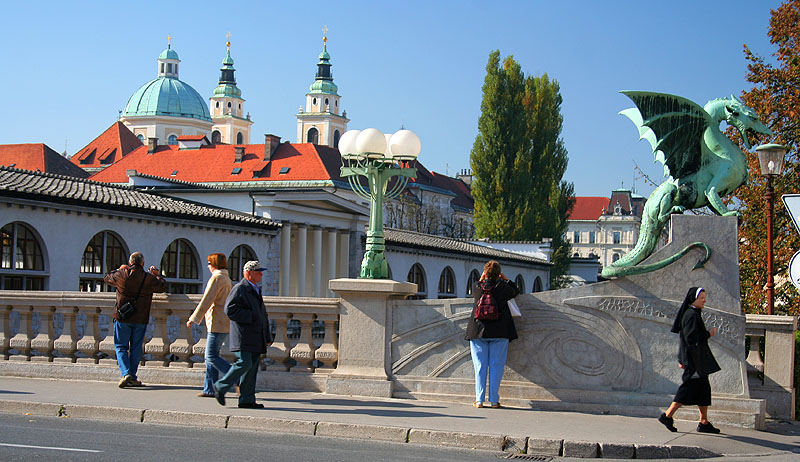 Ljubljana's city mascots, the dragons (a marsh monster slewn by Jason and his argonauts).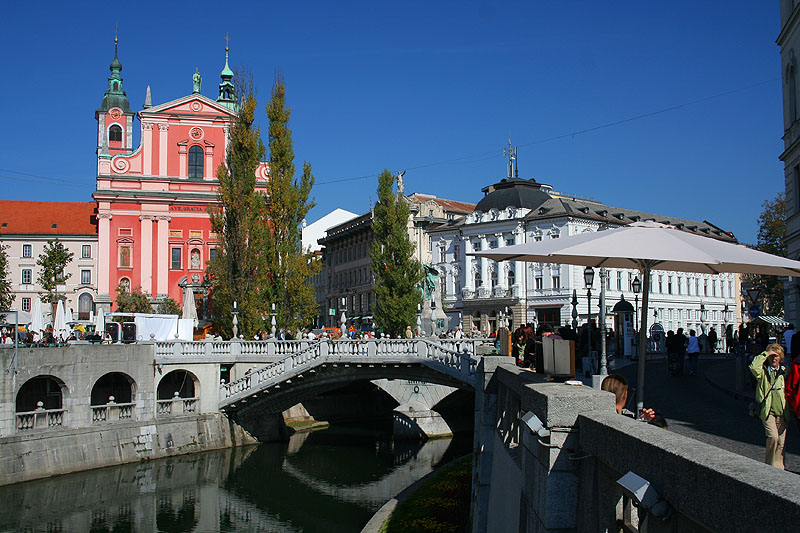 The triple bridges in Ljubljana, in front of Prešernov trg square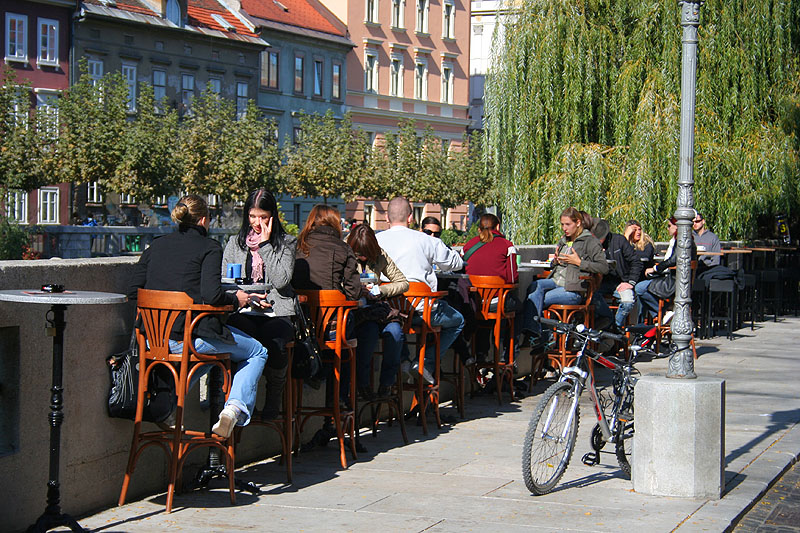 The Ljubljanica river provides the perfect setting to sit in the sun with an afternoon drink.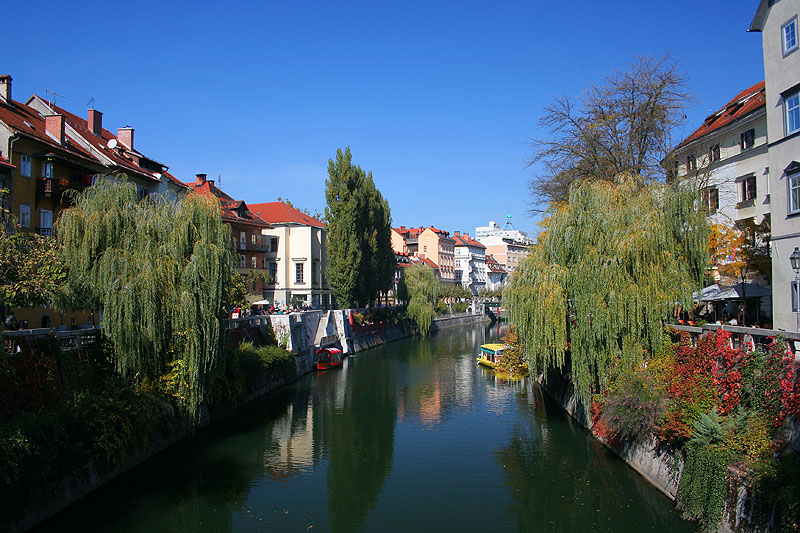 A rather Dutch-looking scene. I wasn't expecting that of Slovenia.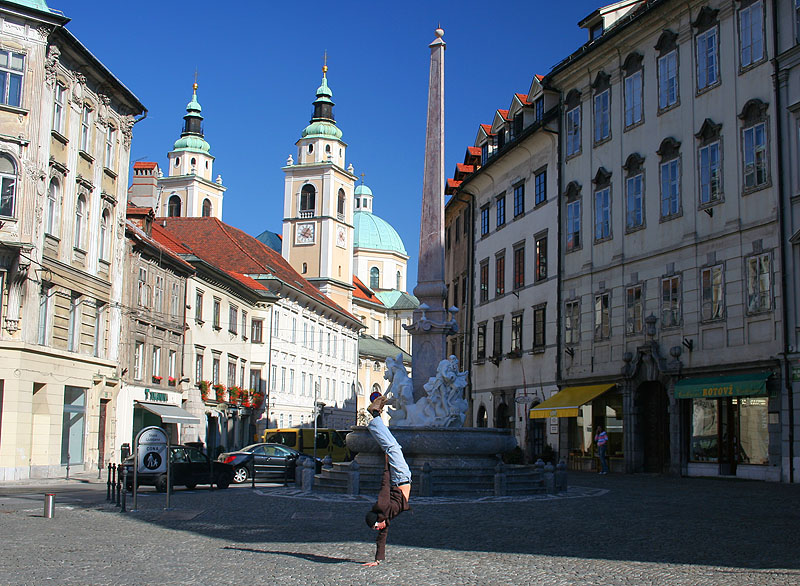 Slovenia's one-hander, in Mestni trg Square.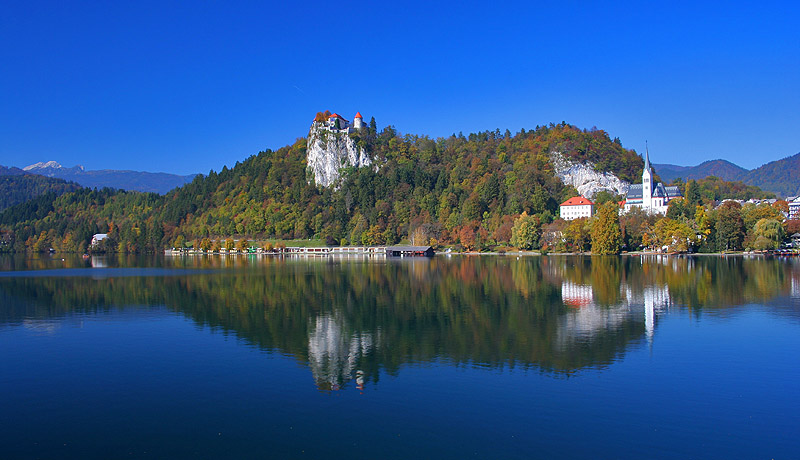 The beautiful view of Lake Bled, an hour out of Ljubljana.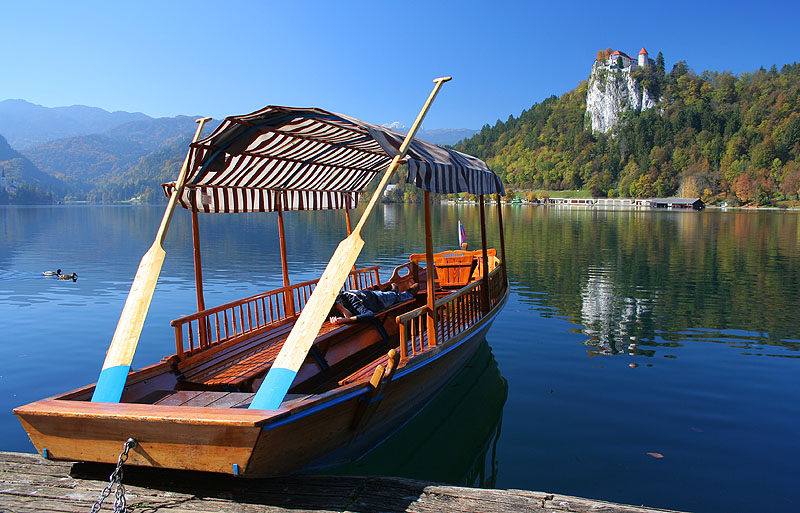 It was a very peaceful place out there, and made me want to just lie down in the sun and sleep, much like the guy on the boat.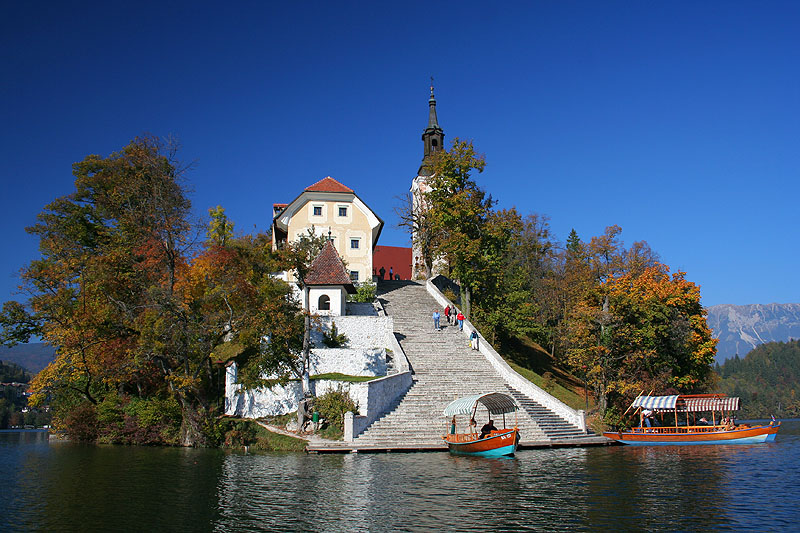 The church atop the tiny Bled Island - Slovenia's only island!


< previous&nbsp&nbsp&nbsp&nbsp&nbspnext >