Location: Port of Monaco
Local time: Sunday, 1pm
Music:

Well, soon after my last update I was called by a crew agency looking for a temporary deckhand to work for an Arab family on a 25m (82ft) motor yacht for 3 weeks, starting ASAP. Of course being in my current financial predicament I had to accept. So here I am, sitting on my bunk in the crew quarters, using the boat laptop, while people stroll by outside admiring my polishing skills. We're currenty docked right in the heart of Montecarlo, Monaco. Lamborghinis here are like Mitsubishi Sigmas back home. Ferraris are cliche, and grandma drives a Porsche. I've seen so many hot cars I don't even blink now when yet another 200,000-euro Lambo drives by. The other night I even spotted a Bugatti Veryon 16.1 - the 1001hp 400kph supercar. Now, if I can just scrub a few more decks...

We've been based in Cannes for the last week or more. On Monday we're in Antibes, and after - who knows. We're kept on our toes a lot, not knowing what the hell is going on from one minute to the next. But in a way that's the nature of the industry. I'm supposed to be involved with dive trips on the boat, but so far we've only been out for two dives, and they weren't very spectacular. The plan was to get down to Corsica, but the weather thwarted us last week, and it looks like we might not get there at all now.

The day I got this current job, I was also called about another temp position, on a 45m (150ft) boat called Perfect Persuasion, for a two-week private trip (with the owner) and then a two-week charter (from which I'll get a share of the tip, which I pray will be a good one!). So that was all rather well-timed - I can step off this boat on the 21st of August and straight onto the next boat the same day, working until the end of September. After that, I'm unsure of my next move. I've started thinking lately that I'm just not cut out to polish boats for a living. Perhaps I pursue music once more, perhaps I buy a motorbike and ride through India, or maybe I return to NZ and try setting up some sort of normal life (hmm).

I was interviewed yesterday for a position driving a 15m tender boat for the royal family of Qatar. It pays really well, with an apartment, gym membership and good future potential, but I'm not sure about being based in Doha (the capital), where right now it's sitting around 40-degrees-C.

Krista is now working hard in Turkey, and seems to be enjoying her new job, and says the owners and crew are great. We're not sure when we'll see each other next, which sucks, but she reckons she'll be in Barcelona (not too far away from here) in October, and will also have almost 3 weeks off while the boat is shipped across to the Caribbean for the winter. Perhaps we can travel together for a bit during that time.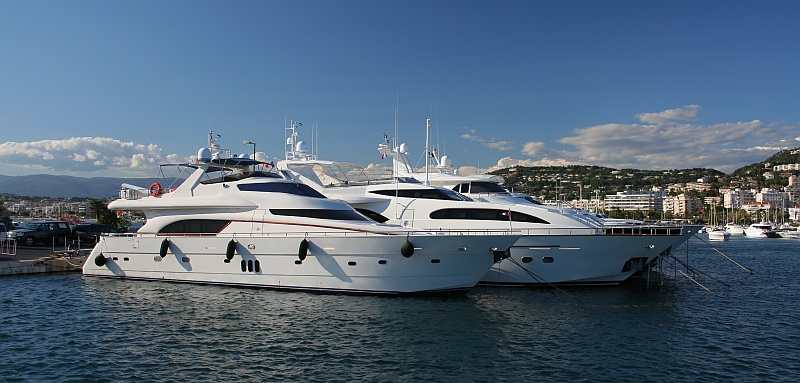 Home for three weeks (the smaller one). It's Egyptian-made and has many many quality problems, but the engines are good and she can do over 30 knots.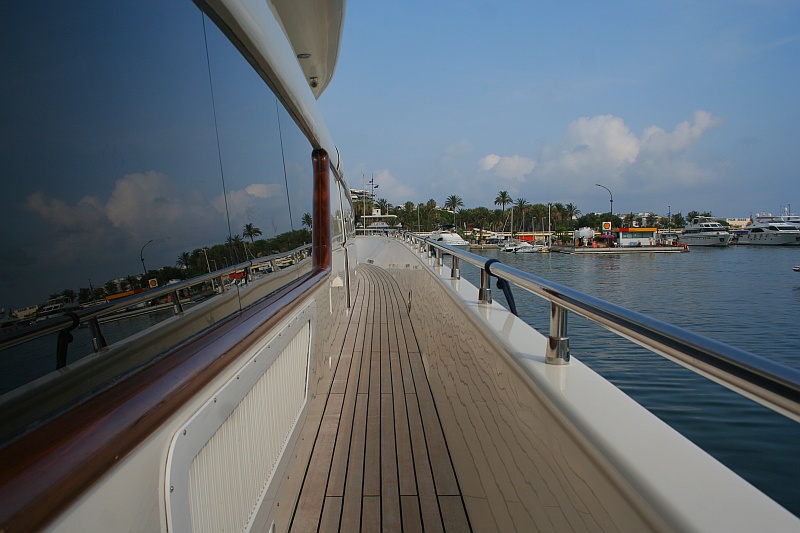 It's my job to keep it looking this shiny, among other things.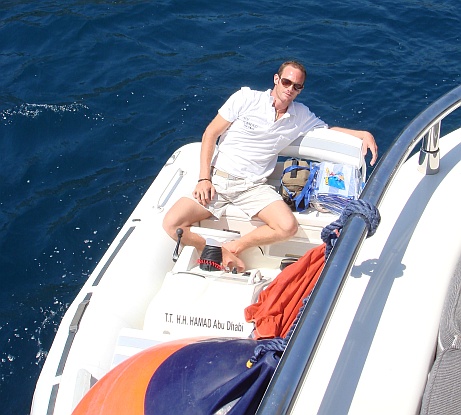 The little jet tender I've been driving.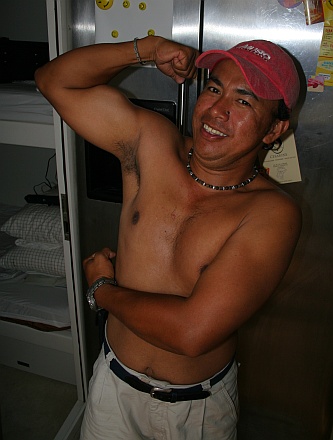 Jimmy the Philipino engineer. I call him Jimmy Lunchbox.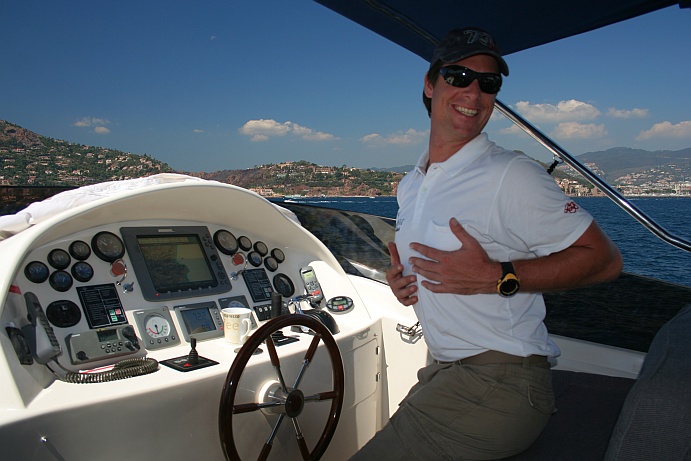 Captain Berend and his boobs.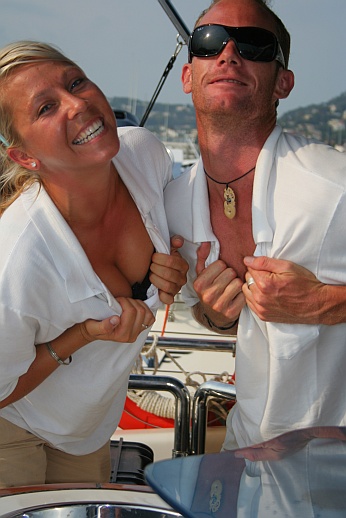 Brooke the stewardess and her boobs. And me and mine.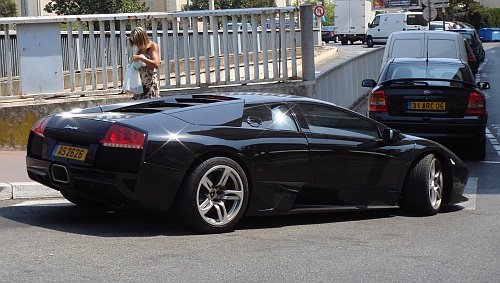 A Lamborghini. Almost run-of-the-mill in Cannes.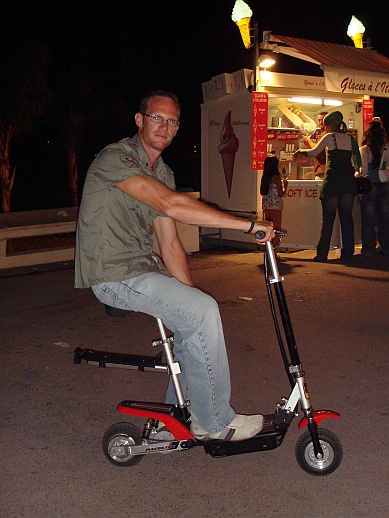 One of two electric scooters we have on board to get around.
The Captain and I went out one night in Cannes and
terrorised the locals along the waterfront.
Beats a Lamborghini any day.





The ancient monastery Abbaye de Lerins on the island of Saint Honorat, just off the coast of Cannes.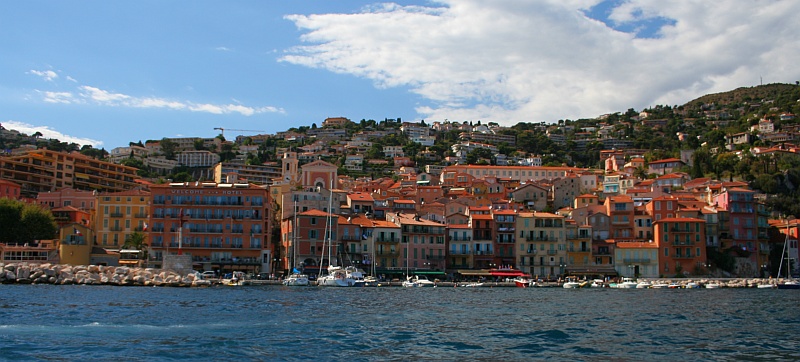 The little fishing village of Villefranche, where we stopped for lunch on the way to Monaco.
It's a lot like St. Tropez but without the pretentious plastic people showing off their cars and trophy girlfriends.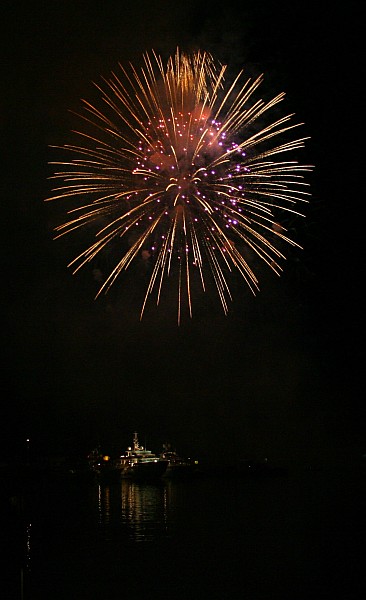 An international fireworks competition is currently underway in
the Cote d'Azur. Last week we saw Italy compete in Cannes.
And yesterday it was Russia, launching their entry from just out
of the port of Monaco.



< previous&nbsp&nbsp&nbsp&nbsp&nbspnext >