Location: Aleppo, Syria
Local time: Wednesday, 6:40pm
Music:

I started this while sitting in the very smokey (God, the entire Turkish population smokes like a chimney!) Kayseri Otogar (bus station), having just gorged myself on lentil soup and the ever-accompanying free bread, for 2 Lira at a seedy cafe nearby. I had a 4-hour wait between busses. I started out in Göreme in Cappadocia and my destination was Aleppo, Syria. A 12-hour overnight bus mish... ick!

The Turkish wedding party was fantastic. I started the night as a foreign stranger, and ended as a friend-come-musician extraordinaire! Boy those Turks can party when the raki and red wine gets flowing! As expected, the buffet was great, and I tried everything I could (everything that looked edible, anyway). I got talking to a Dutch family who'd lived in Turkey for 7 years, and they invited me out to their farm near Kusadasi the next day, but unfortunately I had to leave. A Turkish musical duo (with a little hand drum and a violin) struck up and played traditional music for some time, until it began to irritate even the Turks there, so I was ushered to the floor with my guitar. Well, we suddenly became a trio, and I had some rather odd backing music to accompany George Michael's 'Faith'... ("well I guess it would be nice, if I could touch your body"...etc). Hilarious, and I couldn't stop grinning from ear-to-ear (or was that the raki?). The crowd dug it so I played on for some time, until later I broke two strings in succession and it was time to stop. I left in the early morning while they were forming a rhumba line and spilling out the door onto the street. But not before negotiating free accommodation for the two nights I spent at the hostel (the restaurant owner also owned the hostel I was staying at). It could've easily been three free nights plus another free dinner had I wanted, but I had already booked a bus and had to push on to Pamukale in the morning.

Selçuk was, and still is, the highlight of my Turkish experience, and it was with a tinge of regret that I left for Denizli (by Pamukkale) in the morning...

Pamukkale was well worth the afternoon visit I paid it. What a bizarre phenomenon. And the Hierapolis ruins nearby were almost as impressive as Ephesus in Selçuk (not to mention 10 lira cheaper!). After Pamukkale I caught another overnighter to Göreme - a little village (pop. ~2,000) high in the mountains of Cappadocia in central Turkey. Before I left, I grabbed a quick doner at the bus station, coz I knew it might be my last food for some time. Mistake. Big mistake. The doner came back with a vengeance about five hours later. There was nothing I could do but get the bus to stop in the middle of nowhere, using some rather unfortunate hand gestures to illustrate my current physical state of distress. I grabbed whatever napkins were available and ran off into the night across a snowy field, to squat and explode on some poor farmer's land. (I can only imagine his delight the next morning, at the finding the little surprise I left for him). All seemed okay now, and I sheepishly returned to a bus-full of strange looks.

But then it hit again about 45 mins later. Oh dear God no! I tried to hold on, I tried to think of something else, I tried to clench. But when you gotta go, you gotta go. So I had to repeat the entire process again, stopping the bus in the middle of nowhere and stripping myself of whatever dignity I had remaining! A very, very humbling experience indeed.

I was dropped in the middle of Göreme at 4:50am, and couldn't quite believe what I saw. I stood there all alone in the dark and looked around in amazement at the strange cone-shaped rock formations (some with windows carved out) sticking out from amongst the shops and houses. It felt like I'd landed in a Dr. Seuss book. I picked up my stuff and strolled around the silent village (until the Imam started wailing through the speakers, waking up all the dogs in the process) and just gaped at the various cave dwellings. Every second one seemed to be a backpacker hostel! At 6am I found the ShoeString Cave Pension, and was kindly led into a cave dormitory to grab some much-needed shut-eye (but not before bumping into Brendan, the Aussie guy I'd hung out with Istanbul... small world!).

That morning I joined Brendan and four other Aussies (seeing a trend yet?) for a walk through Rose Valley - more mind-boggling rock and cliff formations, looking more Martian than from this planet. We had a late lunch of pide (Turkish pizza) and later I ended up entertaining a bunch of people with my guitar in the grotto-like cave common room at the hostel. I'm really glad I lugged that heavy instrument here with me. Brendan and I checked out a local cave-like bar for a quiet beer, and I had a little tinkle on a Saz (traditional Turkish guitar). Cool sound!

On my second day in Göreme I teamed up with yet another Aussie guy (jeez, are there any left in Australia?) and we headed off for another trek through some different valleys. And again, more incredible scenes. Everywhere I turned, I felt I just had to take a photo, but knowing none of them could possibly do justice to this amazing landscape. Early on in the walk we were invited in to an old lady's cave house, and were told that she'd had NZ Prime Minister Helen Clark there for tea and a chat. And sure enough, there she was, staring at us from a framed photo on the wall. Weird. The lady wanted to offer us 'hospitality', but we kindly refused, knowing a big walk lay ahead. On our way out she tried to sell us homemade tablecloths, dolls, cushion covers, pumpkin seeds... surprise surprise!

Cappadocia - what a weird and wonderful place. I caught an overnight bus from there south to Antakya (Hatay) at the extreme south of Turkey, and then went through the mind-boggling madness that is a Syrian border crossing. Total la-la land. My visa was to be US$60, and I had to pay in US cash only. I had only US$20 on me and the rest was in Syrian Pounds. Well, tough! And they wouldn't accept my Visa card. It was looking like I'd have to head back to Turkey. Oh shite! But luckily some tourist liason officer kinda guy helped me out (God bless the man!) and I exchanged money with him. I then gave my US$60 to the 'bank', they simply gave a receipt and 2,991 SYP (Syrian Pounds) back to me (the equivalent of my 60 bucks). What the hell!!?? I then had to take this money and go buy stamps for my passport, then get them processed at the counter, where I had to jostle with very pushy Turks and Iranians. By this time my bus had left, but thankfully the liason dude organised a free taxi ride for me, to Aleppo, 40km away. I was glad to leave that border station behind!

What an impoverished (and dirty) country. It was amazing to see what people were calling home, in rural Syria. So now I'm staying at 'Hotel Al Hourrie' (which has probably never seen an English-speaking tourist in its life!) in Aleppo (Haleb), which vies with Damascus for the title of the world's oldest continuously occupied city. The hotel is a real shit-hole, and the bathroom is somewhat indescribable (every time I squat over one of these oriental-styled basin-in-the-ground toilets, I'm reminded of that horrible bus ride!), but for 4 bucks a night I can't complain too much. Upon request, I played a good kiwi song (Crowded House) to the hotel guests and owners last night. Life sure is weird sometimes.

An Iraqi man (who snores like a jumbo jet, might I add) shared his breakfast with me this morning, and I've been checking out the city's sights with my new friend Karim, from Tunisia (north Africa). He's a chain-smoking, sometimes-mumbling-to-himself-in-Arabic older guy, but is local here so is giving me the low-down, and is good for a laugh. Last night we ended up at a men-only restaurant (ladies ARE allowed, they just never go there), where I must have passively smoked my way through two packs of cigarettes (the smoke hung thick in the air and I had to go and open a window and sit by it). We had some Syrian beer (which won't win any prizes) and a nargile (water pipe) and then finally, inevitably, some Syrian raki. The bill came to about 6 bucks.

The various country flag-badges I have on my backpack have become a real point of interest for a lot of people I meet. It's a laugh talking with them as they try to guess where each flag is from.

Today Karim and I walked around the city, drunk tea (man, I've got tea coming out of my ears now) and I had a good lunch for 25 SYP (about 50 cents). Tomorrow I leave Aleppo. I succumbed to a bit of an organised tour (which I'd promised myself I'd try to avoid) and will do most of the major sights of north and central Syria before arriving in Damascus late Friday night. I splashed out a bit on myself here, but I think it'll be good. It's low season now, so I talked the dude down as much as possible! Just me, a driver, and a personal guide, eating traditional food, meeting Bedouins etc.

I really still can't quite believe I'm in Syria. It's a similar feeling to when I stood in Red Square in Moscow. A boy from downunder, way out here! Never woulda thunk it. I've got some cool photos now, and I'm really getting into close-up facial shots of the various different-looking people I come across (as you can see in my last diary entry from Turkey). I'm actually considering trying to organise some sort of themed photo exhibition (thanks Brendan, for planting that seed) in a cafe or gallery. One idea is to do 'faces of the middle-east'... what do you think? Where, when, and how stills remains a mystery, however...

(apologies for the poor image quality... I have to work with what I've got! Photoshop is nowhere to be found...)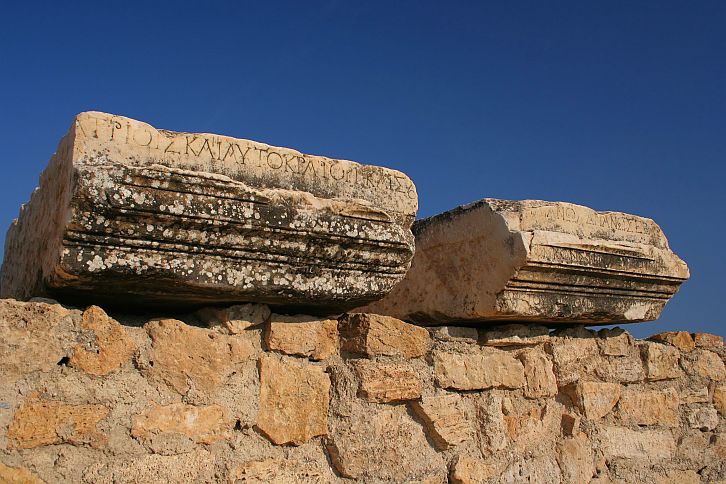 Ruins of Heirapolis, behind the pools at Pamukkale.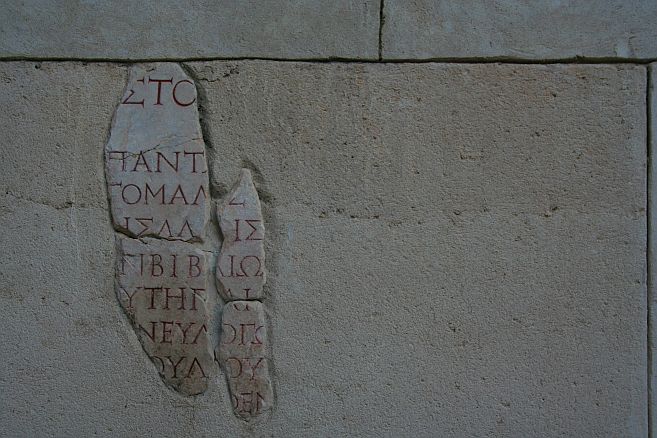 Part of the Library of Celcus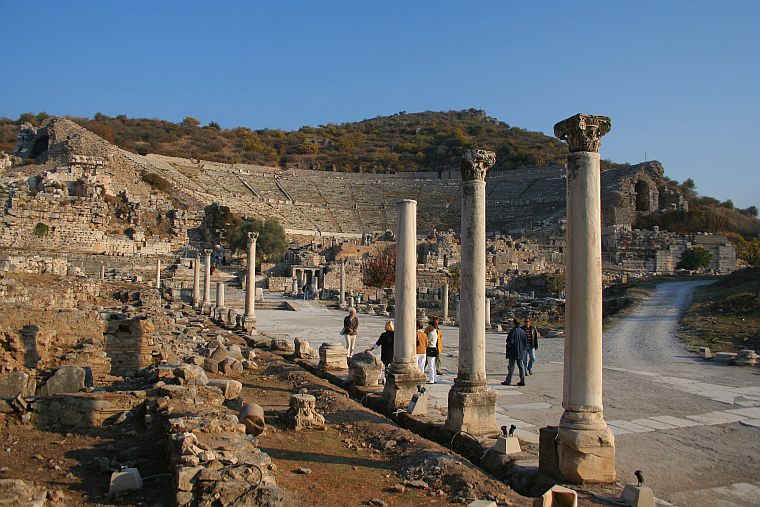 Looking towards the amphitheatre...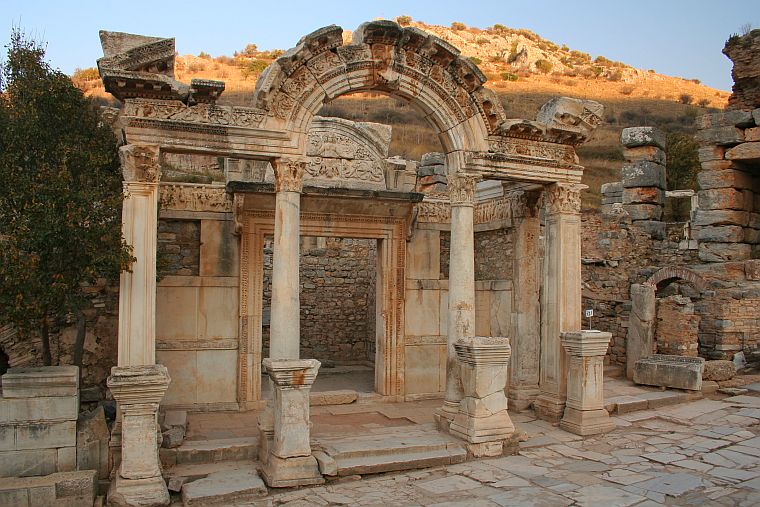 More...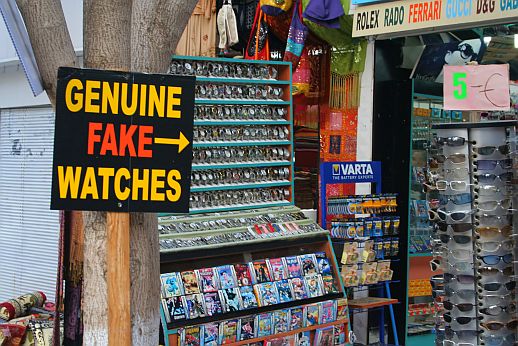 Erm, great!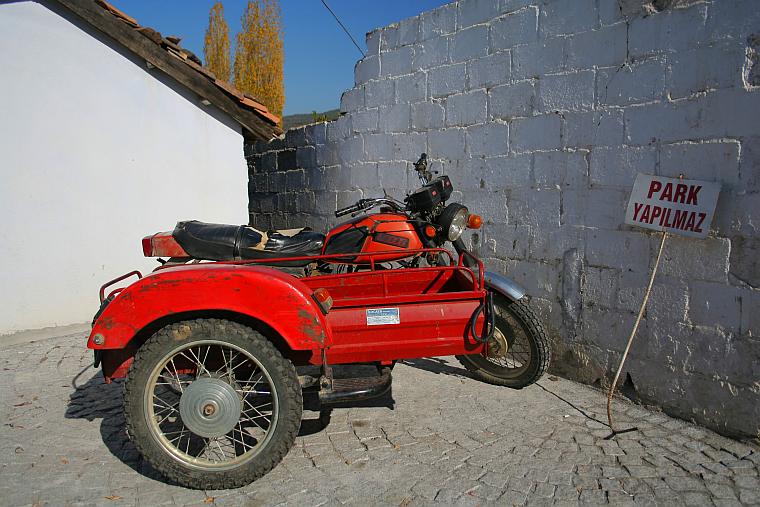 I took an afternoon trip to a little Greek-styled village outside of Selçuk. It was a little rural village producing wine and olives,
and this was a fairly common form of transport here.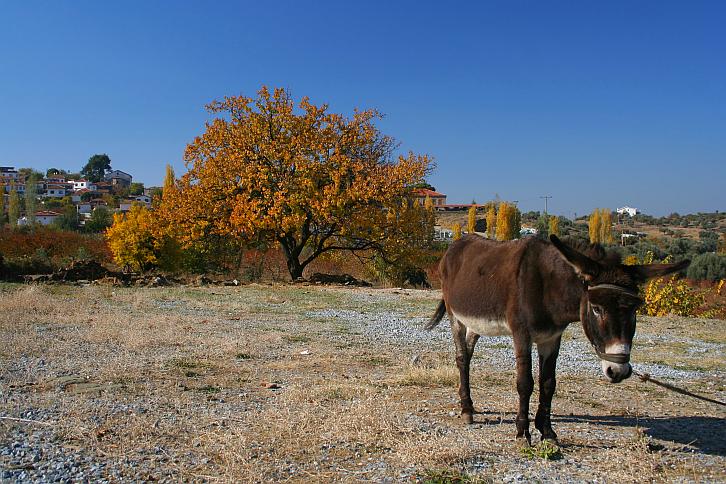 A friend I made in the village...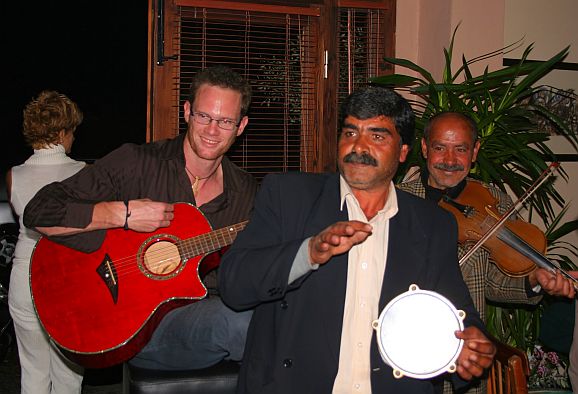 The Turkey Trio.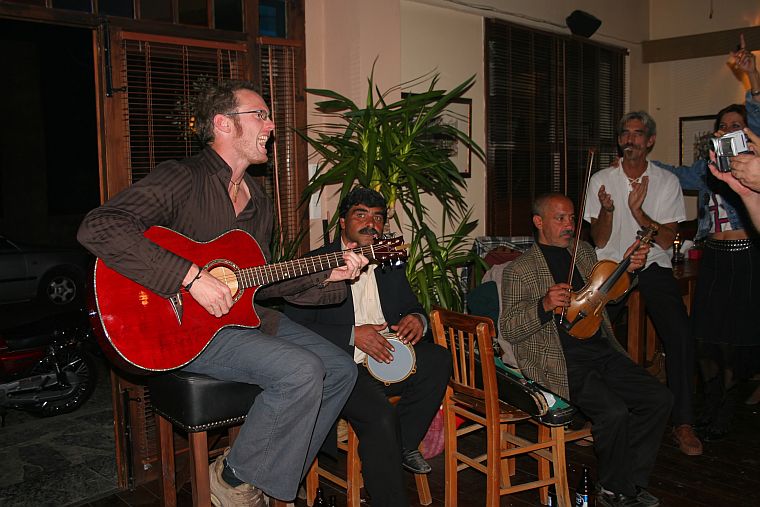 "Laaaaa!..."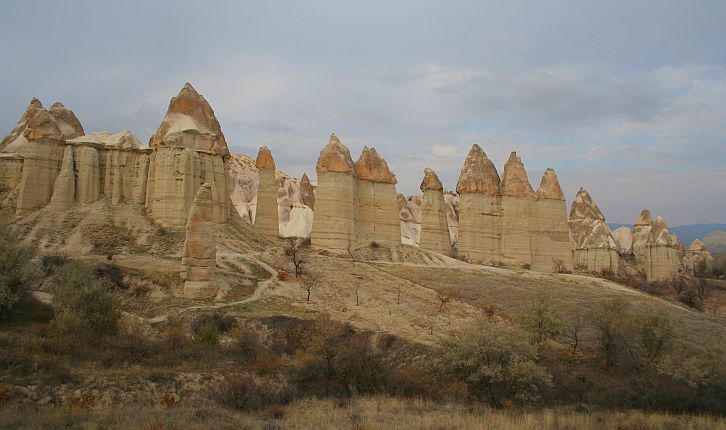 'Love Valley' in Göreme. I like to refer to them as 'rock cocks'.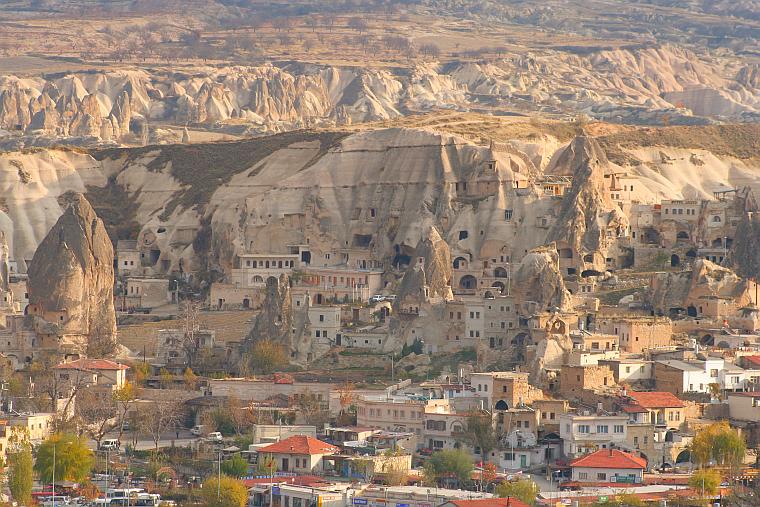 Looking back at Göreme.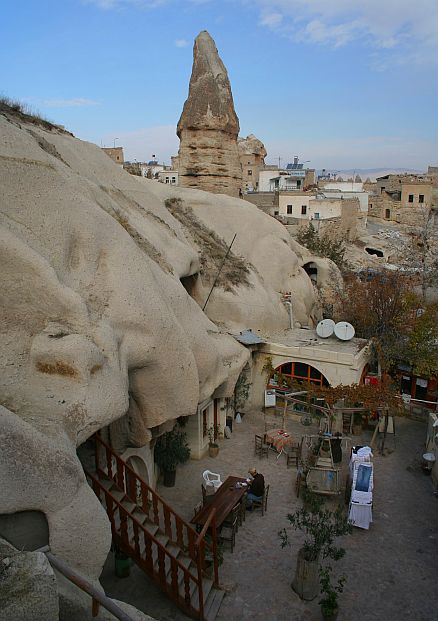 The ShoeString Cave Pension courtyard.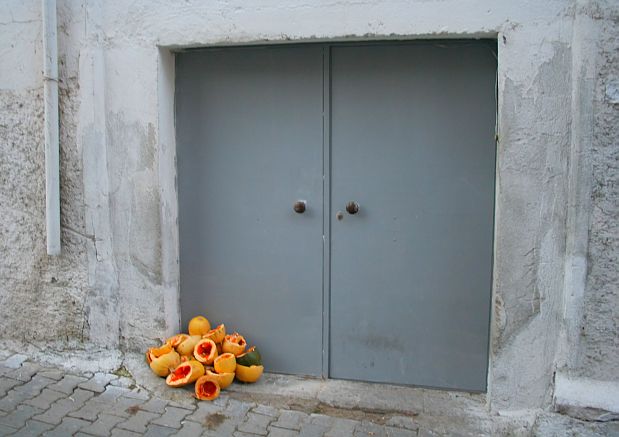 For some reason, they like to pull out the seeds of the pumpkin to use,
and then leave the rest of the vegetable to go to waste!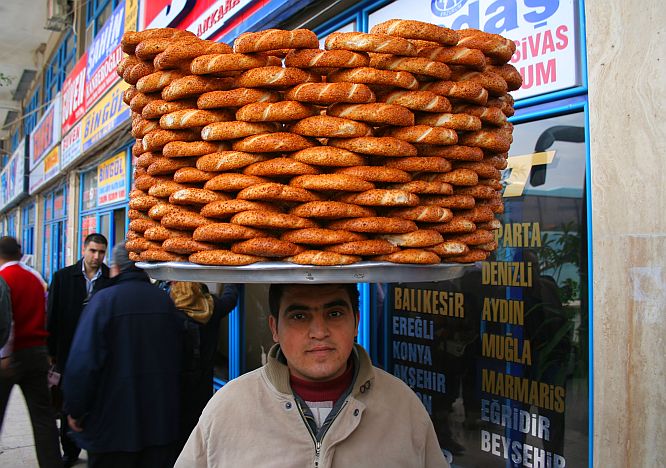 The breadman at the bus station.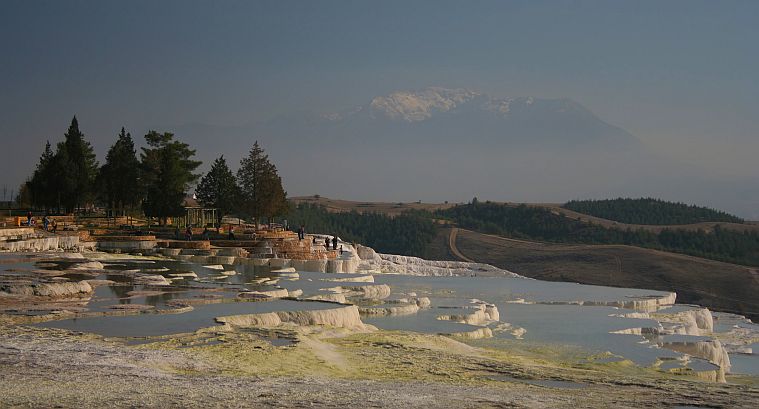 The pools of Pamukkale. The mountains seemed to be floating in the sky!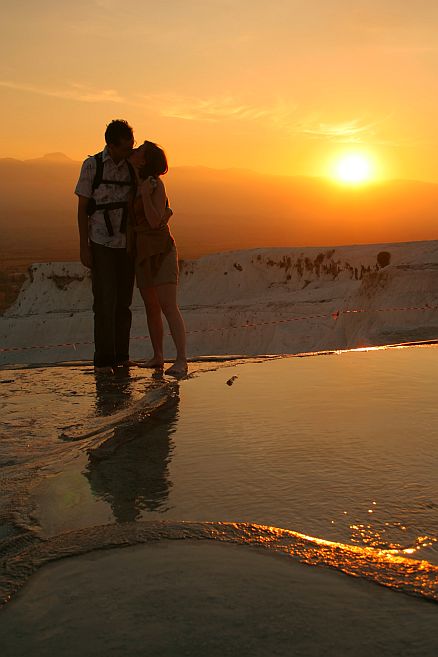 A honeymooning couple who want me to email them this photo!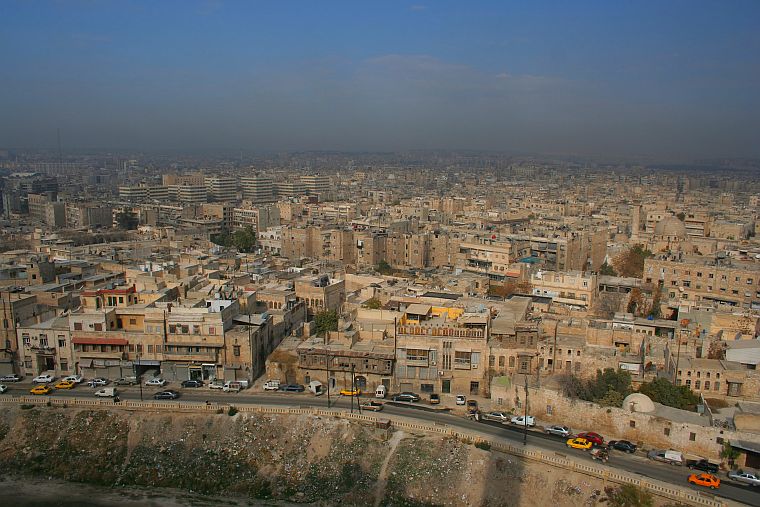 Syria. A few of the city from Aleppo's citadel (a huge defense installation).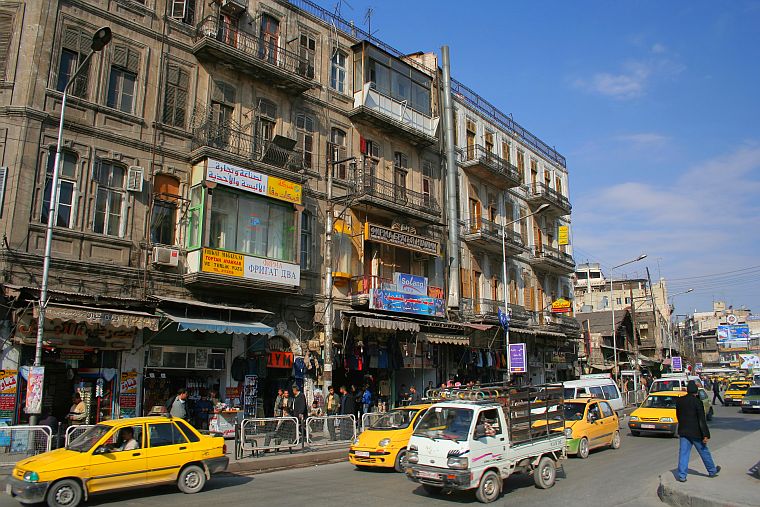 The pace is hectic here, and it's a scary thing attempting to cross the road!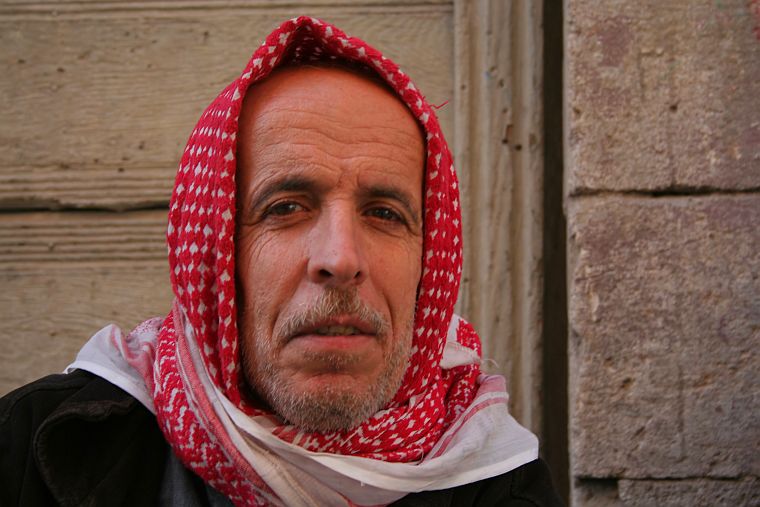 A local, chilling.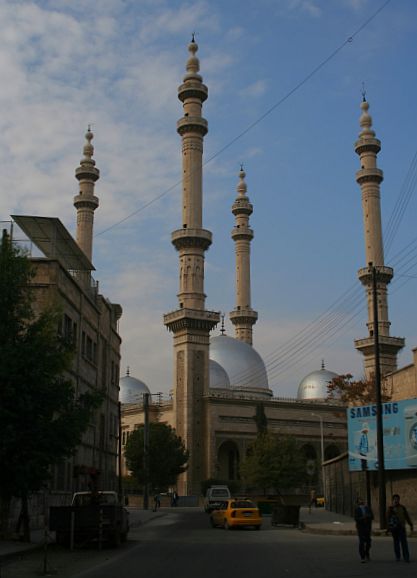 A mosque, not 20 metres across the road from a huge catholic cathedral.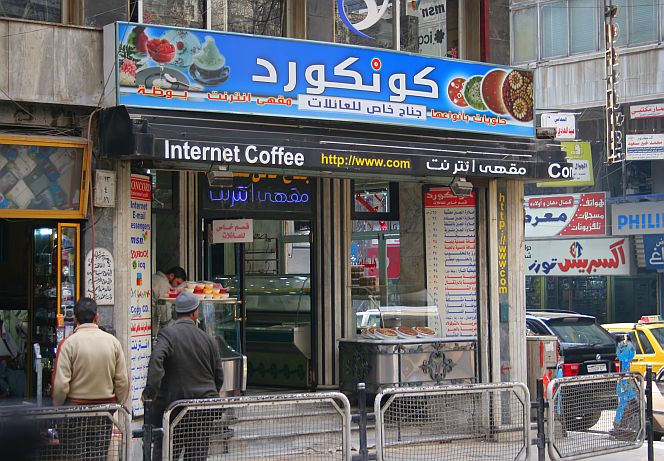 An "Internet Coffee" - where I've been sitting for the last 3 hours, trying to complete this diary entry.
"www.com" - hmmm, interesting. Their grasp of English is a little unusual!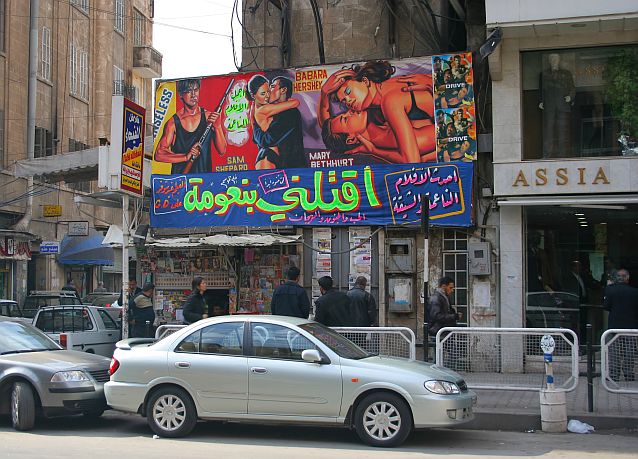 Just thought it was interesting, that's all!



< previous&nbsp&nbsp&nbsp&nbsp&nbspnext >