Location: Dahab, Egypt
Local time: Wednesday, 7:45pm
Music:

So much happens between these diary entries that it's difficult to know where to begin and what to include... but here goes...

I took a tour from Aleppo in Syria - just me, a driver, and a guide, who turned out to be a local archeology student undertaking his PhD. Thus I was bombarded with stories and history as we drove through Syria. First to St. Simeon Basilica, 40km north-east of Aleppo, and then south to the amazing Krak des Chevalier crusader castle. From there we drove out east into the Syrian desert, to Palmyra, where the amazing ruins of a 2000-year-old city lie beside the main road of a tiny village. I ate dirt-cheap dates, fantastic food of the Bedouin (nomadic desert people) and rode a camel even. Then we went on to the capital city of Damascus.

Damascus is a very vibrant, lively city of about 4 million, with a monstrous old city full of bizarres and street-side markets, and where it seems you must drive your car with your hand constantly on the horn! (which really goes for the whole of the middle east, to be honest). The food was cheap, the fresh juices were great, and the backgammon and water pipe shops sat competing with each other side-by-side (something I just don't really get about the middle-eastern culture - they like to all set up shop in the same tiny area and sell the exact same tourist crap as the others!). I eventually succumbed and bought a nice, large-sized hand-made backgammon set for 700 SYP (about US$13). Unfortunately now I have to carry it with me, and it's not light!

I stayed on in Damascus one day longer than planned, just to soak up the atmosphere some more, then headed to Amman, the capital of Jordan. (The border crossing this time was a piece of cake). I found this city to be rather dull and lacking in any particular character or charm. Myself and two others ended up taking a day trip to Amman Beach - a public resort area of the Dead Sea (the saltiest lake on earth, and also the lowest point on earth, at 400m below sea level). It was over-rated, but still, you've gotta check out these things huh?!

That night a group of us walked the streets of the city, and I eneded up buying a 'Saddam Hussein and his Ministry' deck of playing cards (Sadam's face graces the Ace of Spades) and then a leather motorbike jacket for 19JD (US$26!). It's rather heavy, and not something I'd wear on the street, so I left it with a Swedish guy I met at the hostel. He has room in his bags so will take it back to Gothenburg for me and I'll just have to make a quick trip from Denmark some time in the new year to pick it up. Now, all I need is a motorbike again...

From Amman I headed to Israel - destination: the holy city of Jerusalem. The Israeli border crossing was a real mission, and after unexplainedly having to take several different forms of transport to finally be shuttled across the border, I had to wait several hours for my passport to be processed ("are you married?", "where are you flying to after Cairo?", "is it likely that you'll be involved in any terrorist activities?"). I had opted not to get an Israeli stamp in my passport (since many Arab countries simply won't let you in if you have such a stamp), hence the horrible wait time. Then finally, another bus ride later, I was deposited in Jerusalem, almost outside the hostel.

What an amazing place Jerusalem is. The three major monotheistic religions (Judaism, Christianity, and Islam) colliding together and co-existing in one small city. There are so many cultures here. You can walk through the city and pass a scarf-headed Arab or Muslim, watch as dressed-in-black Jewish boys and men rock back-and-forth and pray at the Western (Wailing) Wall, or even check out the groups of Christian pilgrims (and Franciscan monks, even!) re-enacting the crucifiction walk of Christ through the city, singing and chanting and carrying a large cross (although it looks much lighter and portable than the original!) along the Via Dolorosa ('way of Christ') - a passageway through the old city, lined with souviner shops and falafel stands.

Oh the falafels! I felt like I was practically living off these things while in Israel ('and the Palestinian Territories', to be politically correct). Outside the hostel was a 24-hour restaurant selling 5 NIS (sheqel) falafel sandwiches - one helluva weighty, filling meal for the price (about US$1). But man cannot live on falafel alone, so I had one final falafel for breakfast on the morning of my departure and finally said goodbye to those things. (Well, so I thought. I think I'll be having one tonight for dinner actually!...)

The level of English in Jerusalem was excellent, and it felt much more modern and progressive than some of the other cities I've visited so far, and yet there are so many traditional ways and values still being upheld here. I checked out the Dome of the Rock mosque (the third holiest site in the Muslim world, after the holy cities of Mecca and Medina in Saudi Arabia), walked along the top of the old city's walls, I climbed the Mount of Olives, I donned a skull cap and touched the Wailing Wall (just to take photos!), and I chuckled under my breath at the funky hairstyles and wide-rimmed hats of the Orthodox Jews. And I bought a 'Free Palestine' t-shirt. Gotta support the cause.

Oh, and there was a bomb scare outside the hostel the morning after I got there, with Police and the army blocking the streets and entrances to the Old City for some time. Ah yes, Jerusalem.

From Jerusalem I left Israel again, got a shared taxi back to Amman in Jordan, and from there another down to Wadi Musa, the village beside the amazing ruins of Petra, a city carved out of solid rock cliffs some 600 years before Christ. What a truly amazing place (the entry fee was also amazing) - how they managed to carve such huge, incredible facades into the rock, so long ago, is beyond me.

Most people say you need two days to do Petra properly, but I only bought a one-day ticket and was glad I did - at the end of an exhausting day trekking around the rocks and mountains, I really didn't care to return the following day to see more of the same. (and to avoid the constant hasseling from the locals on their donkeys or camels - "Taxi? Taxi? Air-conditioned!") But I'm glad I saw it. I slept like the dead that night, and then the following morning hooked up with a fellow traveller and two Bedouin guides, and we headed out into the desert to camp for the night. Most people go to Wadi Rum (made famous by TE Lawrence - 'Lawrence of Arabia'), but we went to the much less touristy Wadi Araba desert instead. Thankfully the rickety old jeep managed to hold together (only barely) over what was the worst, roughest track I've ever had to endure, and we camped out in the middle of nowhere. Nothing but sand dunes, a few rocks, mountains in the background, and the occassional group of camels (yes, camels). I ate Bedouin food, drunk Bedouin tea, and slept under the stars on a mattress that contained more dust than the desert itself, wrapped in a blanket that smelt like camels and sweat. Good times, good times.

The following morning involved a huge mission down to the coastal city of Aqaba, where I was to catch the mid-day fast ferry to Nuweiba in Egypt. But I was ten bloody minutes too late wasn't I?! I watched as the ferry left without me, and had to buy a ticket for the slow boat, which was to leave at 10pm (well, nobody really knew what time actually). 10 hours to kill - neato. Me and another headed to a local beach for a swim in the Red Sea, and ended up having a huge BBQ dinner with a Muslim family from Amman who were visiting Aqaba for a few days. "It is the Muslim way to provide for those in need" they said, and boy did they provide. I got absolutely stuffed full of good local food, and they wanted nothing in return. It really was a heart-warming experience and I only wished I could communicate my thanks with them using more than the few basic Arabic words and phrases I know. They even dropped us off back at the ferry port. And so the waiting game began. Every man and his dog wanted to get to Egypt that night, and we finally boarded the boat at 11:30pm. It left the dock at 4am the next morning. Oh boy.

So, a couple of hours and a little sleep on the disgusting floor later, and I was in Egypt - yay! Four of us caught a shared taxi from Nuweiba to Dahab, where I am now. This place is great - almost like an Arab version of the place I used to live in the Caribbean, minus the traffic and high prices and crap people. It's rediculously cheap here (the Internet is costing me about 50 cents an hour). I'm staying at a fantastic hostel right on the beach (I have a single room for about US$4), and the beachfront restaurant does great big breakfasts for a couple bucks. It's warm (around 26-degrees), and I'm even sporting a little sunburn after going snorkelling at the famous Blue Hole yesterday afternoon (a hole that drops to several hundred metres, just a couple of metres off shore, surrounded by coral etc). Tomorrow I think I'll do a dive, and then that night I'll climb Mt. Sinai to watch the sunrise and then check out St. Katherine's Monastery the following morning. And then it's on to Cairo on the overnight bus... I can't wait!

So here's just a really small selection of my photos so far (oh boy this took a long time to do!)...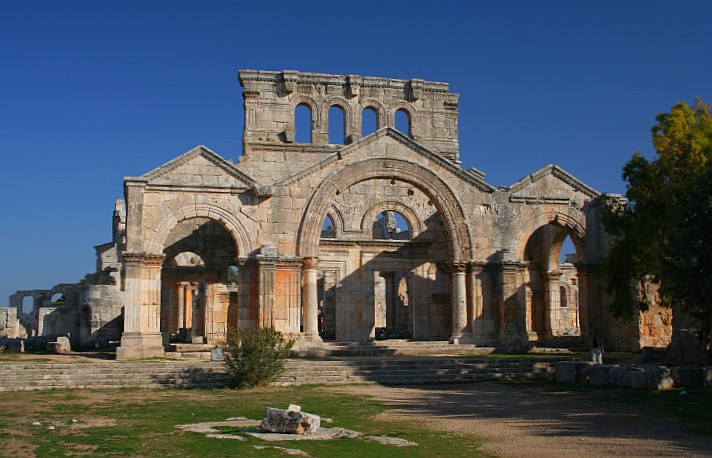 The Basilica of St. Simeon, built in the 5th century, in honour of St. Simeon, the founder of the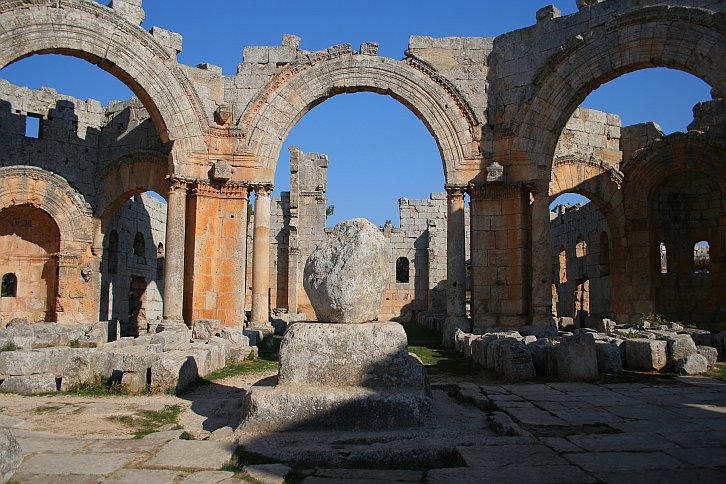 All that remains of the 18m column that St. Simeon built so that he could be closer to God. Atop the column was a 1m x 1m
concrete platform on which he lived, from the age of 25 until he died, some 40 years later! Now that's devotion!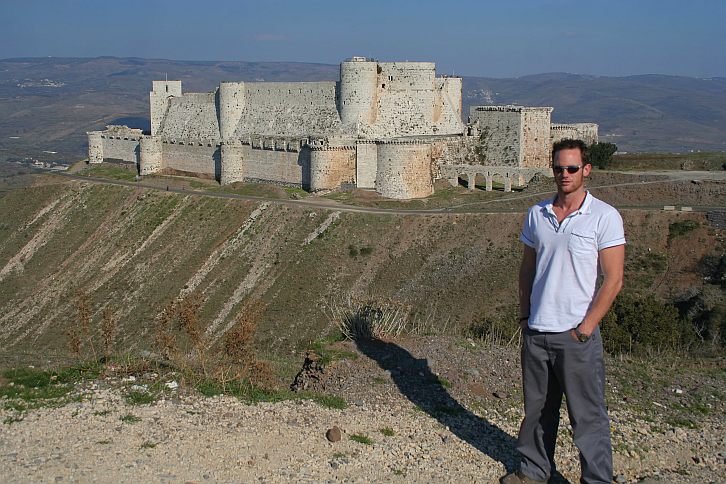 The Christian crusader castle of Krak des Chevaliers (Castle of the Knights), considered to be one of the
greatest fortresses in the world, built in the 10th century.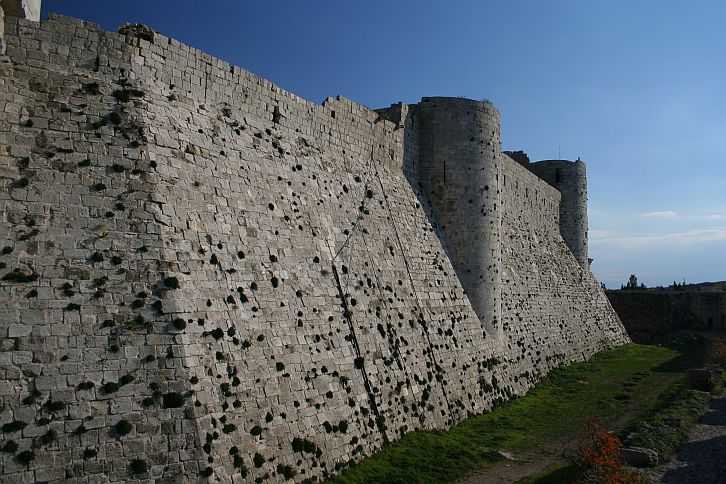 The huge walls surrounding the castle.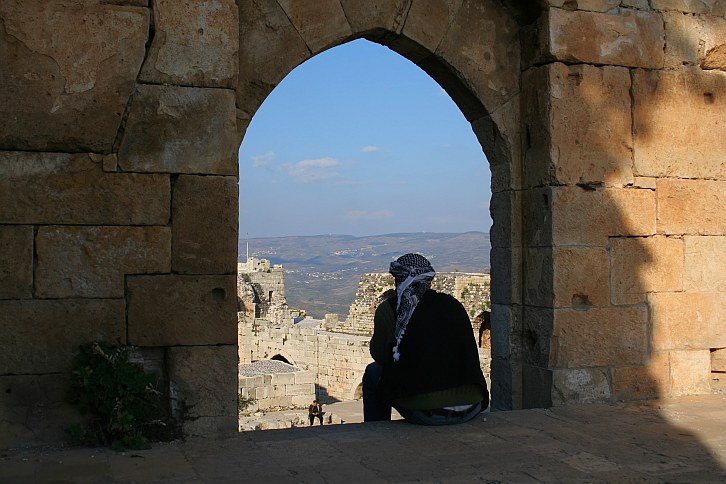 A worker, chilling inside the castle.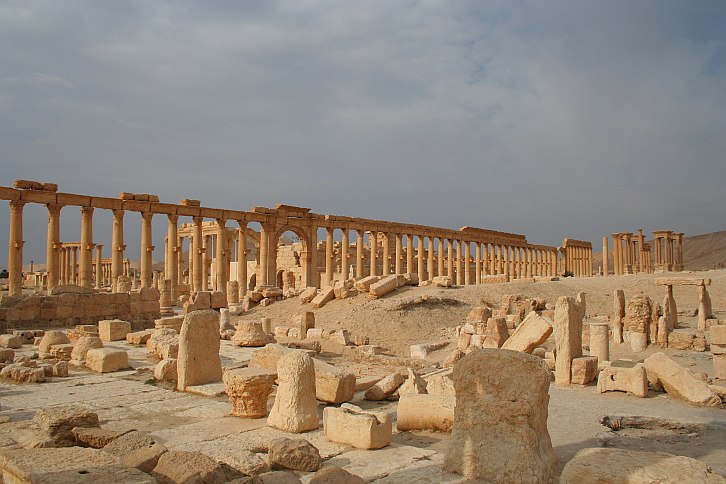 The amazing ruins of Palmyra, in the middle of the southern Syrian desert. This great city was begun in the 2nd century.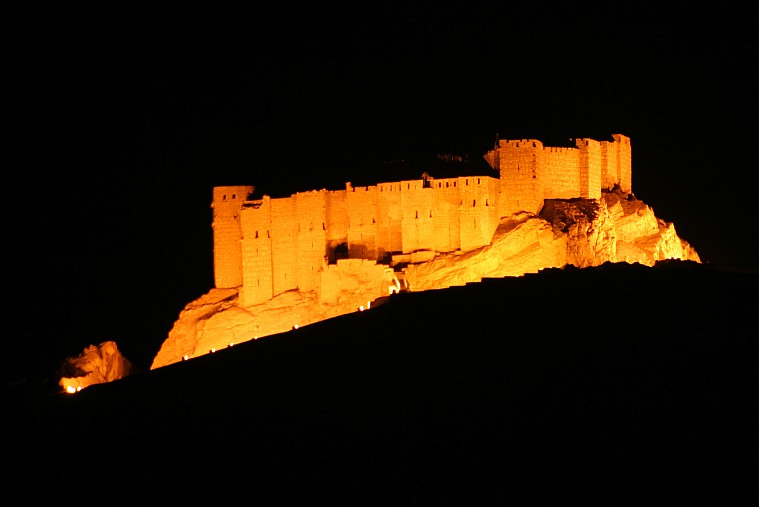 The fortress overlooking Palmyra. This is similar to the view from my hotel window...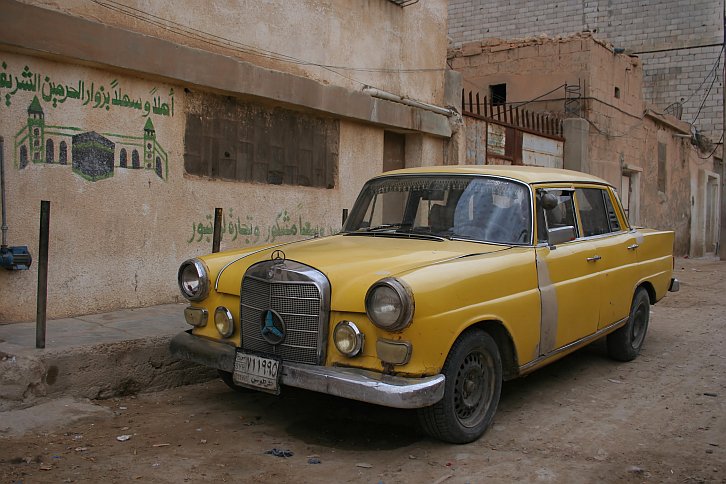 There seemed to be many old Mercedes in the small village of (new) Palmyra...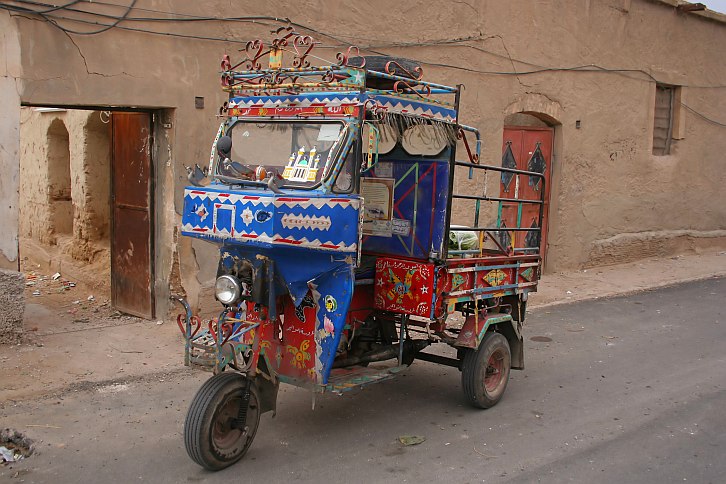 A very poor village, this is a rather common form of transport for the whole family!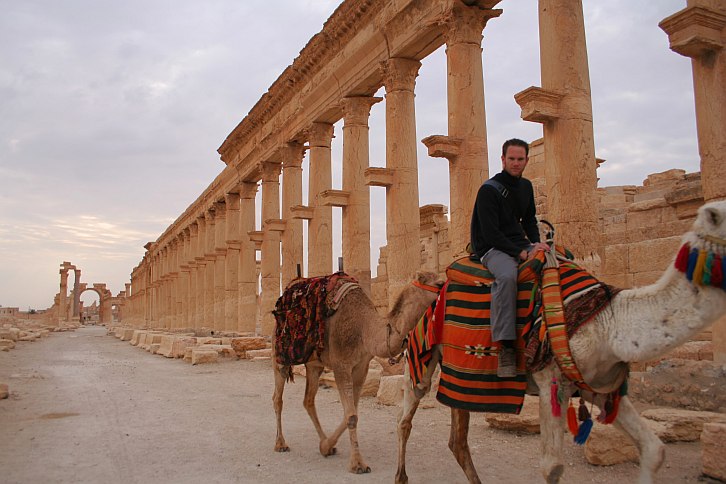 My form of transport in Palmyra!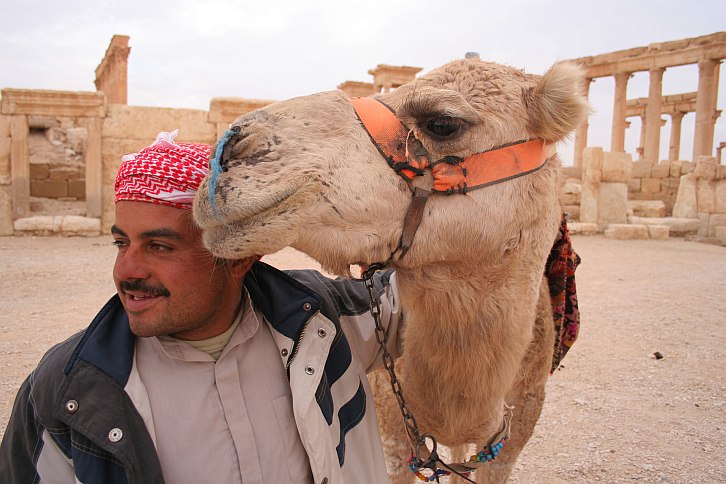 The friendly camel (they're always smiling!) and his master.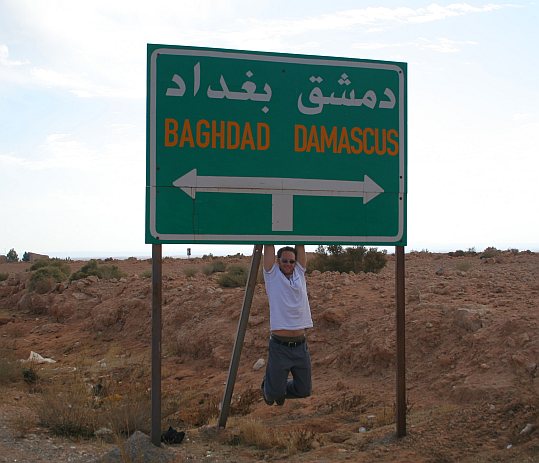 The closest I think I'll ever get to Iraq - about 150km.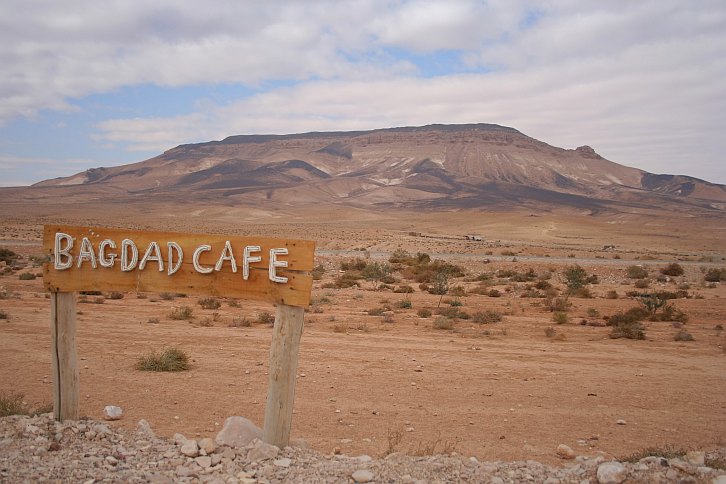 On the way from Palmyra to Damascus, we stopped for a Bedouin coffee at the famous Bagdad Cafe.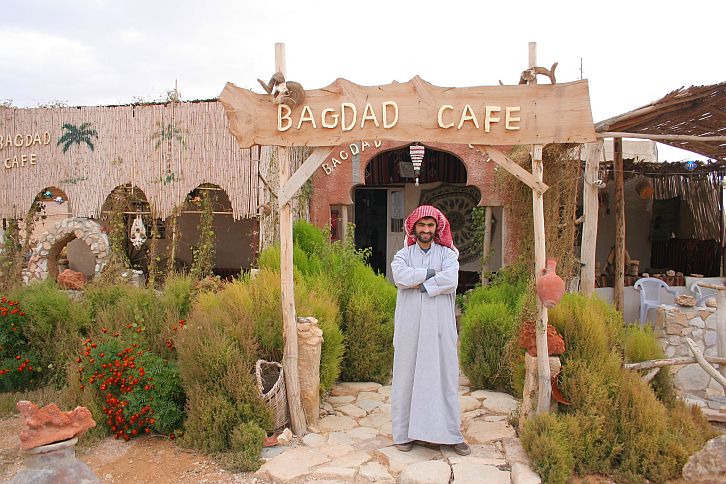 The young but warm and endearing owner of the cafe.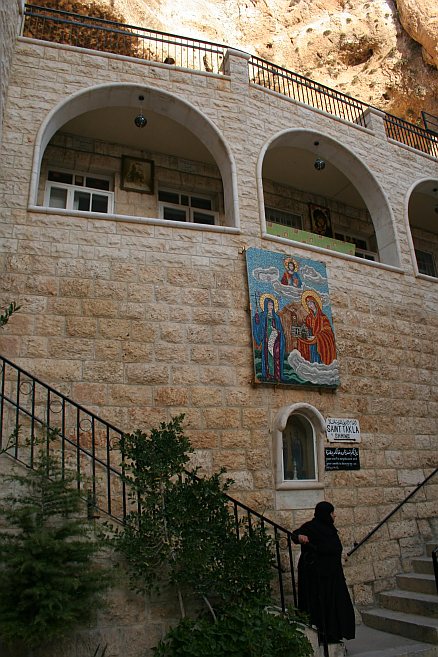 The Mar Sarkis Monastery in Ma'lula, built in the 4th century in honour
of a Christian saint. It was amazing to see so many devout Muslims
visiting this Christian site, and even lining up to drink from a holy spring.
I was told this is all part of what they call 'religious tolerance'.
The village of Ma'lula is one of only three in the world where the locals
still speak Aramaic - the language of Christ.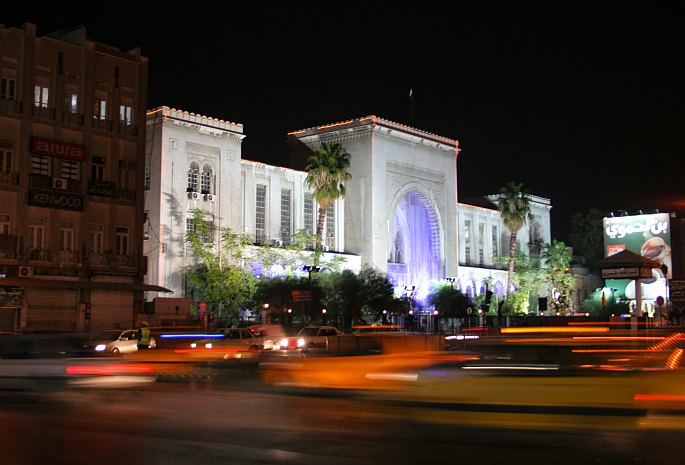 Damascus by night.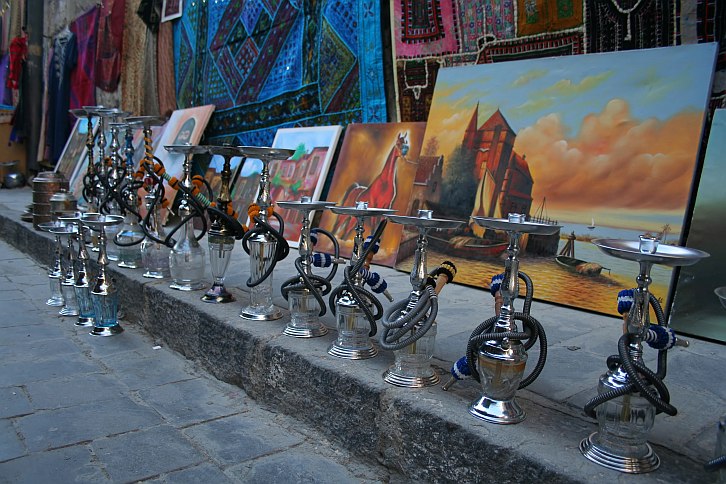 A fairly typical street-side scene.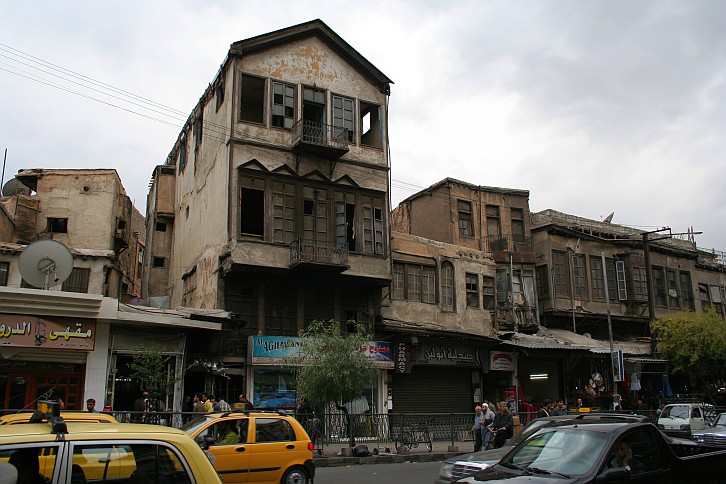 And a fairly typical street.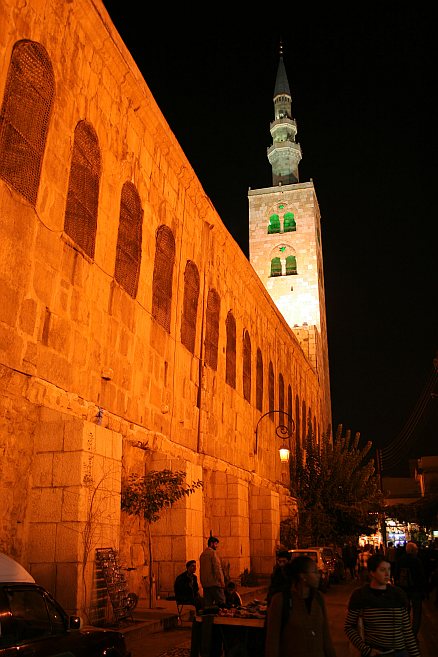 The central Damascus mosque.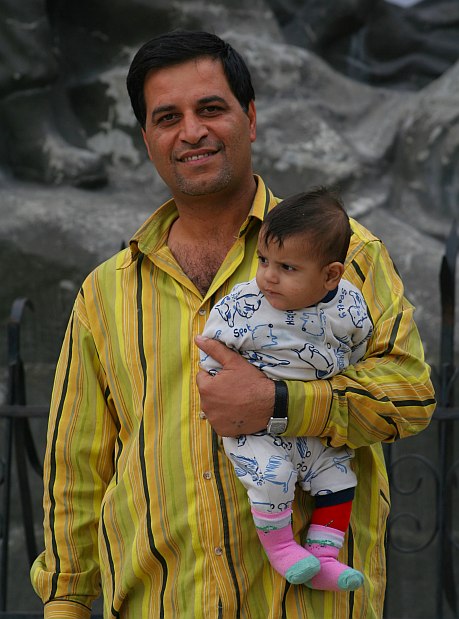 Some love to pose for photos, some don't. This guy did, so who was I to say no!?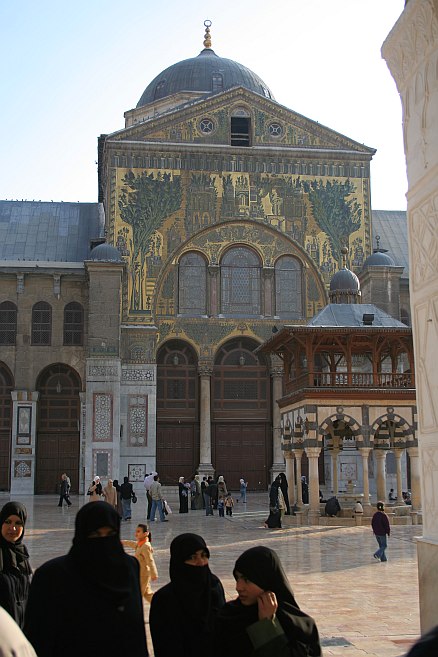 A group of Muslims leaving the mosque after prayers.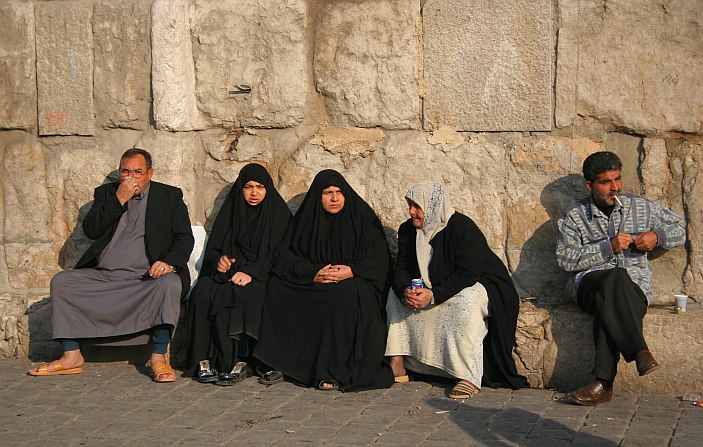 Chilling outside the mosque.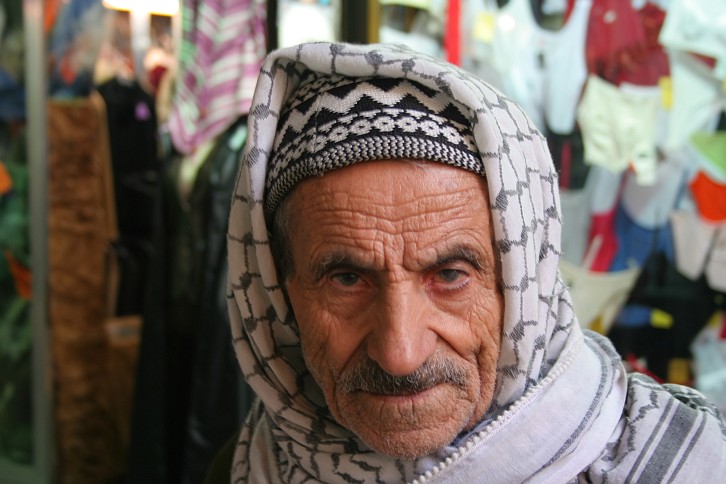 This guy sold me some sort of tasty nut bar. He looked like such a character that I just couldn't resist asking for a photo
(the sole reason I bought the nuts, to be honest).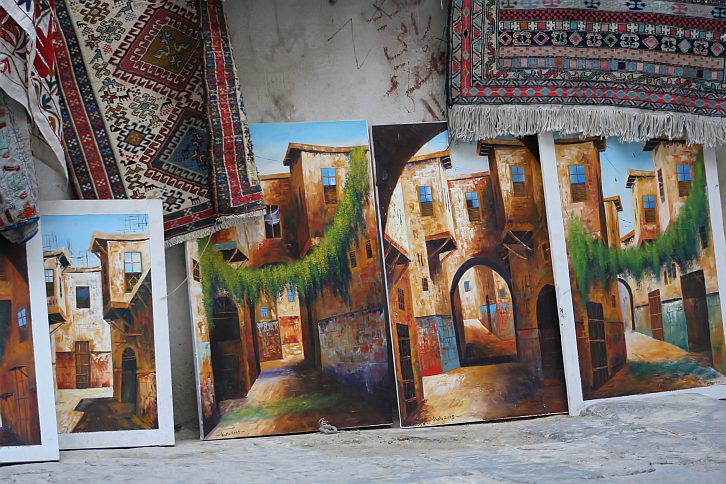 Local art for sale.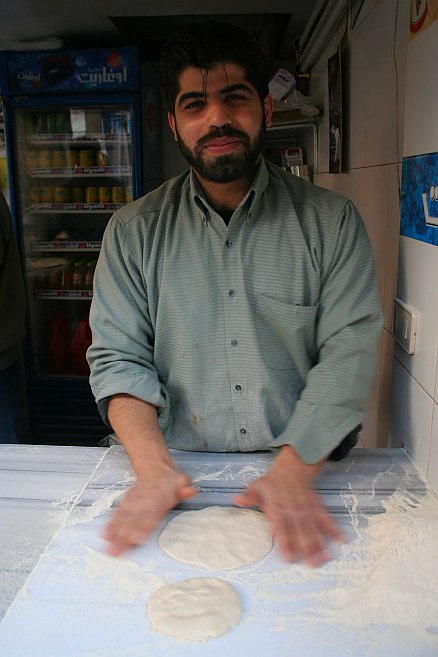 The guy who made my lunch. Those hands just wouldn't stay still!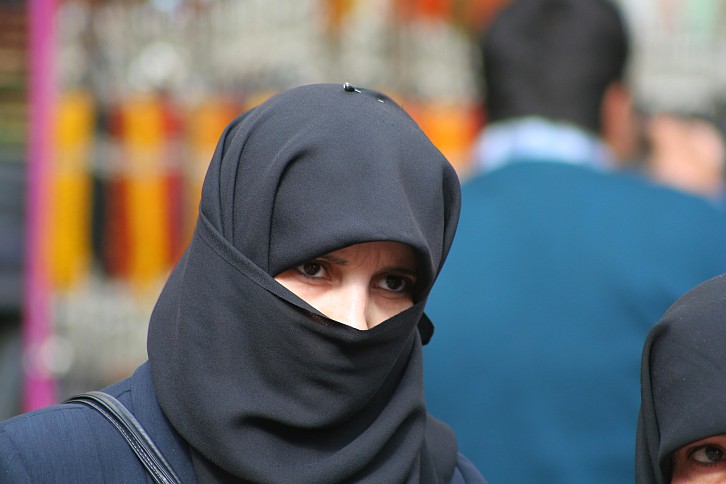 Who needs sun-block?...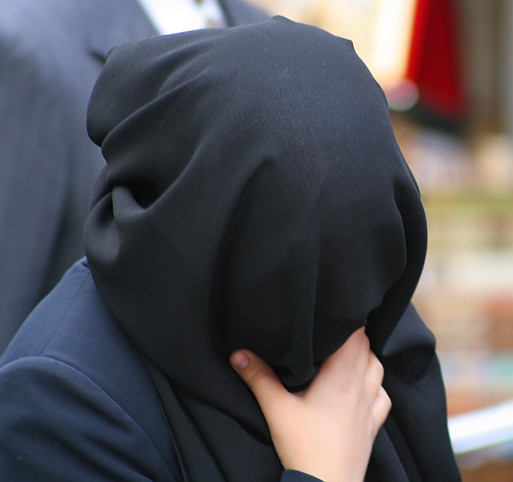 Or even sunglasses...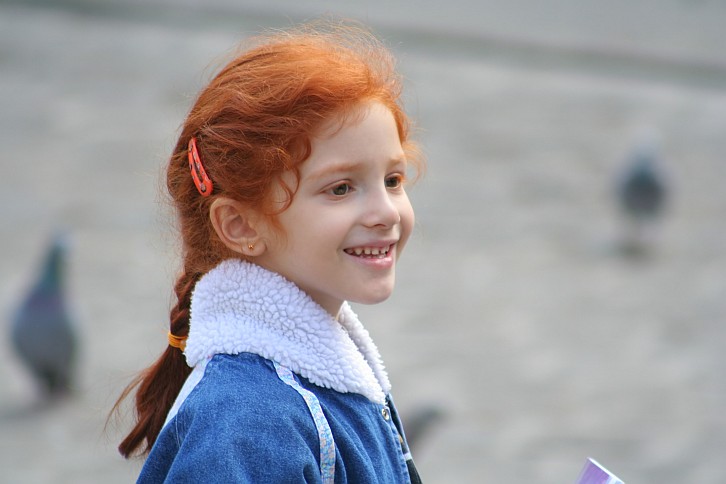 It was kind've strange to see red-headed, white-skinned locals walking amongst the crowd. They're the result of breeding
with the Christian crusaders some one-thousand years ago.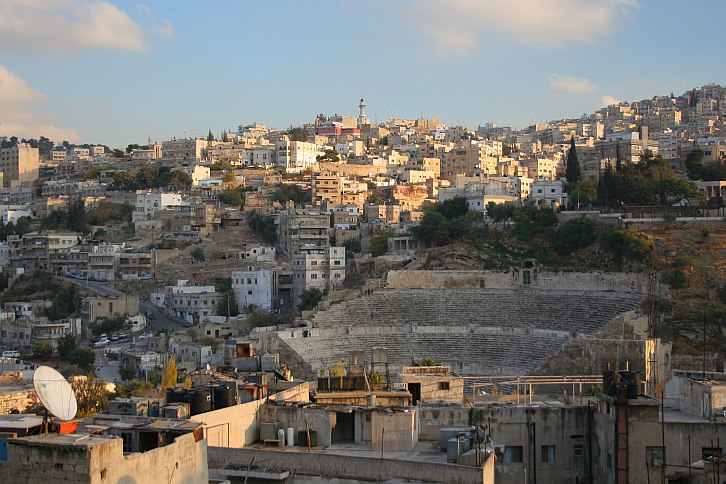 The 6,000 seat Roman Theatre in Amman (the capital of Jordan), begun in 138AD.
The houses surrounding it are very typical of the entire city - horrible drab concrete blocks.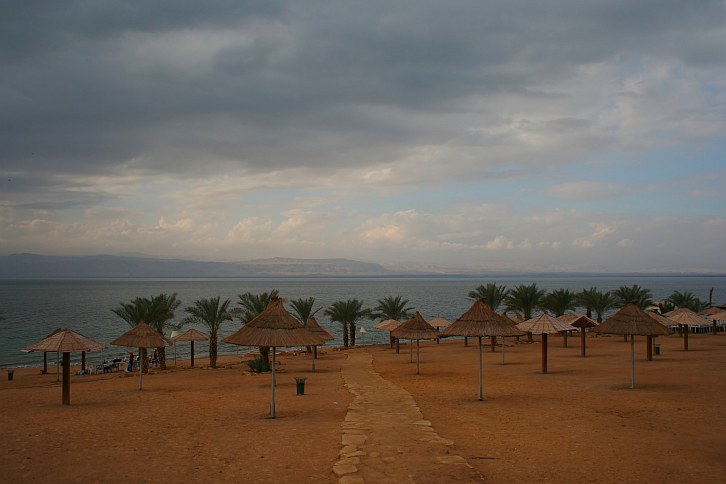 The Dead Sea. There have been many attempts to swim across to Israel (seen in the distance), but only a few have ever made it,
as most are picked up by the army. Hey, it's worth a shot right?! (and it's so easy to float that the chances of drowning are zero).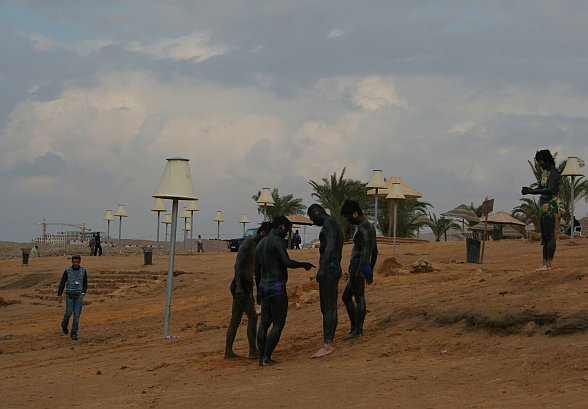 The mud along the shore of the Dead Sea is apparently very good for you. Or good for a laugh, anyway...
(and what's that guy pointing to?)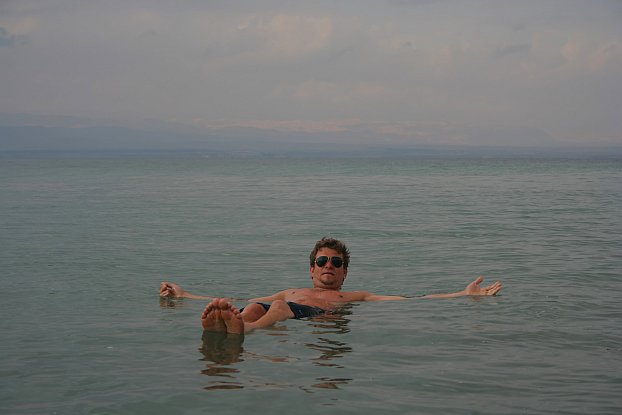 Swedish Magnus, just floating.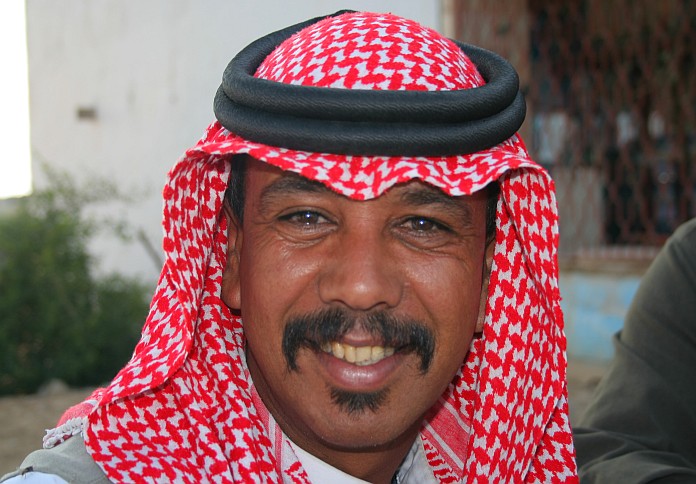 While waiting for the bus to take us back from the Dead Sea, another photo opportunity arose. Meet Mohammed.
(They're all either called Mohammed or Ali - it gets so boring asking somebody's name in these parts!)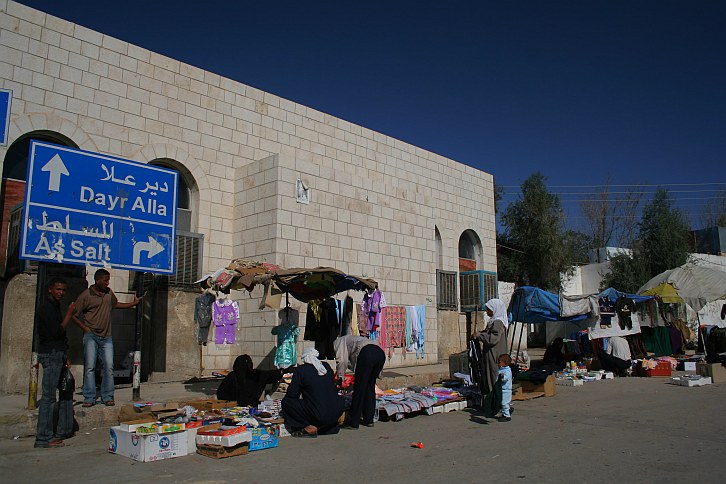 In the middle-east, they'll set up a market anywhere they please! This was near the Israeli border crossing.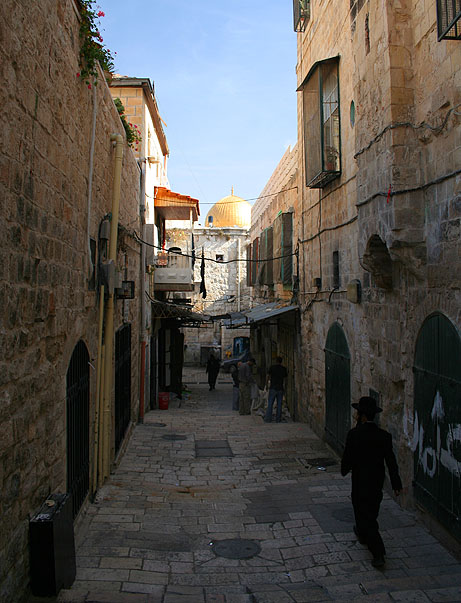 A typical alley inside the Old City walls of Jerusalem.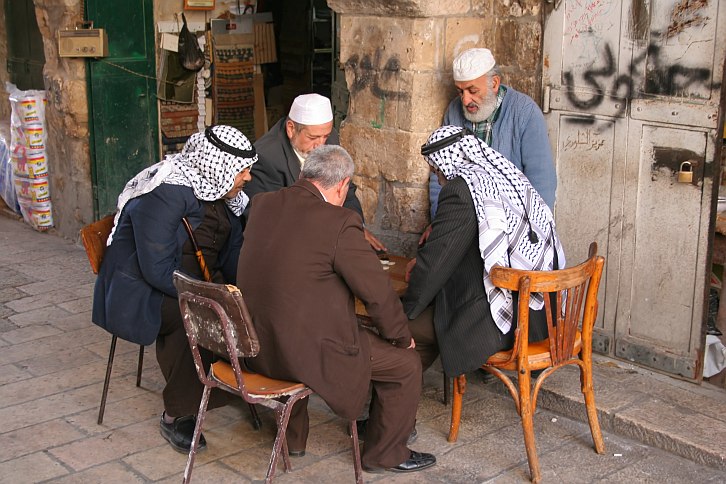 Some locals playing backgammon while the world passes by.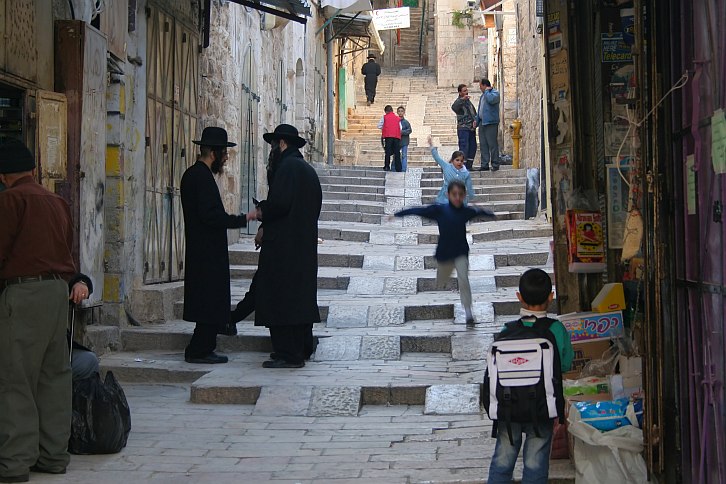 Another typical scene inside the old city.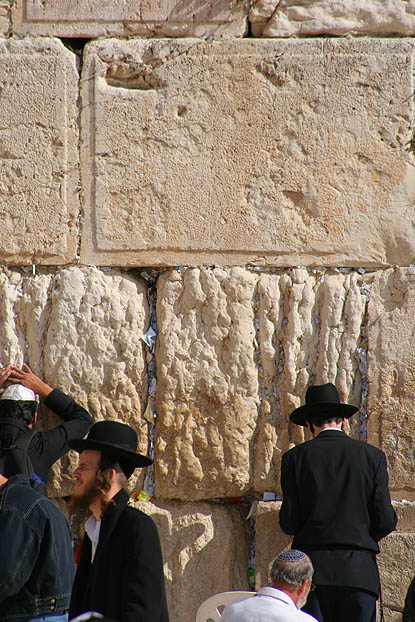 Jews praying at the Wailing Wall.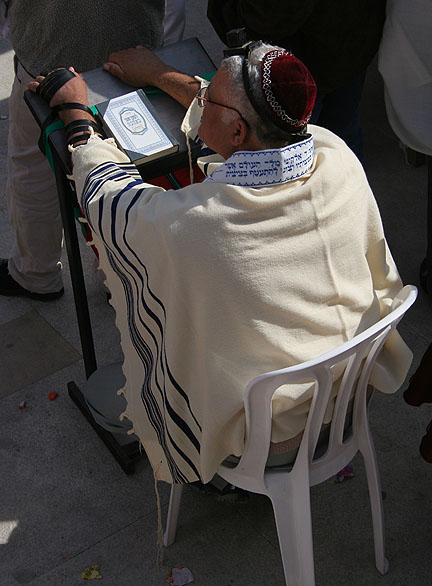 This man sat there chanting scriptures (or something) from his Tanakh (the Jewish bible).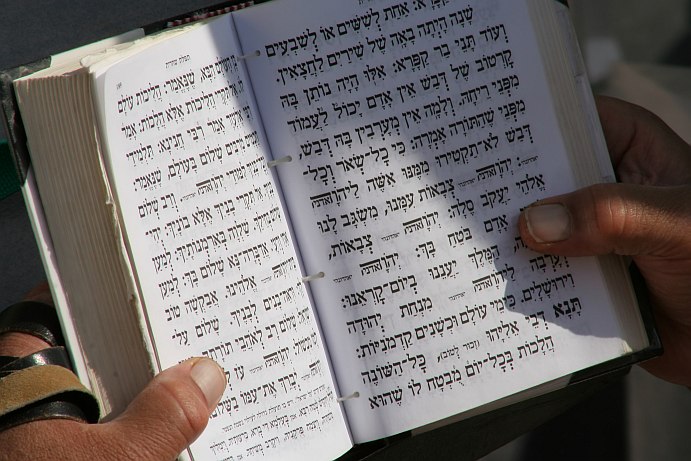 A close-up of the Tanakh, in Hebrew.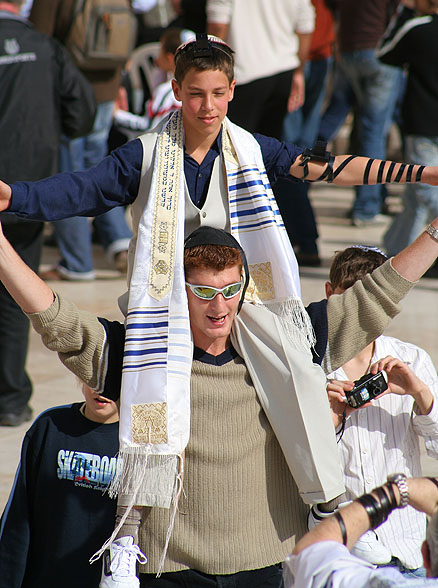 The first day I visited the Wall, there seemed to be some sort of important
event taking place (for young boys, I think), and candy was being thrown
everywhere (including into my eye).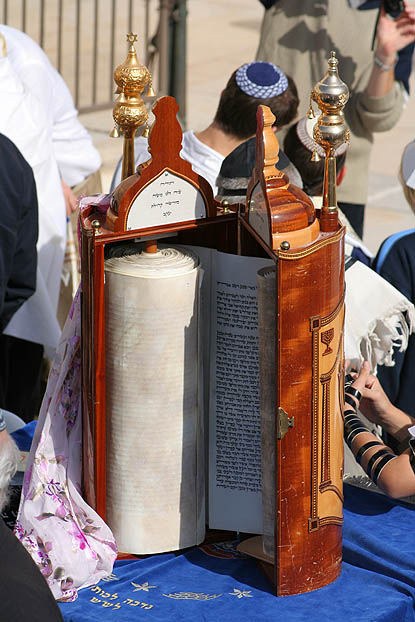 They all carried these huge cylinders containing scripts from the Tanakh.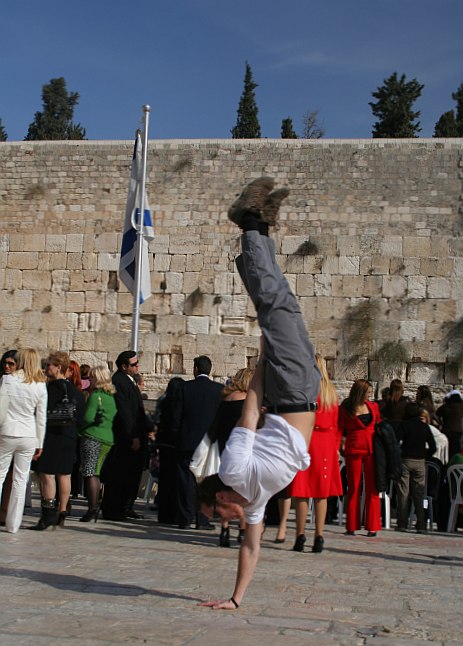 What better place to do my obligatory one-hander than in front of the Wailing Wall?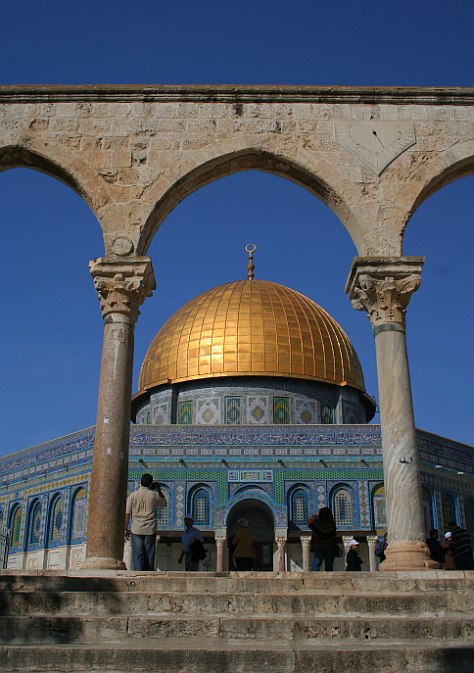 The Dome of the Rock - a very important mosque in the Islamic world.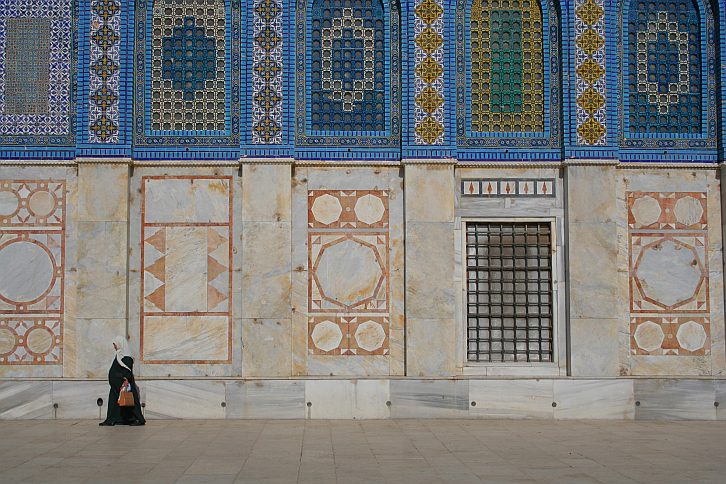 The facade of the mosque was really intricate, and dazzling in the sunlight.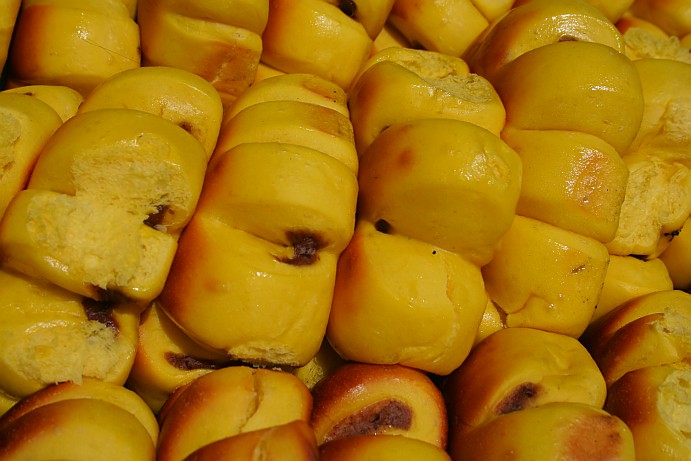 Some sort of yellow, doughy local fig-bread treat. Was a bit like chewing on a tyre.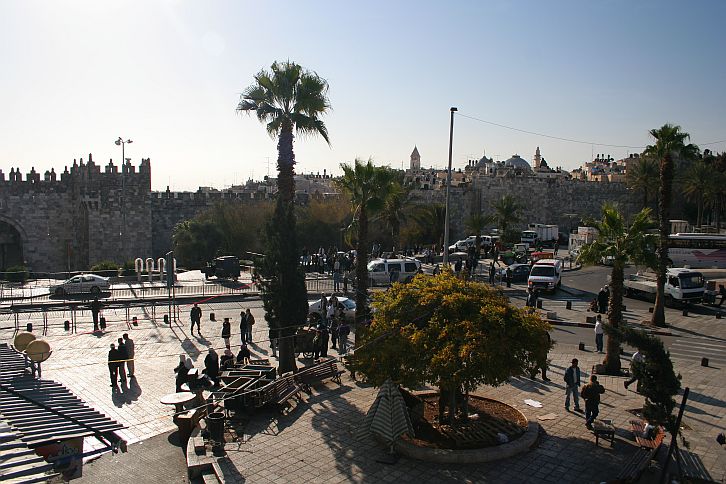 The scene below our hostel on the morning of the bombscare. It doesn't really look like much from this angle, but around the
corner were pile of police and army and people just looking on. They were firing at some suspicious package with a
water cannon. I went down to the street and had a look then returned to the hostel. Soon there was a huge bang and
smoke drifting past the window. I think the whole thing was a false alarm, but still added some excitement to
my trip into what is considered to be rather hostile territories.



< previous&nbsp&nbsp&nbsp&nbsp&nbspnext >