Location: Selçuk, Turkey
Local time: Friday, 6pm
Music:

After an uncomforable bus ride to Latvia (surrounded by Russians), I caught a taxi to an almost-deserted Riga International Airport. Strange feeling, being alone in such a big place.

Istanbul is a crazy city (and full of stray cats too!). With a population of around 19 million, I think it must be the biggest city I've seen. The masses and masses of people are a little unnerving for me, to be honest. And now I've seen mosques. Lots of mosques. And I've grown accustomed to the Imams calling the faithful to prayer, five times a day. The loudspeakers atop the many miniarets dotted around the city all compete for attention, and the Imams seem to be holding a competition to see who can hold the most annoying note the longest!

The Grand Bizarre and Egyptian/Spice Bizarre is an amazing concotion of sights, sounds and smells. I've fallen in love with the various sorts of Turkish Delight, and have all but lived on one-Lira doner kebabs (if you shop around you can really get a tasty good value meal out of these!). I've drunk the Turkish Tea (almost a religion for most people here, who seem to always have a full cup at hand), and sipped on strong, thick Turkish coffee while smoking the Nargile (hookah, or water pipe) and swapping travel stories with a new Aussie friend. I've walked the main street of Sultanahmet (Istanbul's old city) late at night, snacking on honey-soaked Baklava, and drunk a local brew (Efes pilsner) with a young Kurdish guy.

Many people try and guess my nationality, and when they find out I'm a kiwi (they mostly guess Aussie first, unless I'm wearing my NZ cap), surprisingly, some even reply with "kia ora bro!" (which is Maori for hello). Amazing the sort of things some of them pick up! A few days ago I walked the 1915 World War battlegrounds of Gallipoli (15 kms on foot!) with another Aussie guy I met (seemed kinda poignant that just the two of us ANZACs were out there, no other tourists in sight).

Yesterday morning I was unceremoniously dumped in Izmir at 5:30am (they'd promised me it was a direct bus, dammit!), and had to catch a minibus to my destination, 45 mins south. So now I'm in Selçuk on the Western coast. The weather here is clear and warm (compared to Istanbul's grey, drizzling days of about 13-degrees) but still it gets mighty chilly at night. Yesterday I trekked maybe 10 kms around the town and through the ruins of the ancient city of Ephesus (started in the 7th century BC). On the way back I stopped at one of the Seven Wonders of the Ancient World - the Temple of Artemis. Unfortunately only one very tall column is left standing, but man it must have been something back then.

When I arrived at the hostel yesterday ('Kiwi Pension') I got talking to the owner (a British lady who's lived in Turkey for 21 years) and mentioned my guitar and past musical history. She was looking for some live music at her new (fairly fancy) restaurant that she opened recently here, and so invited me along. I ended up playing my guitar to the half-full restaurant for an hour or more and got a great free meal and plenty of raki (the Turkish national drink, also known as "Lion's Milk"). Now tonight I have been invited back to a Turkish wedding party! There's going to be a gypsy band playing, but they want me to bring my guitar anyway. (I'm looking forward to the Turkish buffet!...)

These Turkish keyboards are infuriating for me to type on! I've had about enough I can handle for now, so, as I've already filled two CDs with photos, here's just a small selection...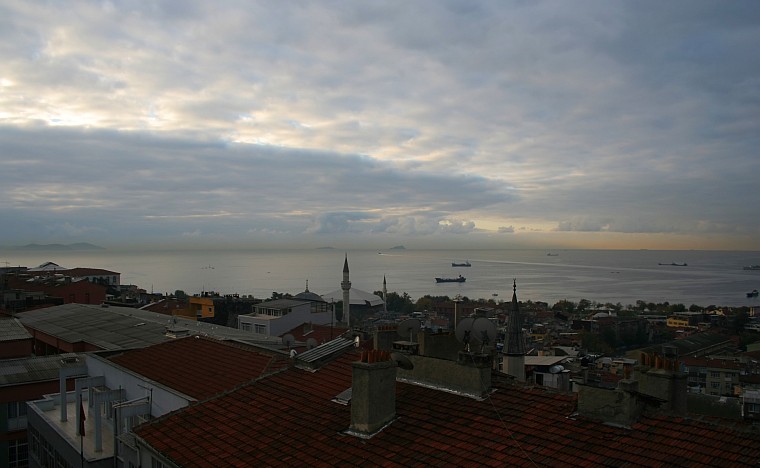 The view from the balcony outside my hostel room in Istanbul.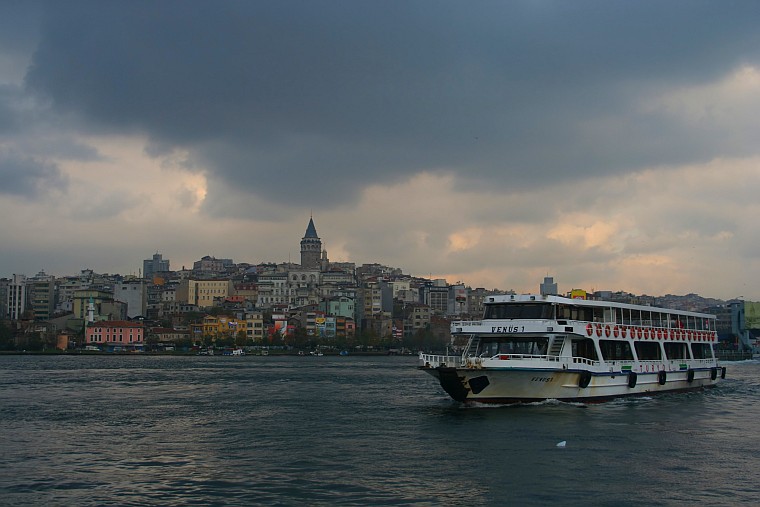 Hundreds of ferries are plying up and down the Bosphorous...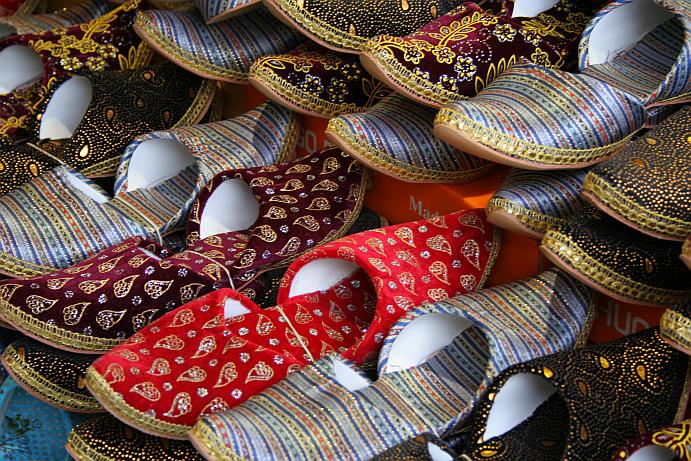 Traditional shoes on sale in the Grand Bizarre (a huuuuge roofed-over marketplace).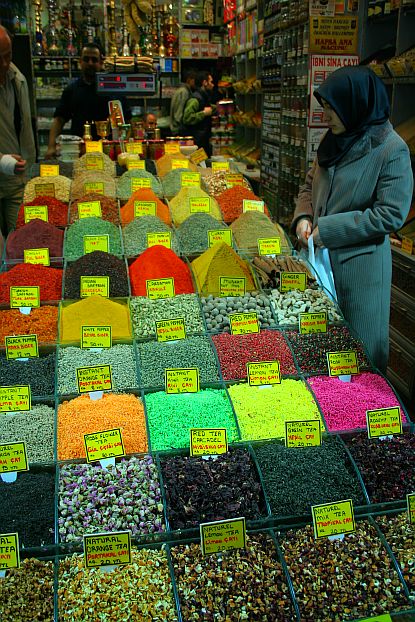 A muslim woman looks over the various spices and sweets on offer.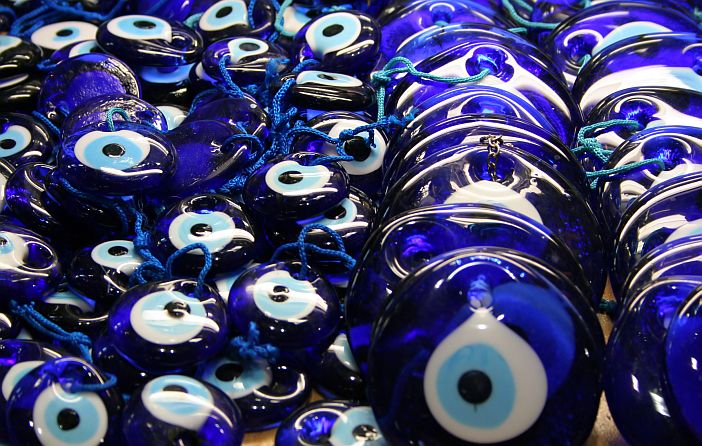 Almost Turkey's national symbol, these glass 'evil eyes' are on sale everywhere, in a huge variety of styles.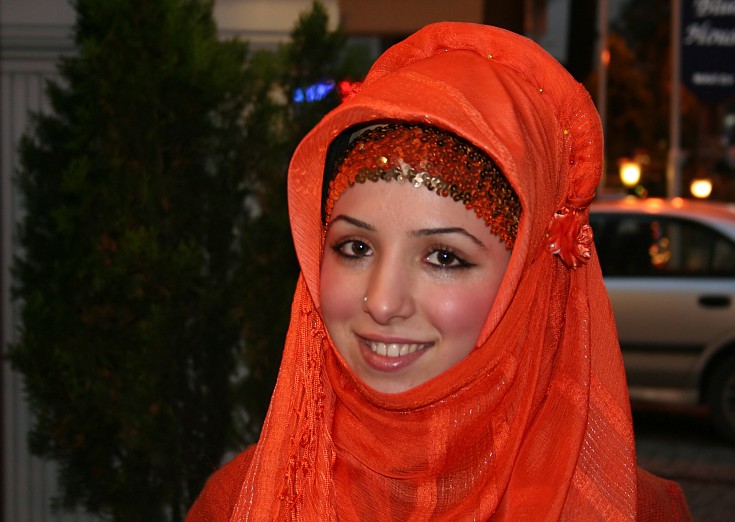 A young girl in the street.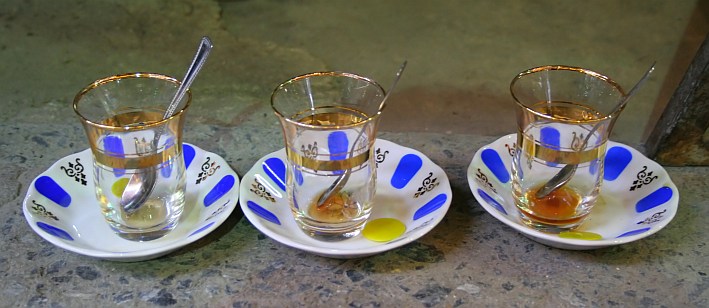 The ubiquitous tulip-shaped tea cups. I actually managed to find some empty ones!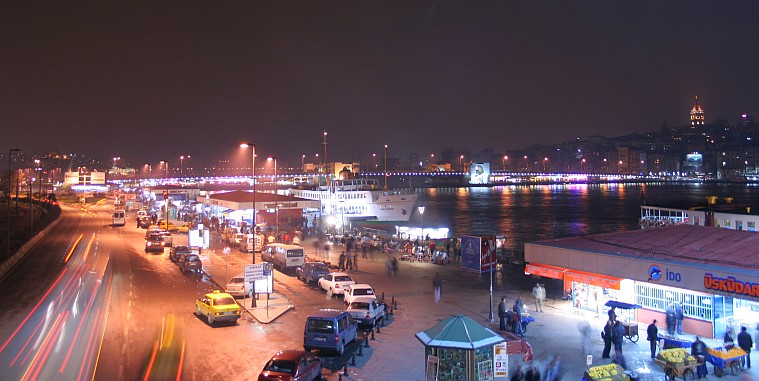 Activity never ceases along the Bosphorous river.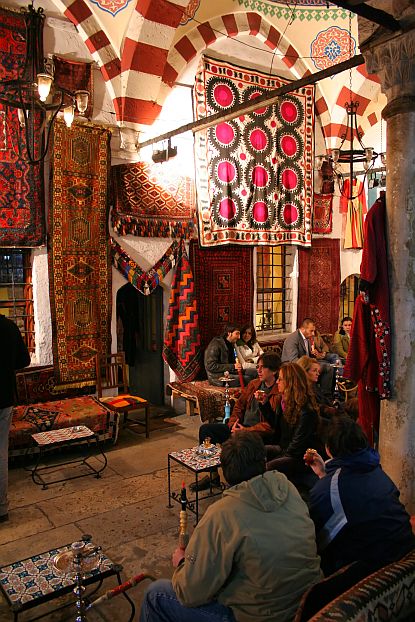 The coffeehouse in Istanbul where I enjoyed my fırst Nargile
(we had tobacco-free apple flavour).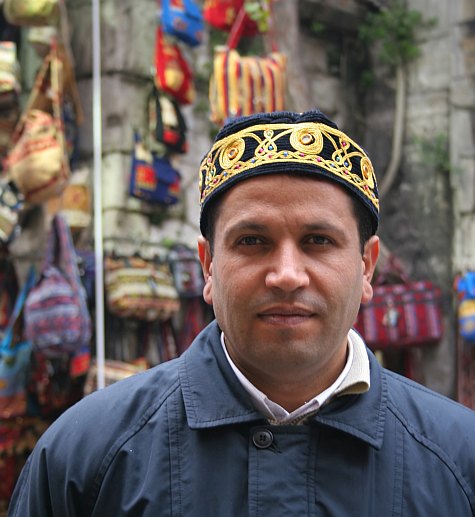 I liked his hat so asked for a photo...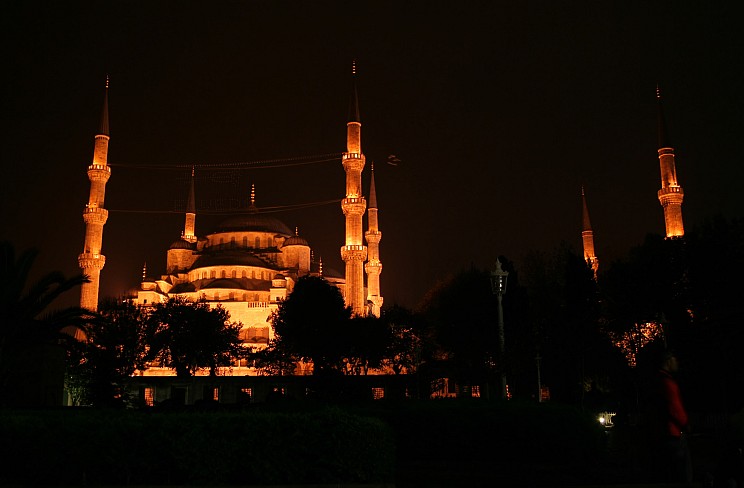 The Blue Mosque (completed in the early 1600s) at night.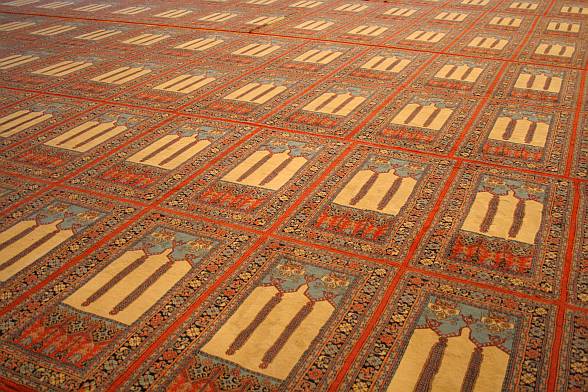 The floor of the Blue Mosque. Each yellow rectangle indicates where you should kneel while praying.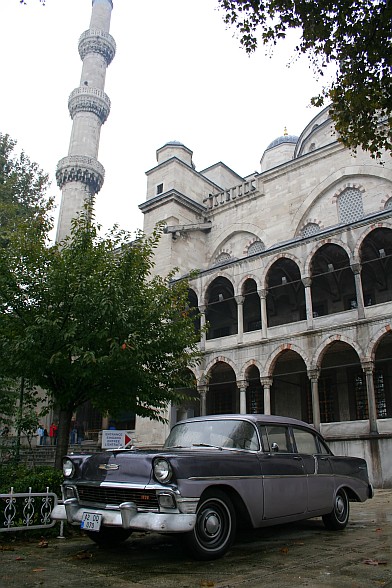 Outside the Blue Mosque.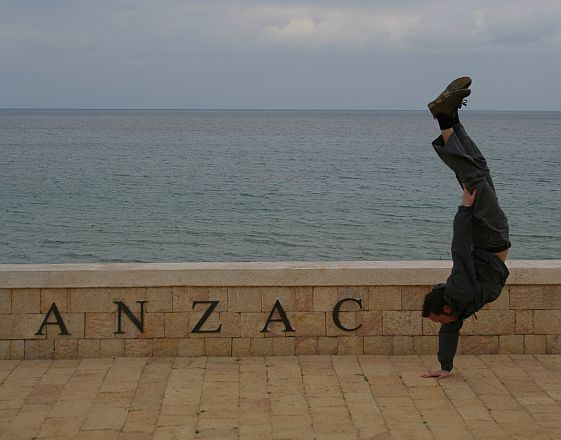 The inevitable one-hander - this time in Gallipoli.
(For those of you who don't know, ANZAC stands for Australıa & New Zealand Army Core)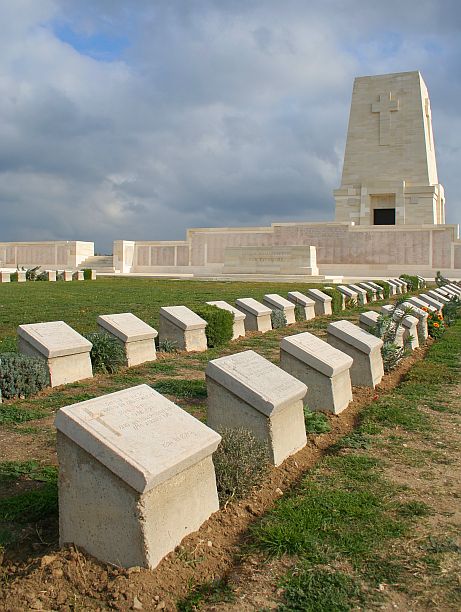 The memorial at Lone Pine.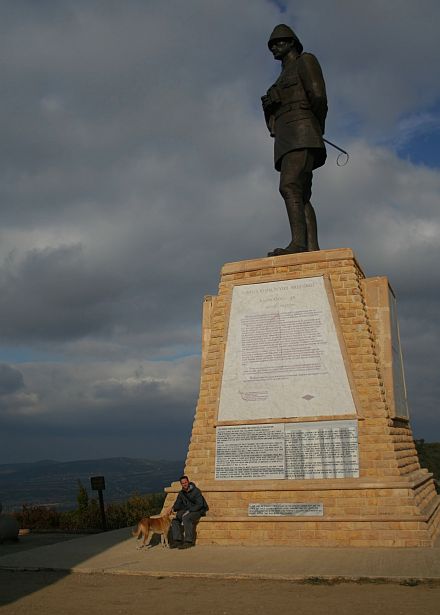 Me at the NZ memorial, sittıng on the giant statue of Atatürk -
the father of the Turkish nation. With me is the dog that
befriended us at the very start of our journey around the
Gallipoli area, and accompanied us the entire way! (I called it Zac).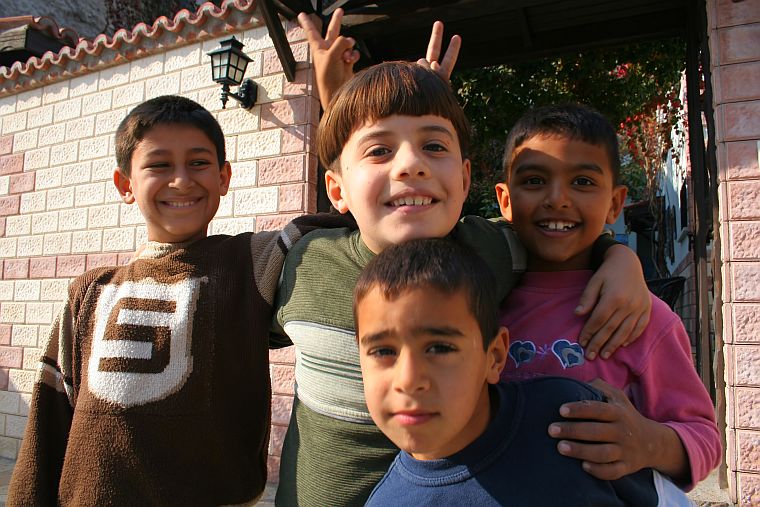 A group of kids who just couldn't wait to pose for the camera.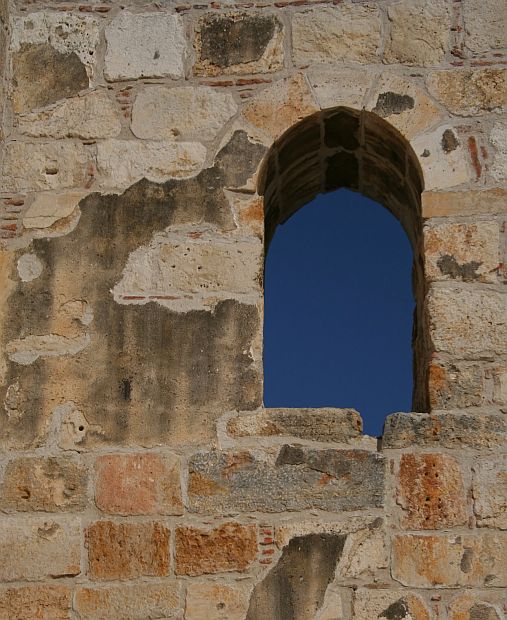 A window in the wall of the 13th-century Isa Bey Mosque here in Selçuk.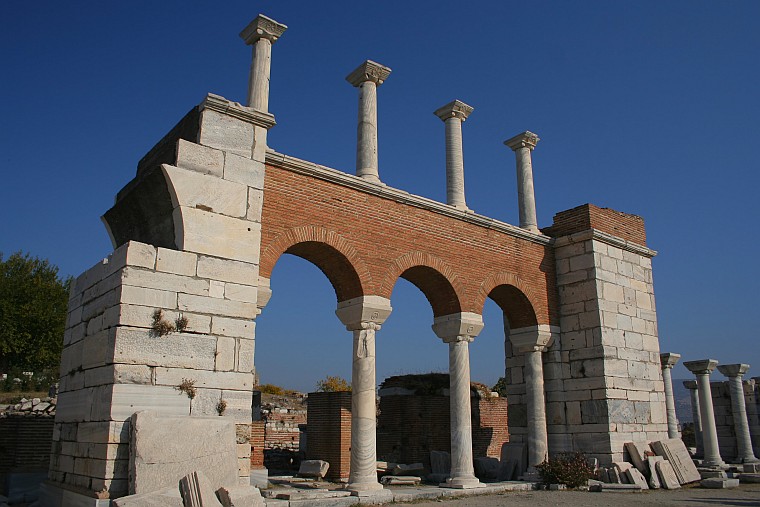 Ruins of the Basilica of St. John. He came to Ephesus in about the 4th century to write a book of the Bible.
In the 6th century a great Byzantine church was built over his tomb.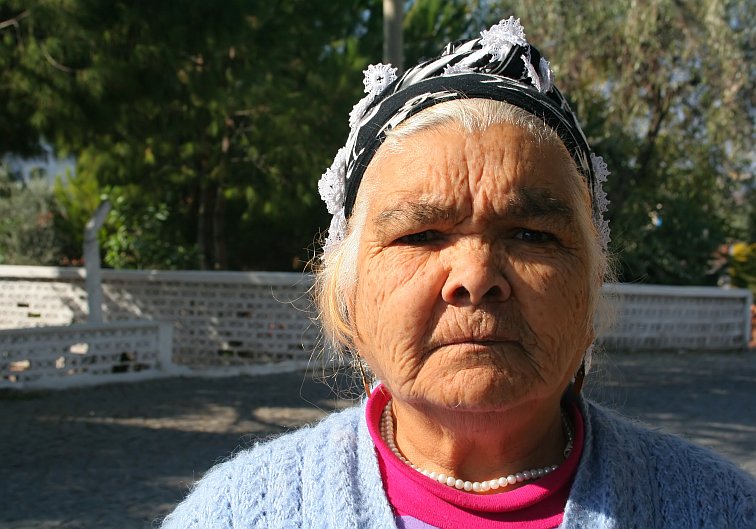 An old Selçuk woman who posed for me (along with the rest of her family).
She even gave me their postal address so that I would send prints of the photos to her. I'll try my best.



< previous&nbsp&nbsp&nbsp&nbsp&nbspnext >