Location: Isle de Sol megayacht marina
Local time: Tuesday, 10:15am
Music:

I'm currently listening to some very loud house/trance music (Gatecrasher Discotech, CD2 - dammit why didn't Gatecrasher make more like this?) through the headphones on Mark's laptop (our bassist), sitting alone at my dining room table, with a hot cuppa Milo. Feet tapping. Head bobbing. In my own little world. It's so nice to get lost in some of my music again... it's been two months in this house, without a TV or a stereo. Sure my car has a radio, but I can only take so much of the local bollocks. Just sittin' here, going through Photoshop tutorials of unsharp masks etc for digital manipulation. I almost feel like a geek again! (Pffft, couldn't happen!).

In my own little world. That's my little realisation for the week I've been rather wrapped up in the little-picture of my life - the meaningless day-to-day stresses that I encounter while living on a small rock in the Caribbean. Currently those stresses include finding a new place to live before Friday. A time-consuming quest that's so far not got me anything concrete. I went to the gym this morning (Monday) and sat there sweating but not really concentrating on the weights. My mind was elsewhere. So I took time out and chilled this afternoon on Simpson Bay beach, deciding just to go-with-the-flow for a while. I lay on my towel and got baked a bit, but it wasn't until I sunk with a sigh into the tepid Caribbean waters and lay back, that it occurred to me that I should focus less on these little problems and be more thankful that I have the privelege, the luxury, to be doing what I'm doing, living where I'm living. I started to smile, and that was my day's turning-point. Life's good, innit?

Easter is a pretty major time for the locals to hit the beaches, and I'd never seen my 'neighbourhood' beach so packed as it was today actually. Extended families out in force, setting up camp on the beach for the day, with the obligatory barbeques pumping out the smell of ribs. There were smiles everywhere, and I was really feeling the vibe, so went back to the house and grabbed the camera to try and get some candid shots of the kids playing in the sea. Check out a few of them below.

After the radio interview with Island 92FM the other day, Les and I recorded a short commercial, to advertise the bridge-opening times for the Simpson Bay drawbridge. Our Dutch Side Song is playing in the background, and once we're done talking, it kicks into the chorus ("I got the bridge-is-up-blues..."). Bloody fantastic (free) PR work for the Jukebox Heroes if you ask me! It's now getting some pretty constant airtime. On the first day it was played, three different friends of mine randomly called me, asking if I knew what time the bridge was up. Damn piss-takers! Heh.

This week I'm gonna be sending off a letter and a copy of the song, plus the radio ad, to a radio station in Curacao (which is something like 40 miles north of the Venezualan coast). Dolfijn FM broadcasts to the entire Netherland Antillies (five Dutch-speaking islands in the Caribbean: Saba, St. Eustatias, Bonaire, Curacao, St. Maarten) so that would be great to get it played by them. Nothing to lose, everything to gain is the way I'm viewing this one.

We're planning on getting back into the studio again this week, to do a live recording of the three-piece electric band. Means somehow squeezing my drum kit plus the other dudes into a rather small insulated room/box, but it'll be fun. The studio we use (Monkey Business, owned by the drummer of the local long-time band on the island, Iguana Soup) is pretty good actually (he uses ProTools, in case you cared), and he gives us mates-rates, which we definitely appreciate! The studio is situated at 420m above St. Maarten, on Pic Paradis (a small 'mountain' range). The highest point of the whole island is a mere four metres above this, so it's pretty cool to think that we're recording way up there.

Well, enough from me. I'll let the pictures speak the other thousand words. Happy belated Easter, all you lot.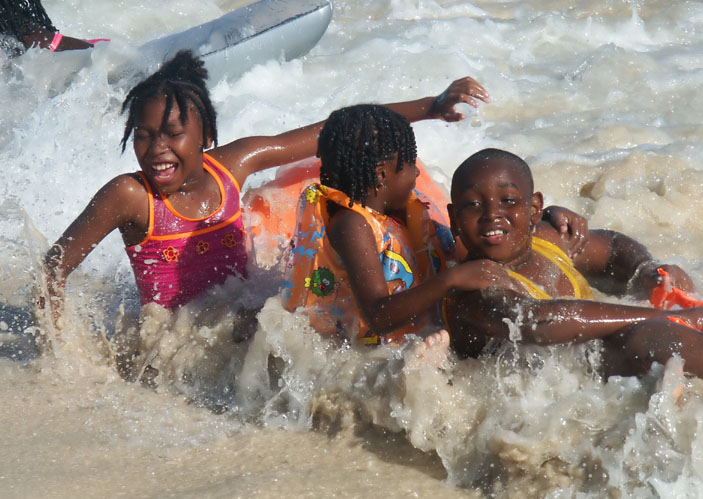 Easter Monday, Simpson Bay beach, March 28, 2005.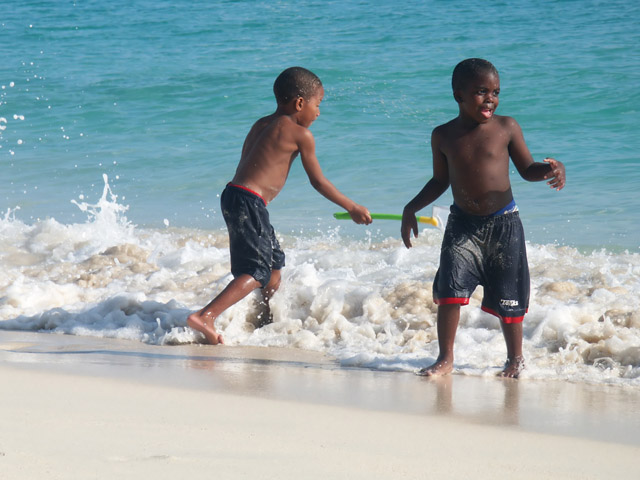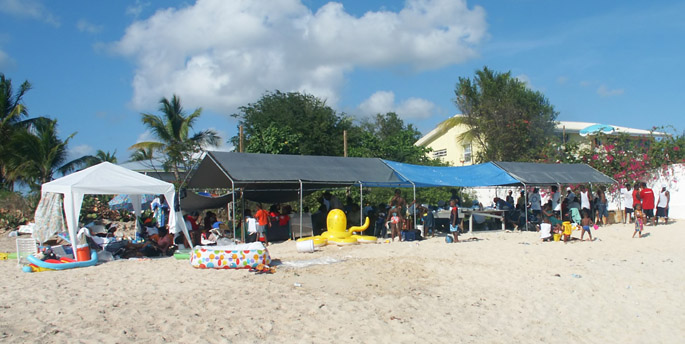 The smell of bbq-food coming from the tents made me so hungry I ended up going home and cooking up a storm myself.
(Okay, so it was turkey, tomato, cheese and mustard between toast. Super-dooper.)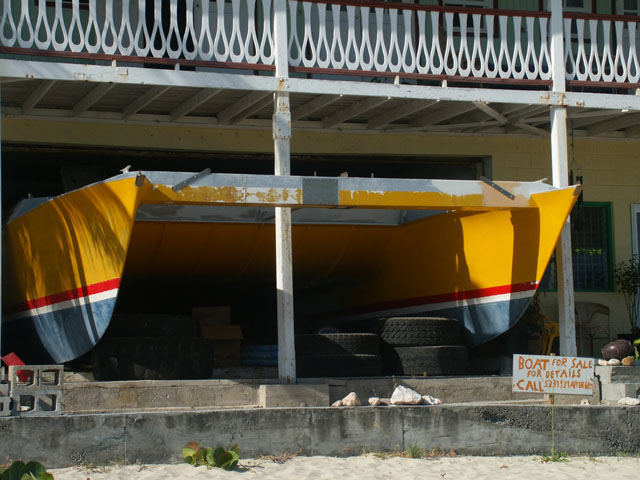 "Boat for sale". Seems that to take her for a test-run however, you'll need to knock down part of the house,
which was somehow built around it. "Serious enquiries only".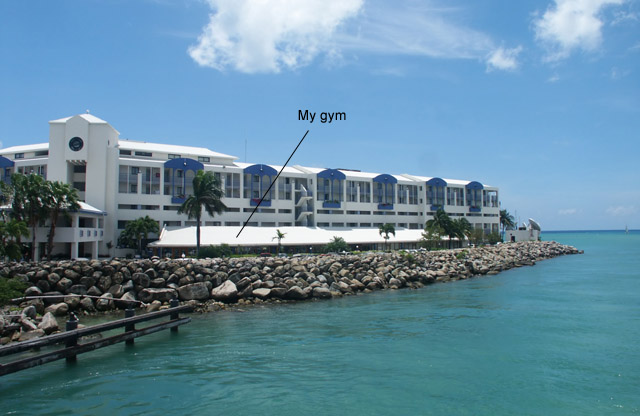 The Royal Palm Beach Resort and my gym attached to it. I get to work out while watching 50-million-dollar
megayachts float past and slide through the drawbridge with inches to spare. Distracting.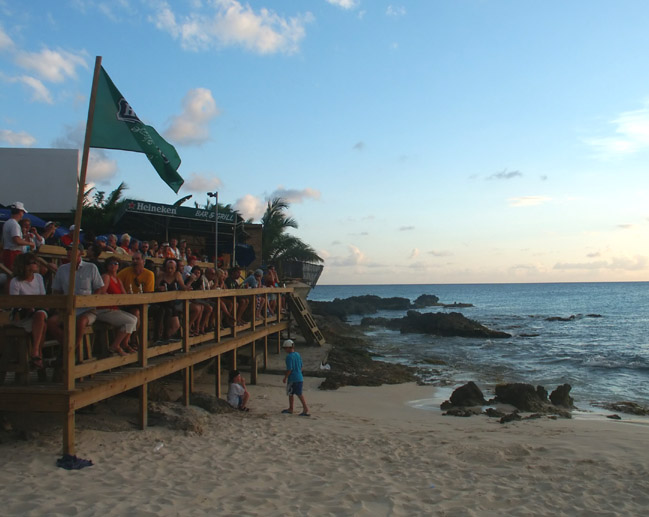 The renowned Sunset Beach Bar, showing the "deck below the deck" - tourists stacked in a row watching
the sunset and the planes come in to land beside the bar. It's got a Guiness World Record for being the closest
bar to an International airport runway or something like that.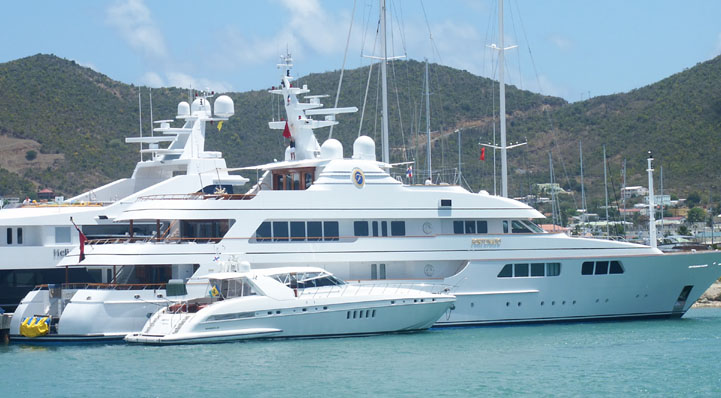 The little-boat's connected to the... big boat. The big boat's connected to the... umm, dock. But that little boat there (called a
'tender', when it's attached to a megayacht) is a rather sizeable 60-footer, and a bit classier than some of the other rubber
dinghies I see around, if I do say so myself!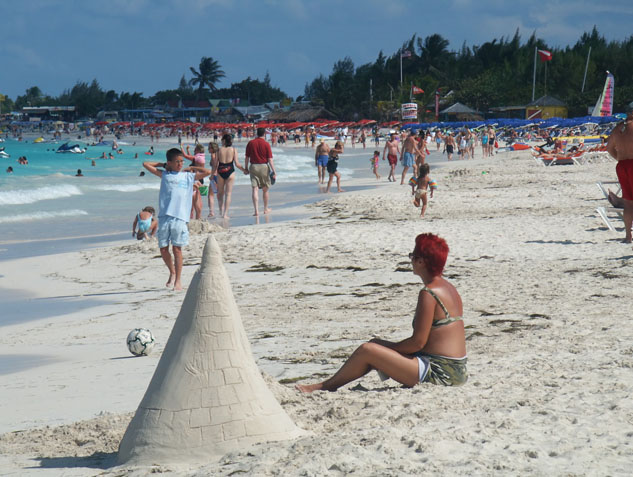 Looking down Orient Beach on the French side. Sometimes referred to as the "St. Tropez of St. Martin",
it was voted last year's best beach in the Caribbean. (I wouldnt've voted that highly for it personally,
but apparently it's because of all the activities and restaurants etc available.)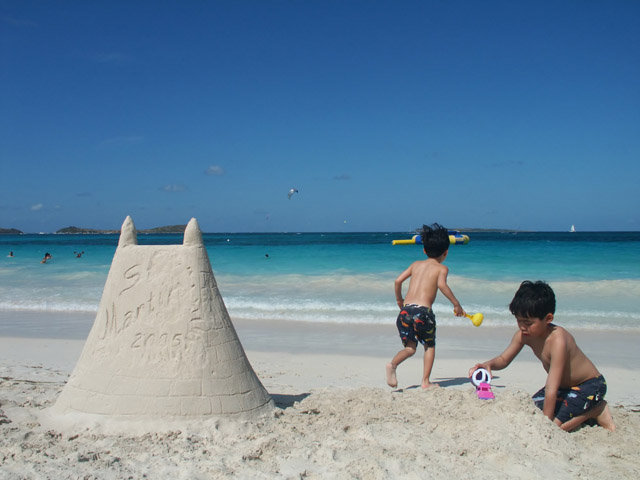 A frontal of the sandcastle appearing in the previous shot. "St. Martin 2005". Nice job.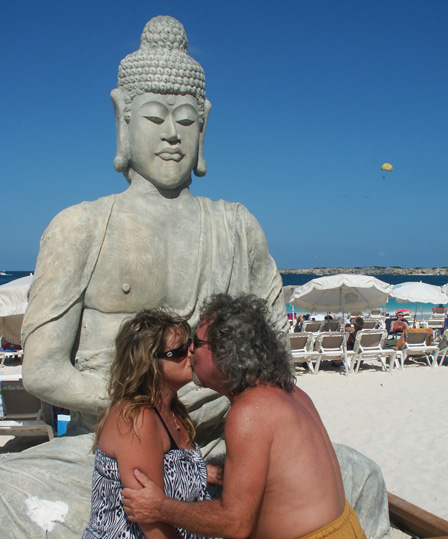 JP and Lorna: parents of my sister-in-law, owner/operators of the Pizza Galley
and all-in-all good people, kissing in front of one of the many sculptures
outside a restaurant on Orient beach.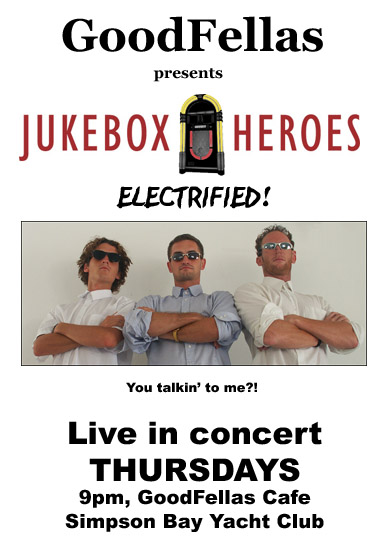 Enough said.



< previous&nbsp&nbsp&nbsp&nbsp&nbspnext >