Location: Sand Bar, Isle de Sol yacht club
Local time: Monday, 4:32pm
Music: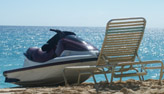 Well, I managed to borrow a laptop again so figured I might as well chuck some of my latest photos online for anyone interested. (I'm sure there's someone!?)

Much to my surprise the song is still doing well and is being requested more than they can play it. The station says they're now getting inquiries about it from the States, from people saying they heard it here in Sint Maarten and now want to get a copy. So my next task might be to set up a mail order system from our web site.

Speaking of the radio, we have another interview on Island 92FM tomorrow morning, to talk about the song, the messages in it etc...

Tonight we're back playing at Sopranos piano bar, where we played for perhaps the last two months of the season last year. It's a classy (and expensive) joint and we're happy to be back. Not sure if the gig is to be regular yet or not though, so we better do well! Just to spice things up Les has been practising Coldplay's song 'Trouble' on the piano while I'm on the guitar, coz it's a nice song that we've only played on two guitars in the past, and figured we might as well have at least one piano song when we play at a piano bar!

Otherwise we don't have as many gigs right now as we'd like. There's always possibilities for more, but we are yet to chase them up (that's tomorrow's task). The other night while out on the town (at about 2am), we managed to pick up a gig for the full 3-piece band at Goodfellas Cafe, and there's a really nice place on the French side wanting us in the next two weeks. So, the money isn't coming in very fast right now, but I'm sure it will build! (fingers crossed). (Maybe finding some daywork back on the megayachts can tide me over...)

Much to my dismay, we have to move out of this great place in Simpson Bay at the end of the month. Our roommate (who I have to say is kinda freaky/crazy) decided to tell the landlord that she was moving out, before even telling me. I didn't get a chance to speak to the landlord myself to say that I'd like to put my name on the lease, before he'd gone and taken a deposit from new tenants. Thus we're out on our arse, and it sucks big ones. I wanted to get some lawyers involved, but really I don't think I have a leg to stand on, so to speak. It just seems so unfair dammit! *whine* So, once again, I'm looking for a new pad. I still want to stay in Simpson Bay (this is MY hood!) but since I've only got another two months left (I plan on leaving here at the end of May) I'm not gonna be so discerning now about where I live. (I have a drumkit to deal with now too though, which is a bit of an added issue in terms of space).

Krista has left for three weeks working aboard a megayacht as a stewardess, travelling the surrounding islands. It's great money really, but means I have to do all the moving myself!! She's already bought her air tickets, and is flying home at the end of April, one month before I leave.

I'm taking tonnes of photos these days, which is pushing me more and more towards buying a new camera very soon. After agonising over many magazine and Internet articles and reviews, I'm leaning towards the 8.2megapixel Canon EOS-20D digital-SLR. But ouch, even with the duty-free status this island has, it don't come cheap!

The 2005 Carnival started here the other night, with the opening 'Jump Up'. At 3 in the morning there was traffic hell as a huge parade of drunken girating locals danced their way from Marigot on the French side, all the way through Cole Bay, over the hill and into Philipsburg (Dutch side), walking alongside trucks sporting huge stacks of speakers blaring the local soca, zouk, calypso, merengue and reggae-dancehall favourites. It's hilarious to see groups of people sitting in deckchairs on the side of the road at 3am, drinking (or selling) beers and waiting for the seething mass of dancing bodies to approach. It could be described as the Caribbean's version of Germany's renowned Love Parade. These guys know how to party!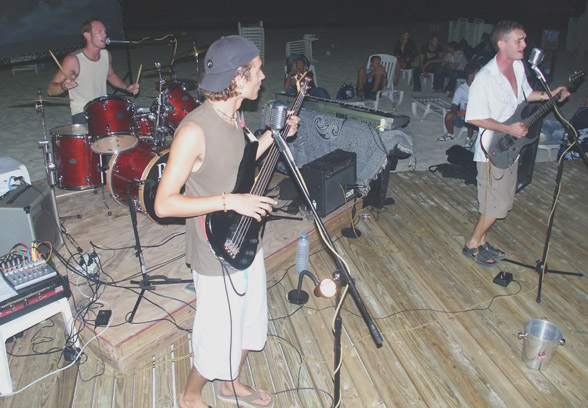 The JukeBox Heroes, playing our second-ever gig as a three-piece, at Waikiki Beach Bar for the
SXM Challenge - a windsurfing and kiteboarding competition. After looking at these photos,
we decided that we kinda looked like beach bums (admittedly though, we were
playing on a beach!) and that we need some kind of 'look'. Yet to be decided....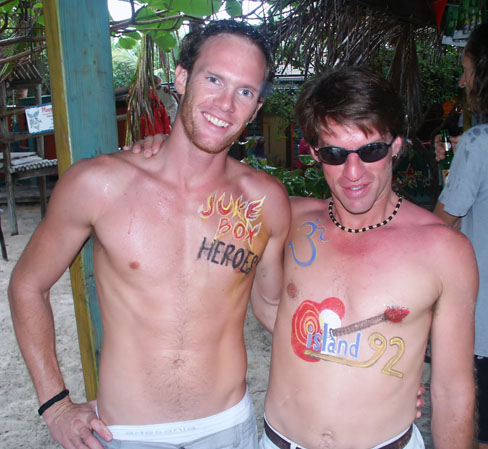 Rick, a DJ from Island 92FM, and I at the Tsunami Benefit concert we played at,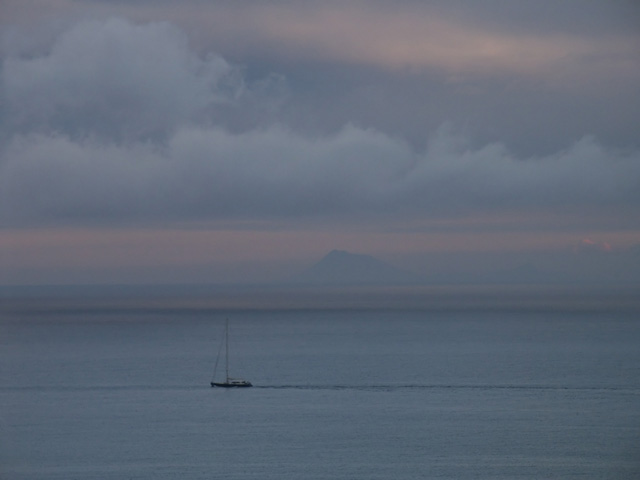 It was such a weird light at the top of the hill one day that I stopped the car and started shooting. It was very still,
quite dark, and this sailboat started cruising across my view, with the island of St. Eustatias in the background.
I snapped half-a-dozen shots with different lighting and framing, and they came out looking wicked.
I'm gonna blow some of them up for prints some time.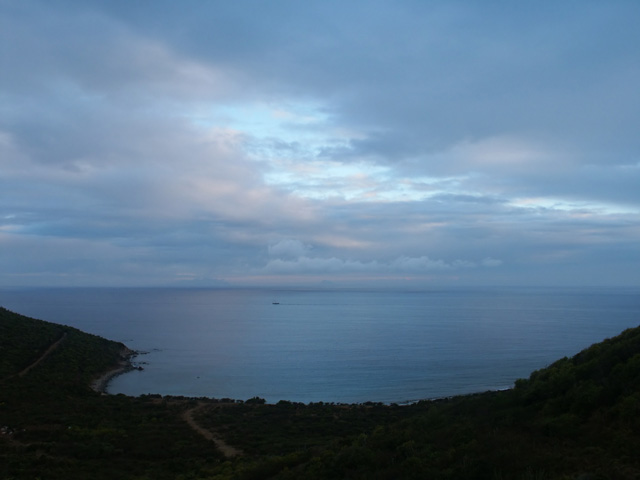 The shot was taken looking over Cay Bay, where I used to dive with the tourists last season.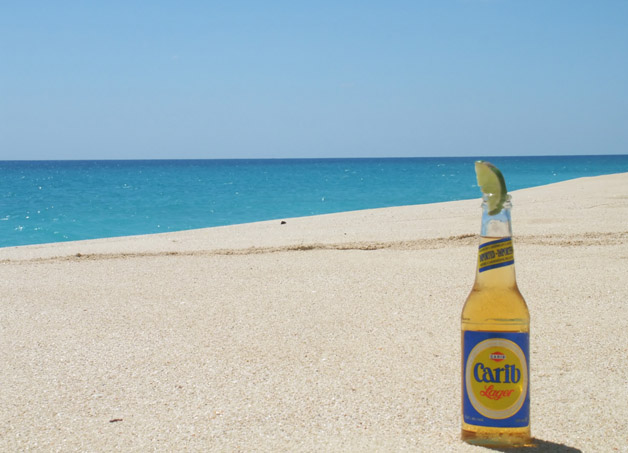 Carib - "The beer of the Caribbean". I was just lying on the beach and planted a friend's beer in the sand
and took this one. Similar to Corona beer, but sucks more.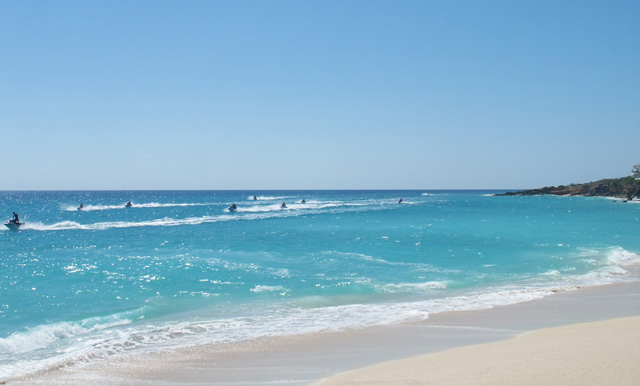 The local Caribbean biker hoons... jetskiers.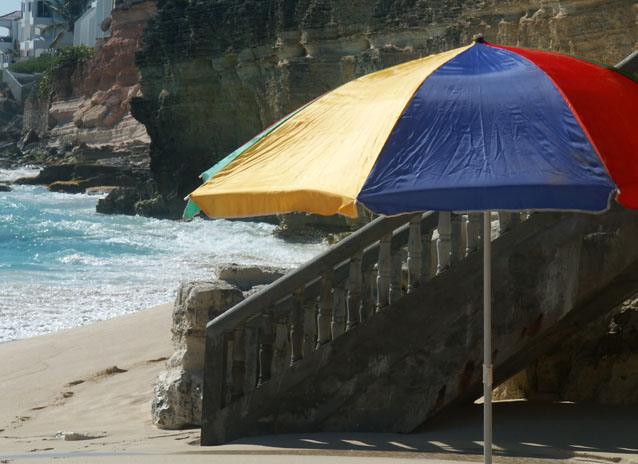 Umm, a colourful umbrella. Yeah.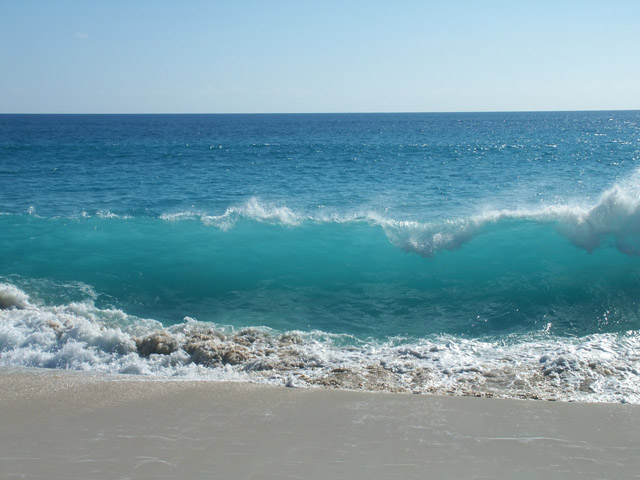 Breakers at Cupecoy beach. Nice, but not surf-able, coz you'd just be face-planted.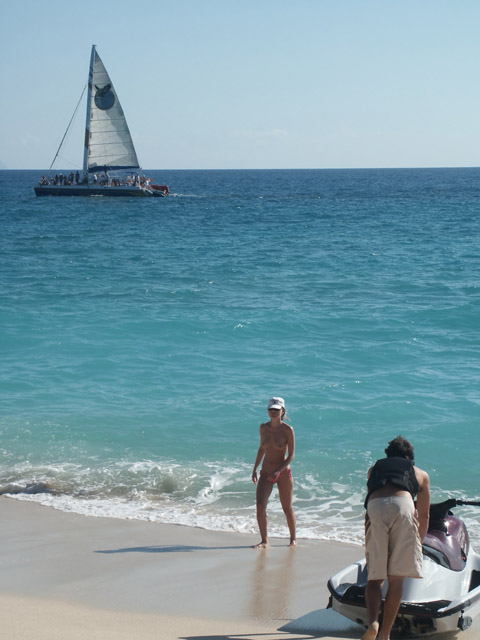 The four elements of the Caribbean. Water, wind, women and wet-bikes.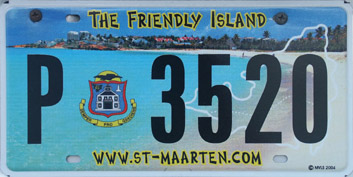 The new licence plates on the Dutch side (with an image of Mullet Beach in the background).
I went through so much grief trying to get this bloody thing! I'd just bought the new car, and then
had to spend another US$200 getting the new plate, which required me to go back and forth between
the Inspection office and the Island Receiver's Office multiple times, stand in extremely long lines,
and wait for extremely slow and uncaring staff. But it's nice to be legal finally. The Police
are confiscating vehicles without the new plates, and I don't really need that right now.



< previous&nbsp&nbsp&nbsp&nbsp&nbspnext >