Location: Las Palmas de Gran Canaria
Local time: Thursday, 5pm
Music: Happy Birthday to meeee!

"Cervezaaa, Fantaaa, Colaaaaaaaaaaa... Cervezaaa, Fanta, Colaaaaaaaaaa!" His tone rises as he drags out the last syllable. The words ring in my head every time we go to the beach, and I continue to sing his selling song for the rest of the day. It's been drilled into me, over and over again by the old guys walking up and down one the beaches we've frequented many times over the last few weeks, a cooler full of drinks slung over their shoulder, touting their wares to the sunburnt European tourists. "Cervezaaa, Fantaaa, Colaaaaaaaaaaa..."

I have expanding foam stuck into every little crack of my hands, and underneath all my nails. I was using it yesterday to seal some stuff up on the boat, and, well, it just kept expanding! Too late to find rubber gloves, I had to scoop it with my hands. Now nothing will remove it, not diesel, not turps, not acetone, not even hardcore awl-grip. So when I'm not busy, I sit and pick it from my hands, leaving little flaky trails wherever I go. It looks like I have leprosy. Damn expanding foam.

Today is my birthday. Five more days of the Canary Islands (pop. 1.84 million), before we hit the Atlantic Ocean on our direct route to Antigua, some 2,700 miles away. I'm looking forward to leaving, coz three weeks is definitely long enough here. And two weeks of that was spent in a hostel room, with no fridge or cooking facilities. I am SO sick of cheese and salami baguettes, you have no idea! And Spanish TV is crazy bollocks. It's not the most exciting of islands I've visited so far, and after 6 months of travelling through Europe, I'm looking forward to returning to a country where English is the primary language (although, some might argue that Caribbean English is another language entirely).

Oh yeah, and I just found out that Bush won again. Hell, what are you thinking America??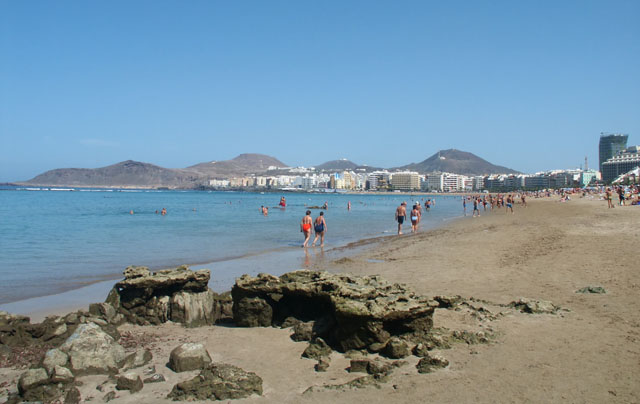 Playa de Canteras, the beach just down the road from the hostel. Not the nicest beach I've been too,
but it gets absolutely and incredibly PACKED in the weekends.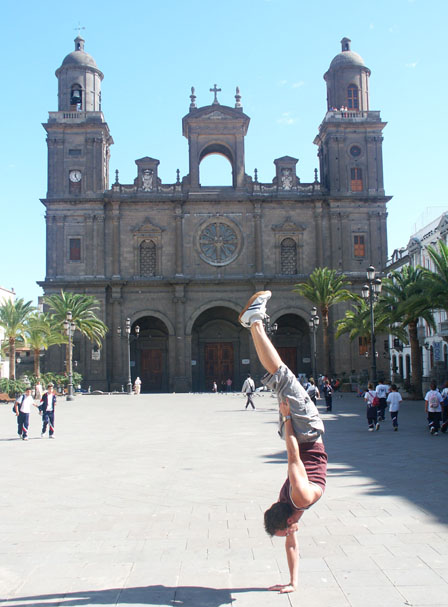 The usual one-hander, in front of the Santa Ana Cathedral
(begun in the 16th century, completed in the 19th).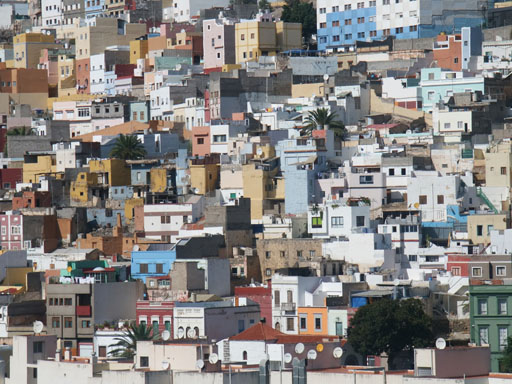 A colourful mass of tightly-packed buildings sprouts from many
of the hilltops surrounding Las Palmas (pop. 356,000).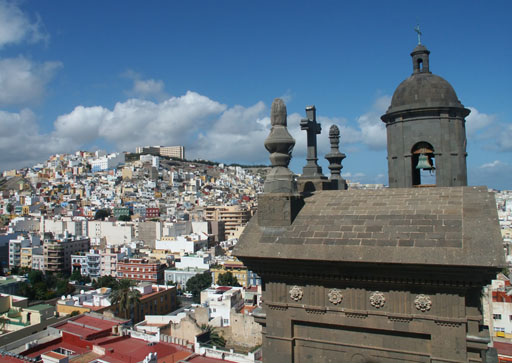 One of the towers of the Santa Ana cathedral. Notice the brown hills above
the buildings - the land here is very dry and, well, brown.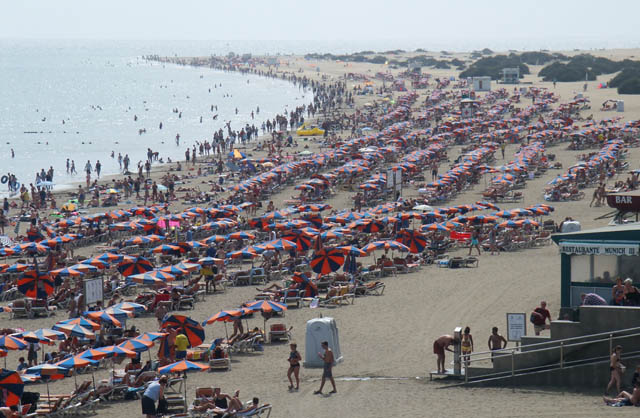 Playa de Ingles, a huge, heavily-populated beach on the south side. I couldn't handle the crowds, so grabbed
my camera and went exploring, headed for the sand dunes behind the beach.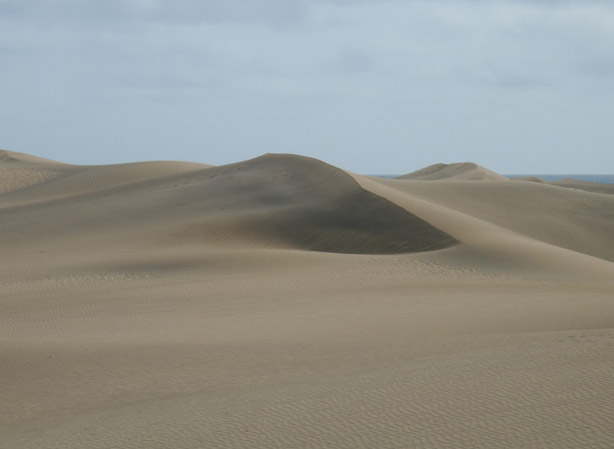 It felt like another world amongst these dunes, away from the beach. Like I was in the Sahara Desert in Africa (which is actually only 100 miles from here). It was bloody great.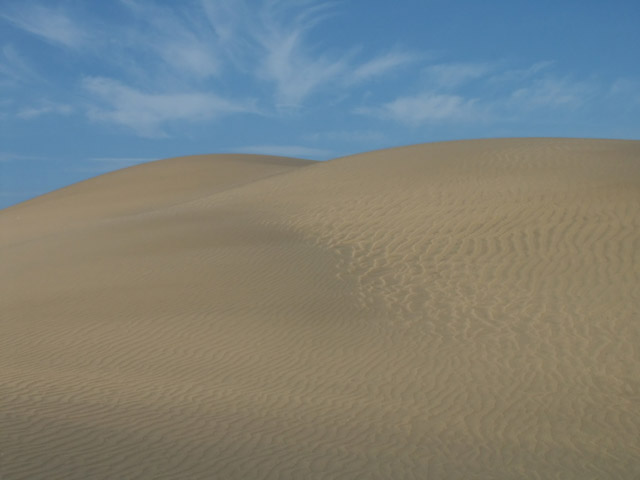 Everywhere I turned, it was more of the same. Yet I felt like I needed to take another photo.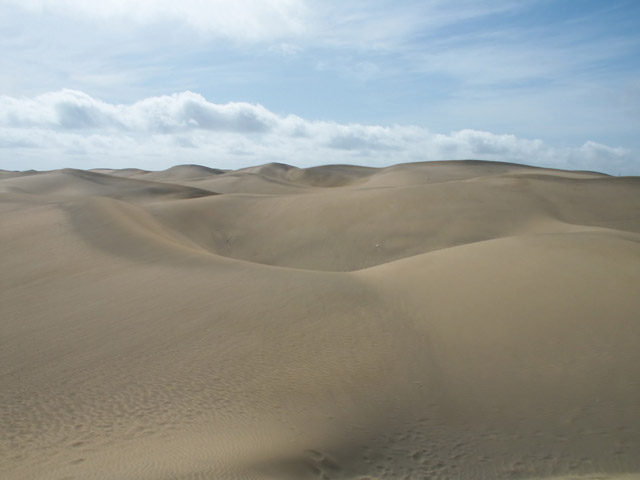 I just loved the smooth hills, the sharp ridges, and the magical isolation...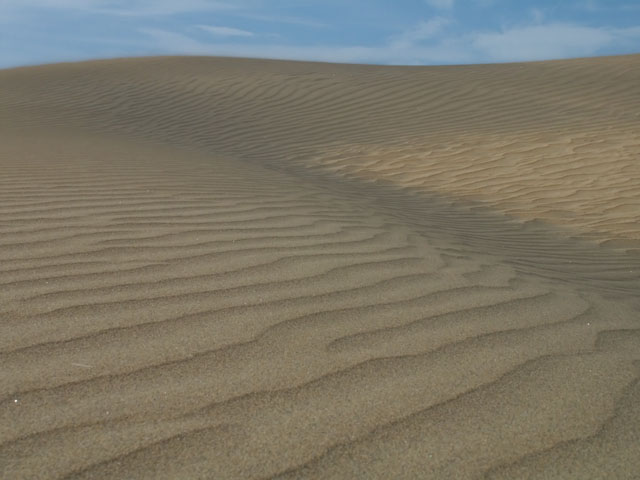 ...oh and the golden colours!...



< previous&nbsp&nbsp&nbsp&nbsp&nbspnext >