Location: Internet cafe, Las Palmas de Gran Canaria
Local time: Friday, 9pm
Music:

Day 1 (10-10-04):
Palma de Mallorca, fuel dock, 6am. We cast off and set sail. Big swells and 20-30 knots of wind are a hell of an introduction to the voyage. Feeling a bit green at first, and the boat's heeling dramatically at times (my cabin window is underwater). Diesel fumes not helping the queasiness (we just filled up all tanks to brimming, some 4000 euros later. The fumes are supposed to go away soon!). The baby-stay gave way today, unscrewing itself from the foredeck until it went Ping! The skipper and I had to rush up to fix it, whilst bracing ourselves against the soaking waves that were breaking over the bow and threatening to knock us off our feet. A good start to the journey.

Day 2:
The 12-4am nightwatch was pretty exhilerating at first, then a bit boring later. Again, large swells, only this time you can't see them! Total darkness, but brilliant stars. Spent about 3 hrs at the wheel, trying to steer us through the waves. The rest of the time was spent trying to identify various constellations. Sleeping was eaiser after a tack down wind. No diesel fumes any more either. We woke to calmer seas today. The 12-4pm watch was a piece of cake. We spotted a pilot whale surfacing for air, otherwise no other signs of marine life yet. Maybe a tuna on the rod later. Just sighted land for the first time since leaving Mallorca; Cartegena, on the coast of Spain. I appear not to be suffering from seasickness. Maybe this patch behind my ear is doing it's job, or maybe I'm immune.

Day 3:
Much smoother sailing (and motoring) today. Everybody (7 of us in total) seems to be into the rhythm of the watches etc. The crew are a great bunch, and everybody gets along well. We are made up of the skipper and his partner (both British), the engineer and his mate along for the ride (also both Brits), the stewardess (a kiwi), Krista and I. We're sitting at about 8 knots today, and will hit Gibraltar some time early tomorrow morning. A fair few dolphins playing at the bow today, and two different groups of whales spotted in the distance. More and more boat traffic now, as we approach Gibraltar Strait. Watched a DVD and played the guitar this afternoon. Doing the 4-8am shift tomorrow. Eeek!

Day 4:
Woke up at 3:50am to a string of lights on land, either side of the boat. We were heading through the Gibraltar Strait, one of the world's busiest shipping channels. Huge tankers everywhere. To starboard was the British colony of Gibraltar at the southern tip of Spain, the Rock jutting skyward. And to port was Africa, that great mysterious continent that I so badly want to check out some time. The lights of Morroco shimmer along the water's edge. Very calm seas now, and cruising at 9 knots. Mainsail up, but barely a whisper of wind to fill it. Sunrise over Africa was impressive, and I took about a hundred photos to document it. If only we could have turned left and gone for a visit!

Now heading SW down the west-African coast, over the flat, gently undulating Atlantic Ocean. We've covered around 610 miles since leaving. But only about 500 of those have been in the right direction, because of the bad conditions and the need to tack early on. The fishing lure that's been trailing behind us for the last two days finally caught something today - a 3ft Dorado, which is to become lunch.

Took the patch off today. It's worn out anyway. I'm pretty sure I'm well accustomed to the boat's motion now. Just caught something else on the line. After hauling it in, it turned out to be a plastic bag. Put up a good fight though. The skipper and engineer have just taken turns shaving each other's head. Weird.

Perhaps another 3 days to the Canary Islands...

Day 5:
Not much new today. We shut off the engine and managed to maintain 8-9 knots under sail (mainsail and staysail). (Later in the day I set the current speed record at 10.6 knots). Towards the end of our night watch I got a fright as I felt something small and wet slap me on the ankle, while I was standing at the wheel. I thought somebody had dropped an apple, but under closer inspection with a torch, it turned out to be a squid, lying there with tentacles squirming and body pumping, sliming the deck and my foot. It would have had to jump about 5 feet or more to clear the deck and enter the cockpit. Flying squid.

Day 6:
Getting closer and closer now. 1,050 miles covered, 225 or so more to go. ETA tomorrow night. The staysail is furled up now, coz the skipper and I put up the spinnaker pole (for the first time ever, hence the 45 mins it took to achieve) and furled out the Gennikar. So now there's a sail hanging out either side of the boat, and it's helped reduce the side-to-side rolling (although, not enough!). Clear skies, tail wind, 9 knots. No boats or signs of life yesterday or today. Amazing. Going through the Gibraltar Strait there was life everywhere. Now it's such a vast, lonely ocean.

Day 7 (16-10-04, 1260 nautical miles later; 8pm):
Land ahoy! We're now pulling into the bay of Las Palmas. Today was pretty easy-going, and everyone's in a good mood, and more than ready to set foot on land again. We're gonna give the boat a hose-down and then go out for dinner. And tonight I'm gonna sleep like a baby - too many nights rolling from one side of the bed to the other has taken its toll!

In three weeks we leave the Canary Islands and head for Antigua, which is 2,700 nautical miles away - just over twice the distance of this last voyage.


--------------
So, we've been in Las Palmas de Gran Canaria for 5 days now. We managed to get daywork on the boat after we arrived, which helped to pay for two weeks of accomodation here in Las Palmas while the boat takes out charter guests (a family of 3, friends of the owner). Scrubbing the deck, polishing stainless, stowing away 50 bags of groceries... it was a frenetic few days readying the boat for the guests, who arrived maybe 10 minutes after we'd taken our luggage off the boat and set it on the dock. Phew. We also have daywork lined up for tomorrow - there's a window of about 8 hours between charters (the owner, this time), during which the boat must be cleaned and shined to look like new again.

Las Palmas is not as pretty or charming as Palma de Mallorca, yet seems similar in many ways. Most days the skies are overcast white, which bugs the hell out of me coz it plays havoc with the white balance of my photos. Anyways, I'll go into more details about this place in another update in a week or so. Until then, here's a selction of shots I took during the trip here...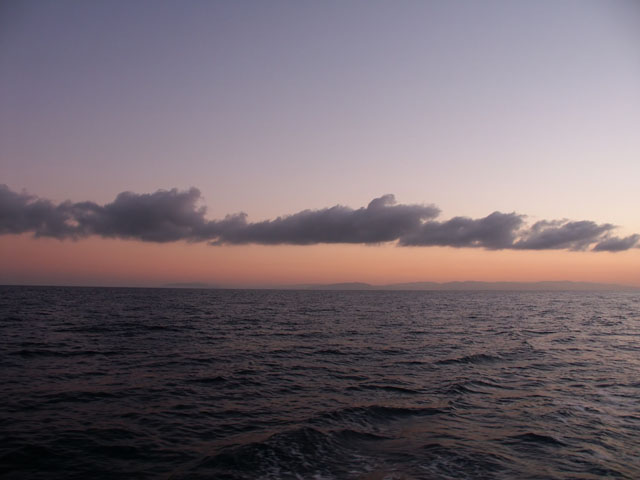 There were so many amazing cloud formations and lighting conditions along the way.
This shot is of a row of clouds over coastal Spain.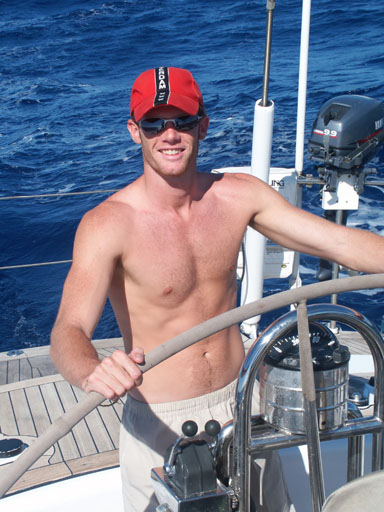 Yours truly at the wheel (working on my tan,
which was all but ruined in north Europe).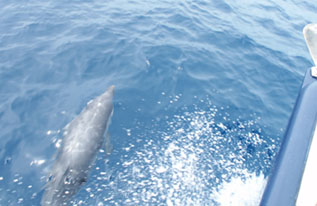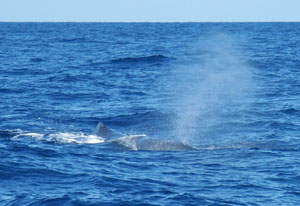 Frolicking dolphins and whales. Helped to spice up the boredom.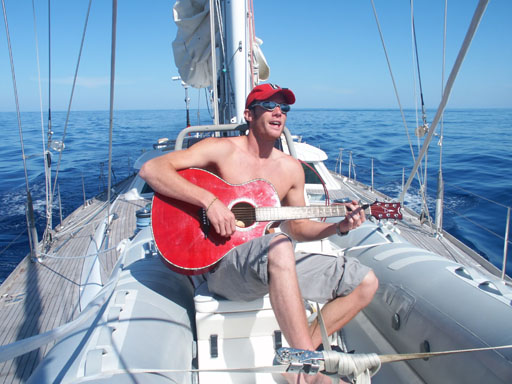 Sitting aboard the tender (inflatable dinghy with 60hp outboard) strapped down
to the foredeck. A great perch upon which to sit and sing to the world.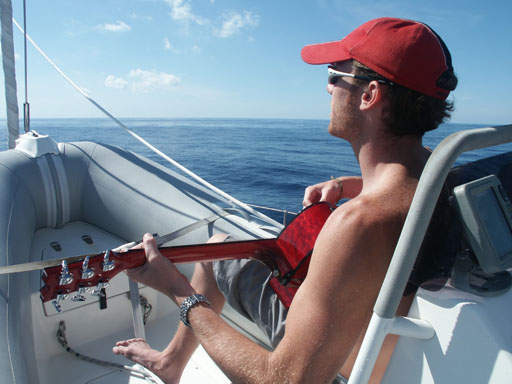 My view - a blue, empty horizon. Intangible. Incredible. Inspiring.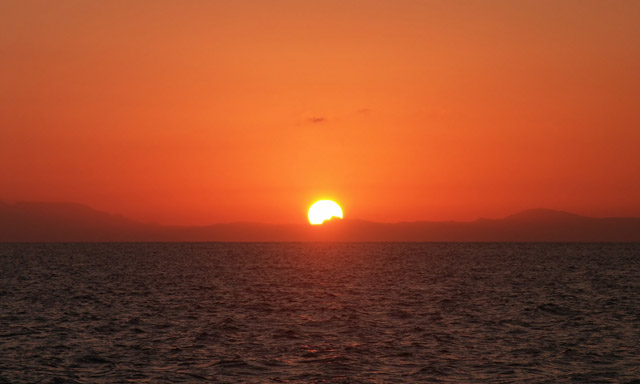 Sunrise over Africa.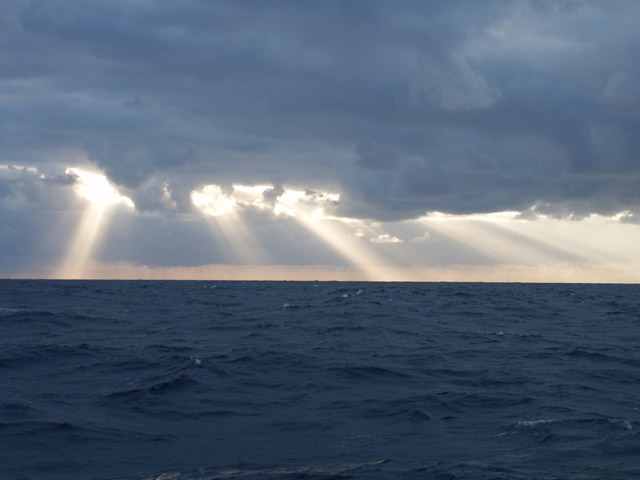 I just couldn't help myself from snapping away at all the things Mother Nature was dishing up.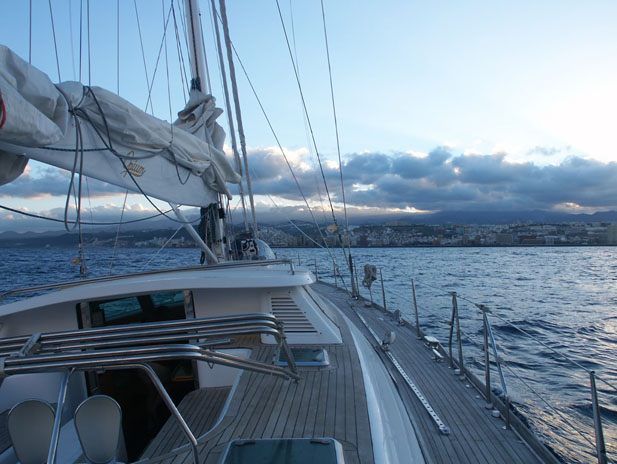 Approaching Las Palmas at dusk on the final day. A welcome sight.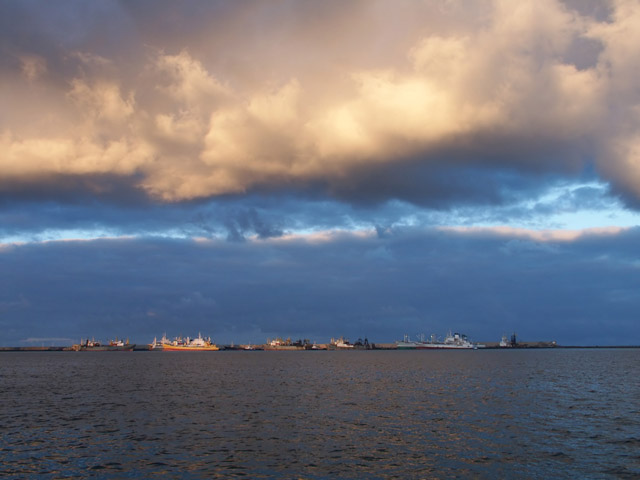 The sky explodes over Las Palmas' commercial port.



< previous&nbsp&nbsp&nbsp&nbsp&nbspnext >