Location: Märjamaa, Estonia
Local time: Friday, 4:55pm
Music:

And thus concludes my Baltic sojourn, having now visited each of the three Baltic countries. Riga (pop. 750,000), capital city of Latvia and the largest Baltic city, was spacious and busy, but not as pretty as Vilnius. The (often-stunning) women dress up immaculately, whilst most of the men retain the Russian military-crew-cut appearance that's become so familiar to me. Russians outnumber the Latvian population, 43% to 41%. And the ethnic tension between the locals and the Russians is as present here as it is in the other Baltic states.

The Latvian Museum of Occupation was a wrenching and often-shocking showcase of their turbulent and down-trodden past with both the Soviets and the Germans during both World Wars. Looking at the country now, it's hard to imagine the atrocities they suffered, under the iron fist of communist Russia (as did Estonia and Lithuania).

We managed to get lost at Salaspils, 15km outside of Riga, while trying to find a concentration camp memorial. Fortunately for us, all was not lost, as we did manage to pay a priceless visit to the rather out-of-the-way Riga sewage treatment plant. Something the guidebooks just don't mention.

The Latvian currency is the Lati, and it's bloody strong - 1 Lati is worth 1.5 euros. Thus I found it far too easy to spend money there - a coke is about 0.38 Latis. It's easy to spend loose change, and you soon forget what it's actually worth!

The Lativan language is very different from Estonian, which has Finnish roots. Latvian sounds more like a cross between Russian and Italian, and has a lot of squiggles and a lots of z's.

Lying along the Polish border, Lithuania shares many similarities with its Baltic cousins, yet I found its capital city Vilnius (pop. 600,000) to be more reminiscient of Paris than anything else. Strolling down Gedimino Prospektas, I felt almost like I was back on the tree-lined Champs Elysée, while walking through the quaint and cobbled streets of Vilnius' old-town (the largest old-town in eastern Europe) I imagined that this must be what Italy is like. In the 16th century, Vilnius was the largest city in eastern Europe, and was also regarded as a center of Jewish learning (Vilnius was once a part of Poland).

Both Riga and Vilnius are beautiful cities, but for me Vilnius was just that bit more special. And so, several more passport stamps later, I'm back in Estonia. I'm now awaiting my Russian visa, and I leave for St. Petersburg next Sunday evening. I can't wait.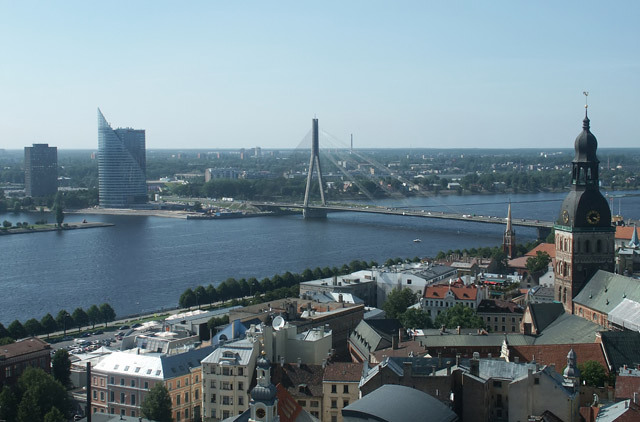 A view of Riga city, from atop St. Peter's church, 123m up.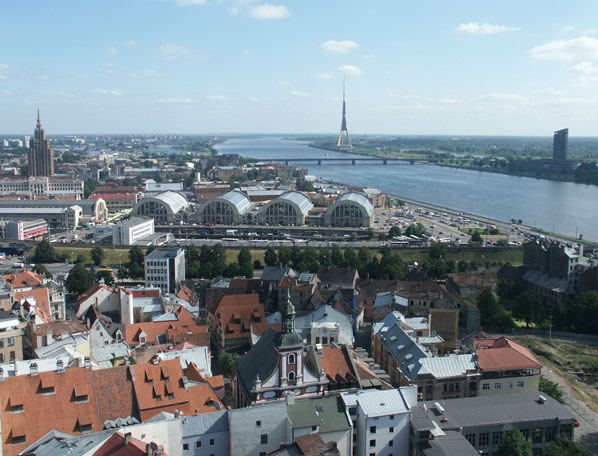 Another shot of Riga from high. It was far more modernised than I had anticipated.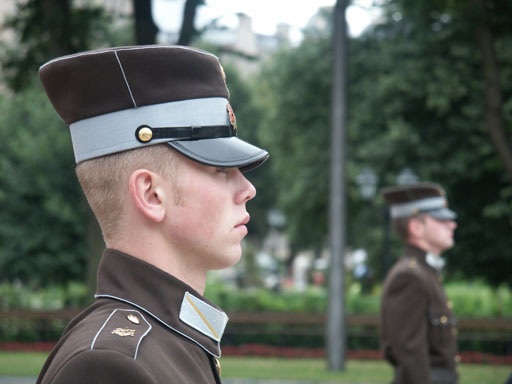 The guard of honour standing before the Freedom Monument.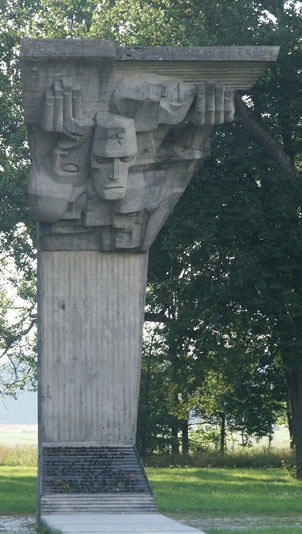 The strange concrete memorial standing at Salaspils,
just outside the city. On this spot was a concentration
camp where some 100,000 people were murdered by
the Nazis. A simple but poignant inscription on the
gate there reads "behind this gate, the earth groans".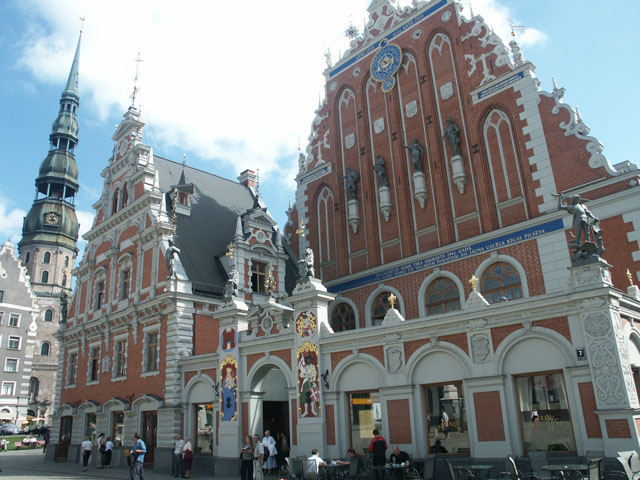 Blackhead's House, standing in a square beside the huge gothic St. Peters church.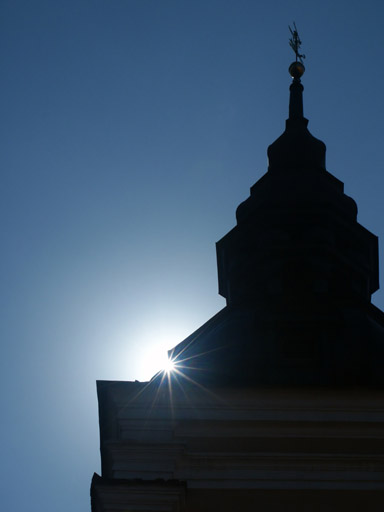 The sun peeking from behind one of Vilnius's
many towering church spires.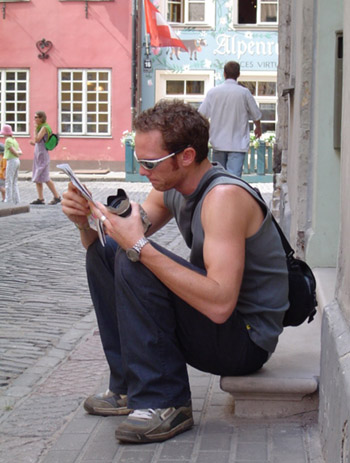 Me, trying to figure out the complex network of cobbled lanes
in the old town, using my super-oversize but detailed map.
That thing came in handy.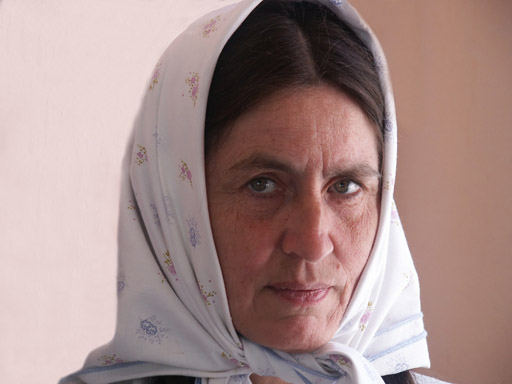 This solemn-looking woman was standing at the gates of Vilnius' chief Russian Orthodox
church, hands clasped, staring at the ground, seemingly without purpose, yet at the same
time somehow crying out for help. I couldn't resist asking her for a closeup.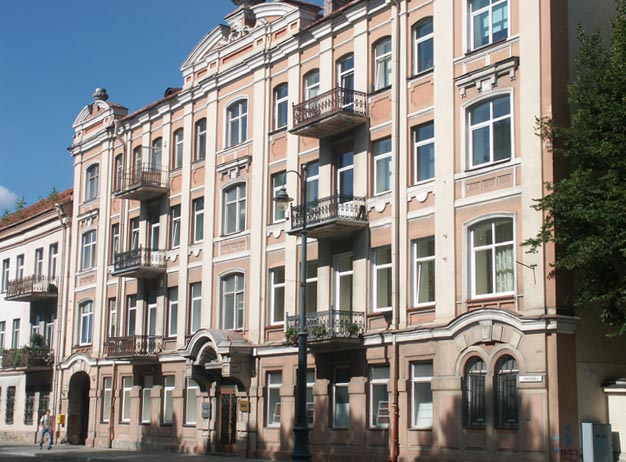 One of the many grand old buildings lining Vilnius's shopping area.
As far as they go, this one isn't so special, but I just liked the lighting.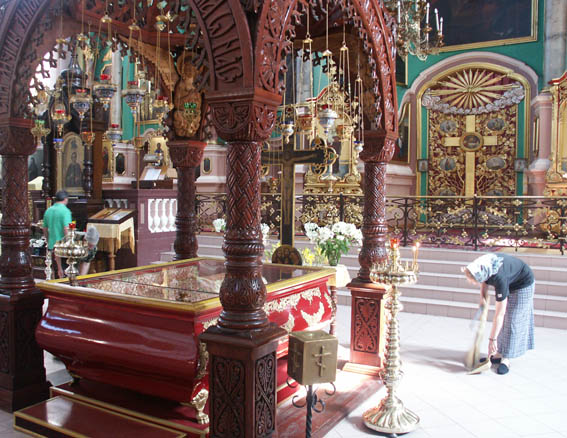 A church-member cleans the floor surrounding a glass case containing the preserved bodies
of three 14th-century matyrs, inside the pink 17th-century Holy Spirit Church.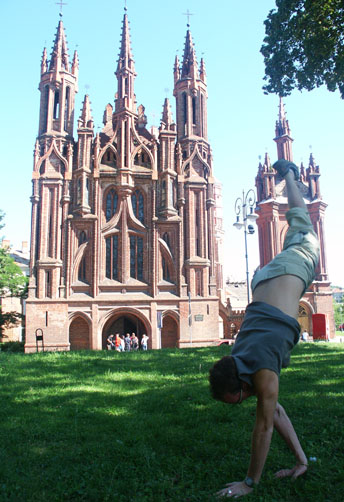 Practising my breakdancing in front of the
16th-century St. Annes Church.




The graffitied wall behind a 5m-high bust statue of Frank Zappa - the world's only
memorial of the American rock legend. Why the hell is it in Lithuania?!



< previous&nbsp&nbsp&nbsp&nbsp&nbspnext >