Location: Märjamaa, Estonia
Local time: Tuesday, 5:30pm
Music:

After Morocco, I had a week to kill before flying north from Madrid to Norway and on to Estonia. So I decided to bus from Algericas to Seville, Spain's fourth largest city (pop 700,000), capital of Andalusia, and the heart of flamenco culture and tradition. It's also one of Europe's warmest cities, and didn't disappoint in that respect. Here I had organised to be hosted by a member of couchsurfing.com. This is cultural exchange project designed to allow travellers to meet locals etc, while staying for free on their couch (or spare bed). Thus I met up with my host Mark, a young American studying in the city. He had another American and a Mexican flatmate, two pet turtles, and a big blue couch - my bed for the next two nights. They turned out to be a pretty friendly bunch, and all-in-all it was a great first-time couch-surfing experience.

My old band-mate from the Caribbean, Les, met me in Seville (he'd been living in Paris and travelling around Europe with a rail-pass), so we checked out the city together. And a pretty city it is. Wide, tree-lined boulevards, cobbled roads, grand cathedrals, and a modern tram system cutting through the middle of it all. It almost felt like Vienna.

Lisbon was another nice city, with old European archictecture, large squares etc... but it didn't grab me like other cities have done. Les and I couchsurfed here again, in the beautiful apartment of a young Portuguese Government lawyer. I made sure I sampled the very traditional pasteis de nata (a rich egg custard poured into pastry-lined muffin cups and baked - very delicious) and Port wine. We checked out the city sights, the hilltop castle, and the picturesque neighbouring town of Sintra.

On our first day in Lisbon, we happened to be wandering around with our guitars (we hadn't met with our couchsurfing host yet, so left most of our gear in a train station locker) and after visiting the castle, stopped into a restaurant for a drink. Towards the end I decided to work the 'starving musician' angle. I found the restaurant owner and said "hey we're two travelling musicians, we have our guitars with us, how about we play a few songs, and if you like them, you give us our coffees for free?". We walked out three hours later with stomachs full of great local food and whisky, and an invitation to come back the next night.

We did return the following evening, with our couchsurf host Miguel, and enjoyed another great free meal, more drinks with the owner, and a couple of songs played here and there. Following this, on the suggestion of the owner, Miguel drove us to an Irish bar in the city (does any city in the world not have an Irish bar?) and Les and I rocked the crowd at the Open Mic Night. I even managed to get behind the drums again for a few songs, and the other musicians were so surprised and impressed by our efforts (the previous act had been a bit of a snore) that they all wanted to join in and jam with us. We brought the house down with Hotel California, and left 'em wanting more. Rock Lisbon? Check! ;o)

To be honest I could have used another day in Lisbon - there were plenty of sights still to be seen- but I had to press on back to Madrid in Spain, where I was due to fly out in a few days. Once again, I had organised a couch to sleep on (honestly, this was saving me a lot of euros in hostel bills!) and ended up staying right in the very heart of the city, with Andre, a Madrid native and EasyJet chief steward.

Madrid was full of grand buildings and monuments, large cafe-lined squares, wide pedestrian shopping streets, parks, black men selling fake Gucci handbags on the pavement - everything I've come to expect from the famous European cities.

After the 27-degree days of Morocco, Seville hadn't been much of a shock, but the temperature had dropped as we headed into Portugal, dropped again in Madrid due to wind chill, and plummeted through the floor as I hit Oslo. After working the summer in France and Italy, then having a taste of African sun, my wardrobe wasn't particularly suited to early winter in Norway. However, judging by the price tags in the shop windows, this budget-minded traveller wasn't about to go splurging on wardrobe upgrades here!

My couchsurf host in Oslo was Daniel, a British guy who had moved to Norway because of a girl (who's since left him). Here I met another (professional) couchsurfer from Australia, who'd been staying for free all around Europe for the last few months. Our host Daniel and his Norwegian flatmates seemed to be professional couchsurf hosts, and his two couches (and one fold-up bed) are constantly being used by wandering souls. This couchsurfing.com project is definitely a great idea, not only because it can drastically reduce travel expenses, but it makes it that much easier to get amongst the locals, rather than always being with the "here-to-party-and-maybe-take-a-photo-or-two" set so commonly found gracing hostels around the world.

When I touched down in Norway I felt like letting out a big "aaahhh" - a sigh of relief. Sure, Spain and Portugal are safer and more structured than third-world Morocco, but Scandinavia is just so... organised! Everything works the way it should, there are helpful signs for everything (often digital and updated every minute!), everyone is really helpful, and they all speak near-perfect English (I think the Norwegians are even better than the Swedes and Danes, and definitely the Finns).

I wasn't particularly impressed with Oslo itself, however. Perhaps it was the biting cold and grey skies, but it just looked very, well... Scandinavian. Understated. Almost dull. It's like they're thinking "yeah we know we're wealthy, we know we can build high-quality stuff... we've got nothing to prove to you!"

Now I'm back in Estonia. The day after I landed it started snowing heavily, averaging 0-degrees and getting completely dark by 4pm. My new laptop (replacing the one stolen back in France in April) arrived last week, so it's been nice to chill out here, sleep and eat well, and spend time working on my original music on the computer, catch up on emails etc.

We had an early Christmas Day on Saturday (since both Krista and I are leaving before the 25th), Krista flew out to Martinique yesterday, to join her boat for the Caribbean season, and I fly out to St. Maarten on Sunday. One last shot at the music. I'm looking forward to some sunshine, a gym membership, and making money doing something I love. I'm not looking forward to the search for an apartment, a car, small-minded locals...

I managed to organise more gigs at St. Patricks pub in Tallinn every Friday while here, and with a 50% payrise, it's helped to sustain me during my time back Estonia. It's always a fun night, and I'm made to feel very appreciated by both the staff and the crowd. I hope this trend continues over the next few months, as I attempt the same thing in the Caribbean...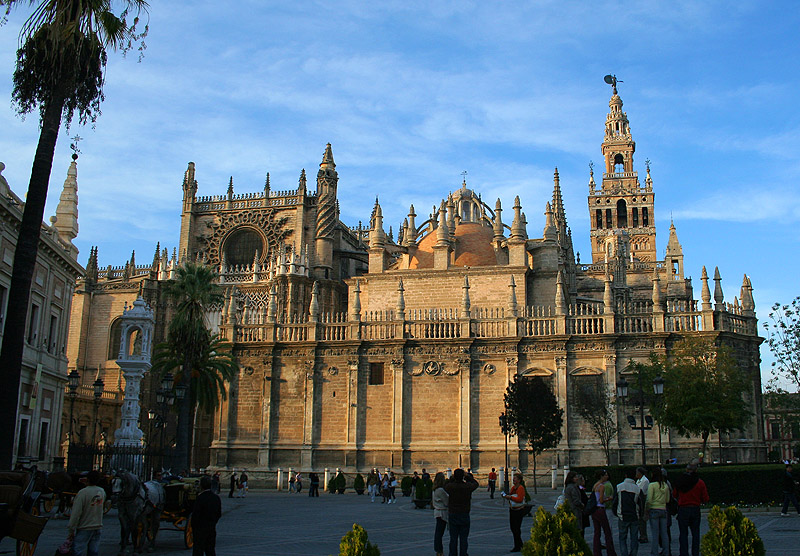 The Seville Cathedral, begun in 1402. Built to demonstrate Seville's wealth, it is the largest of all Roman Catholic cathedrals,
and rather tricky to fit into one photograph!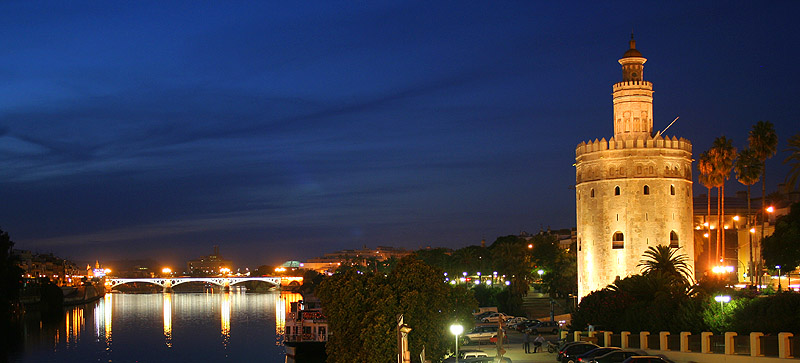 The 13th-century Torre del Oro (Tower of Gold), a military watchtower built in order to control access to the city via the Guadalquivir river.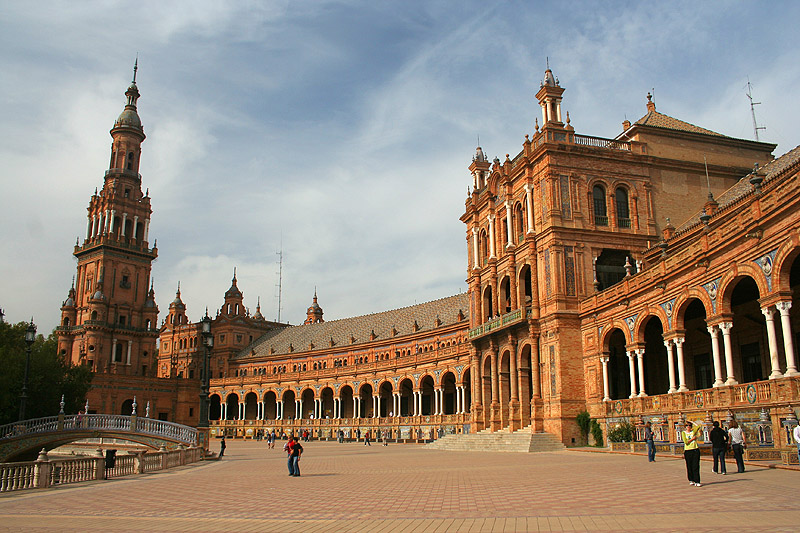 The incredible Plaza de España, built for the 1929 world expo in Seville.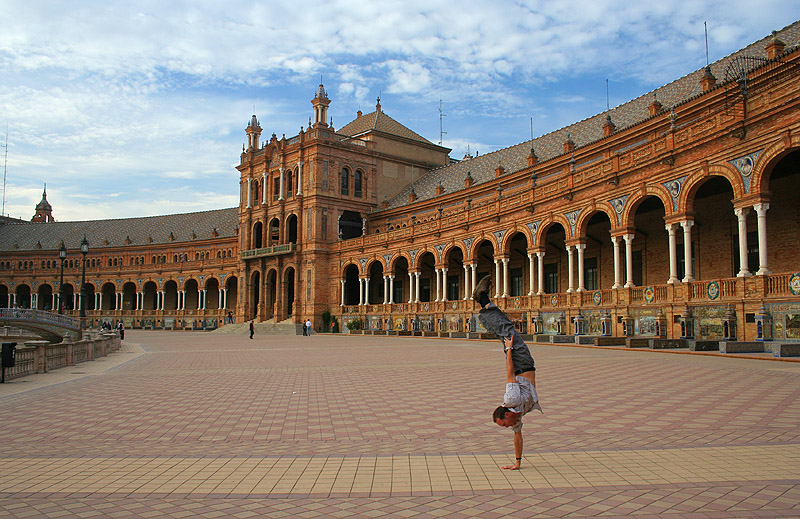 The Seville one-hander.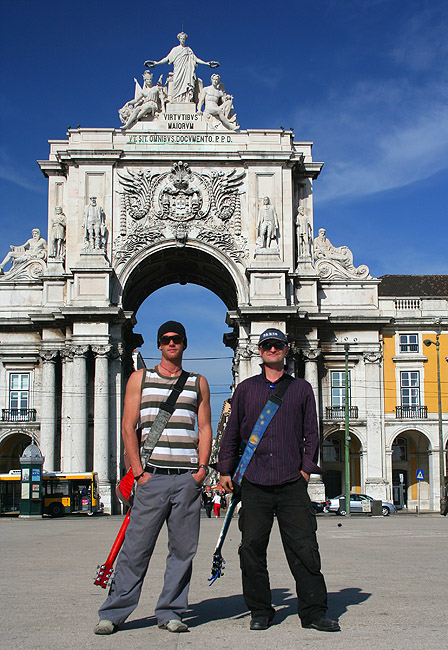 Les and I in Lisbon.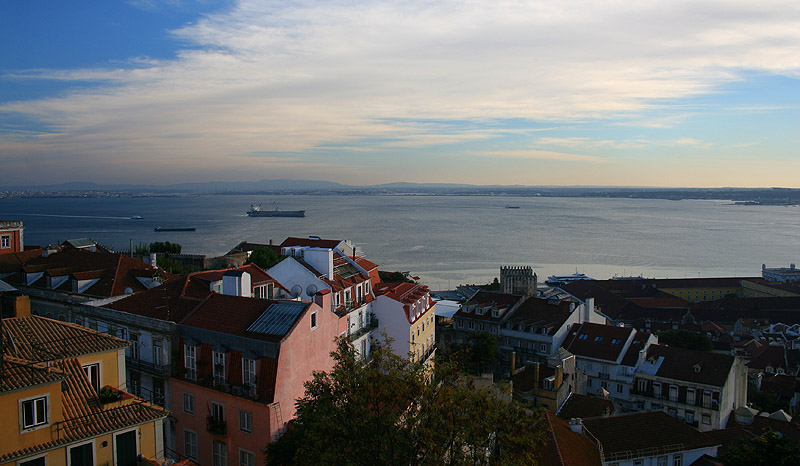 A view of the bay of Lisbon, from the city's hilltop castle.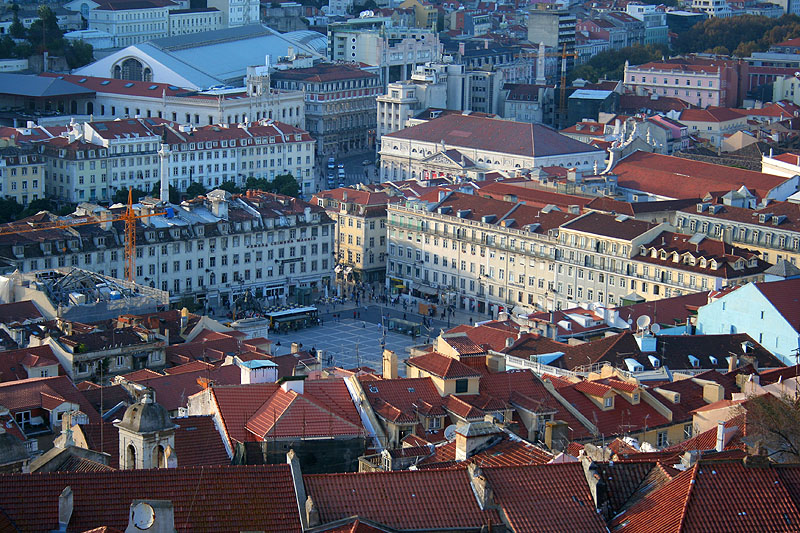 And a city square, also seen from the castle.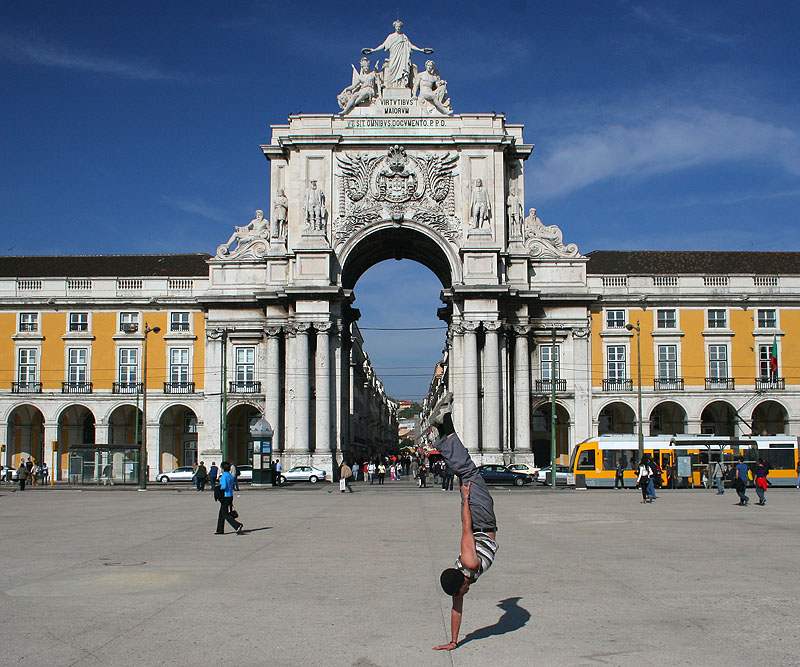 The obligatory Portugal one-hander.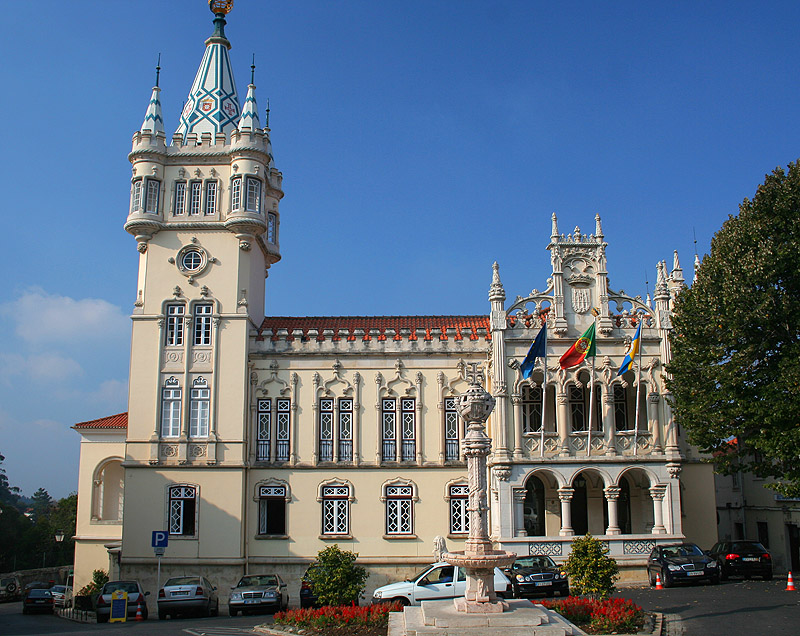 The elaborate town hall in Lisbon's neigbouring town of Sintra.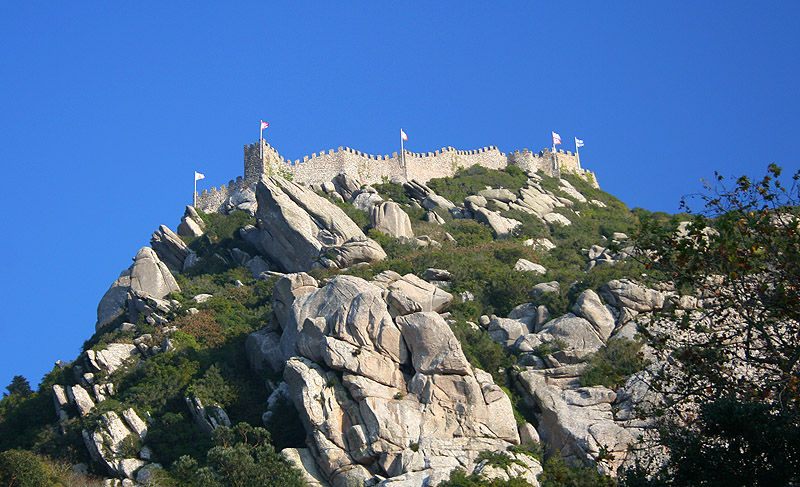 The Castelo dos Mouros (Castle of the Moors) in Sintra, a UNESCO World Heritage Site.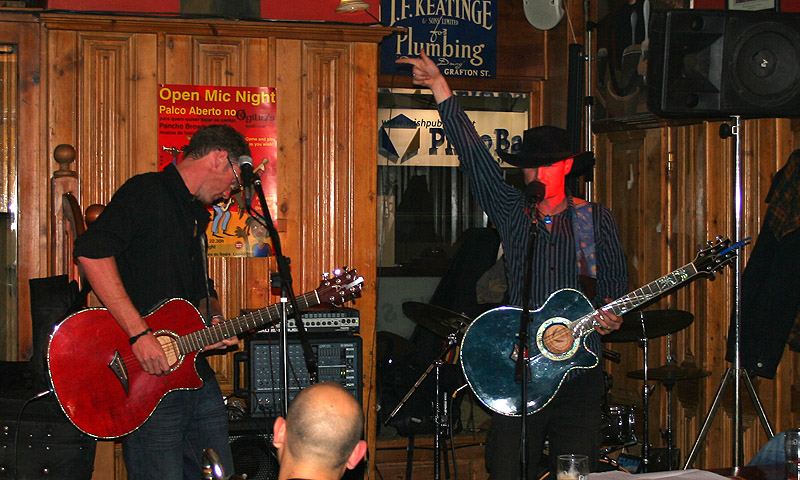 Playing in Lisbon....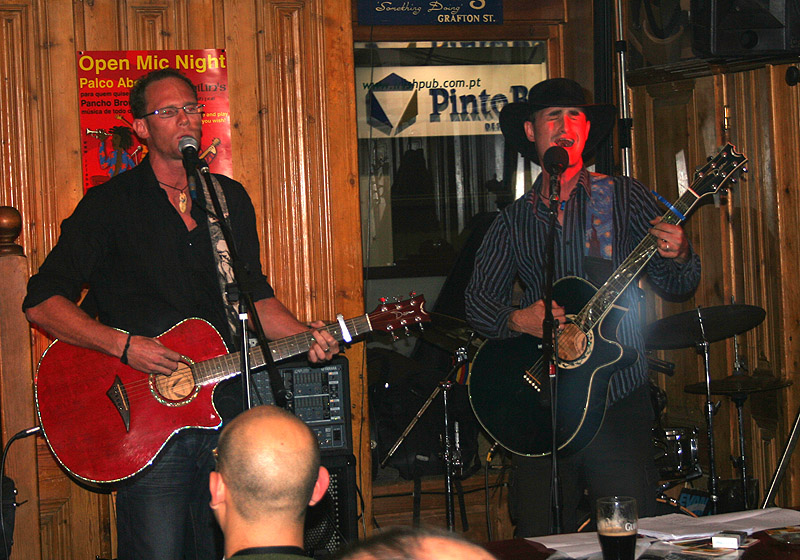 ...and again.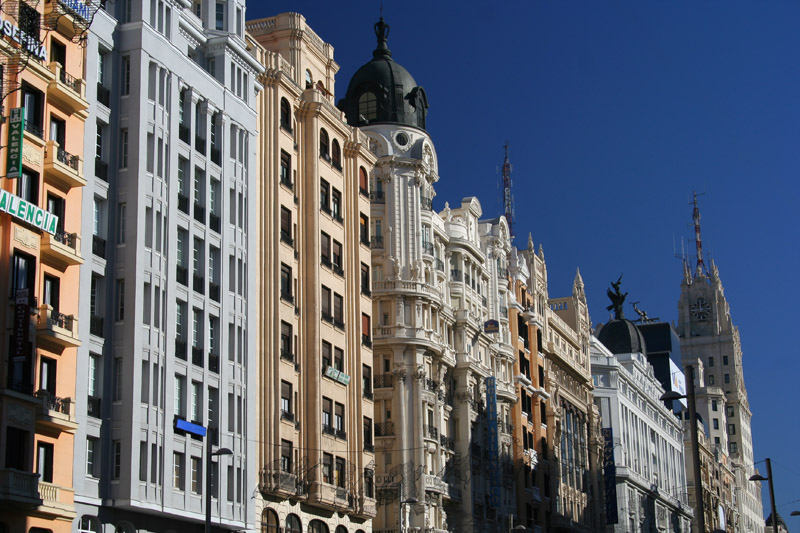 The style of buildings lining Madrid's central city streets.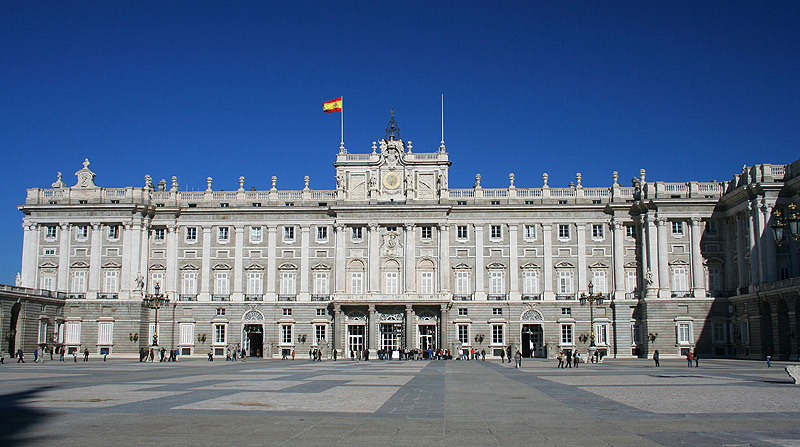 The Royal Palace of Madrid - the Spanish King's official residence (although he chooses to live in another palace in the city's outskirts).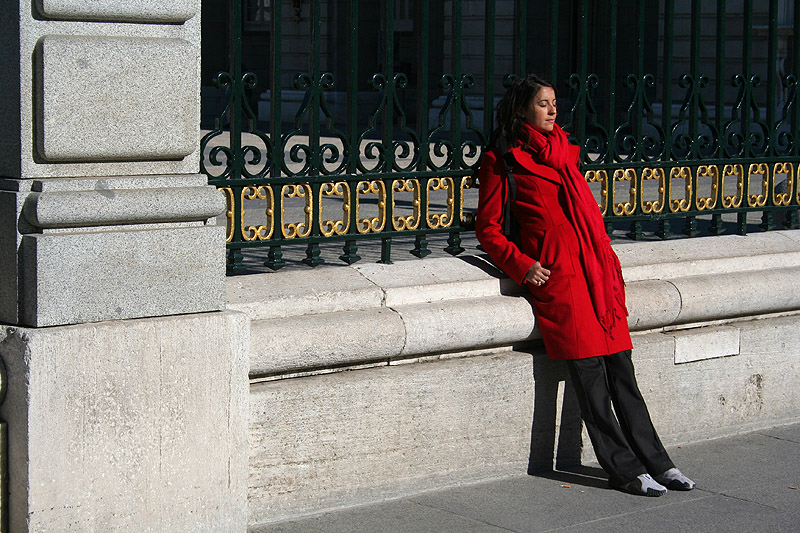 The wind was cold, but the Autumn sun still had some warmth left, and everyone was trying to soak up as much of it as possible.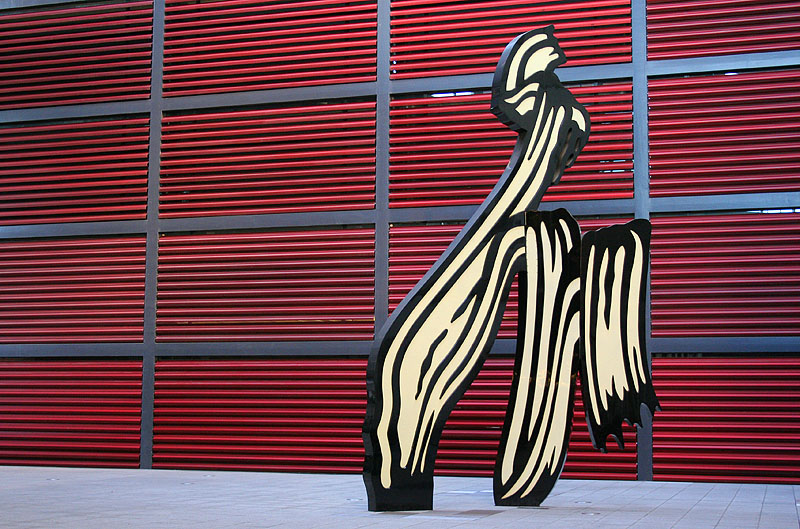 The only photos you're allowed to take at the Reina Sophia Museum are outside. But inside was some of my favourite works of art from
Dali, Miro, and Picasso. The highlight of my visit was Picasso's huge 1937 'Guernica'. A reprint of this hung above my bed
back in New Zealand for many years, so it was nice to finally see the real thing, and made my trip to Madrid very worthwhile.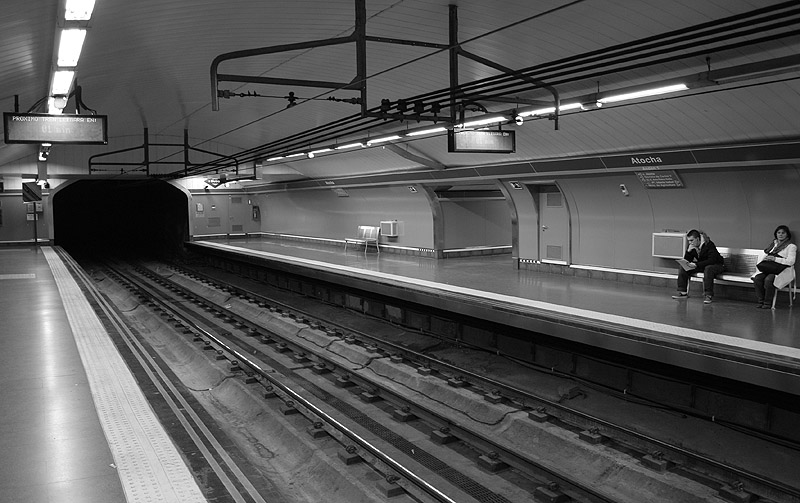 The underground metro system of Madrid... very clean, very efficient, and, well, here's an artsy shot of it.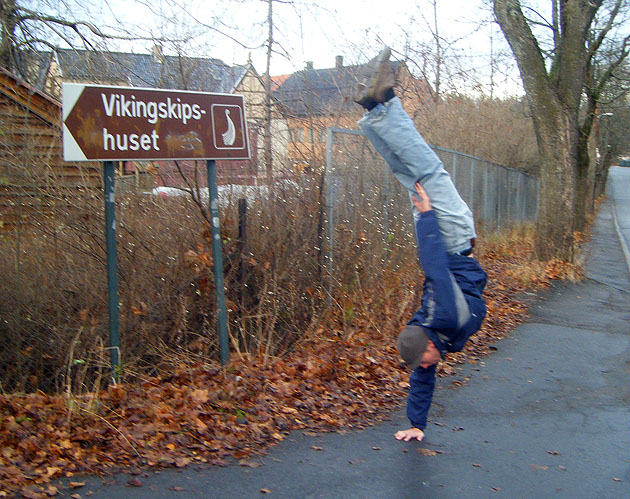 The only one-hander I managed in Norway (the sign says "Viking Ship Museum"). My camera's battery had died
(the cold weather sapped the life from it pretty fast) and so this blurry shot was taken with the other couchsurfer's camera.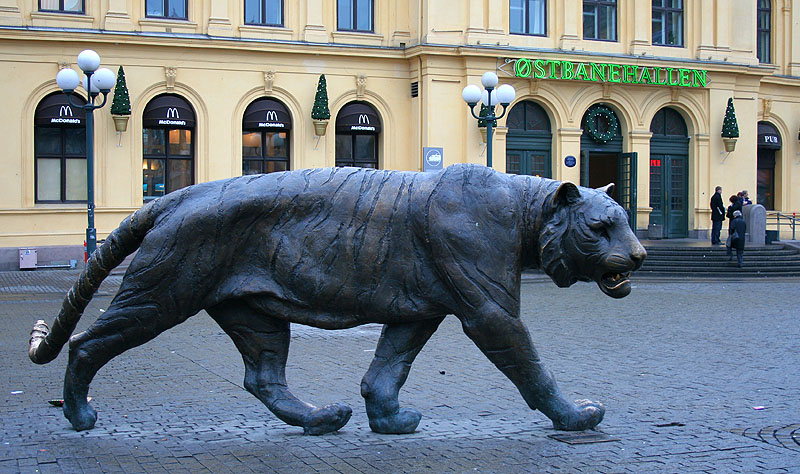 A tiger sculpture in Oslo's city center. The city was once referred to as Tigerstaden (City of tigers) by the author Bjørnstjerne Bjørnson
around 1870, due to his perception of the city as a cold and dangerous place.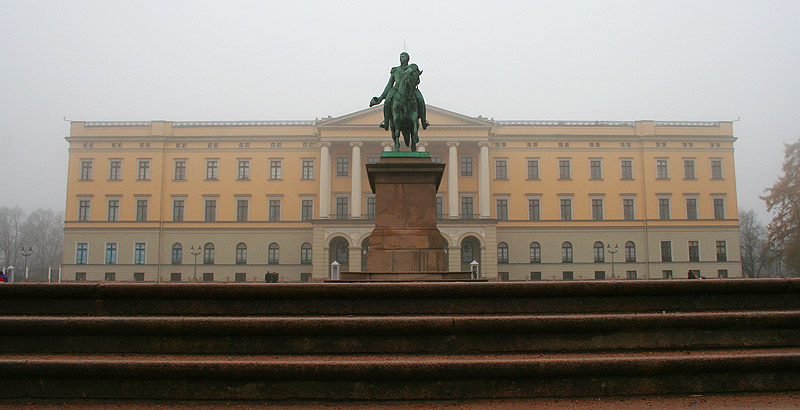 Oslo's Royal Palace, built in the 19th century as the Norwegian residence of Norwegian and Swedish king Charles III.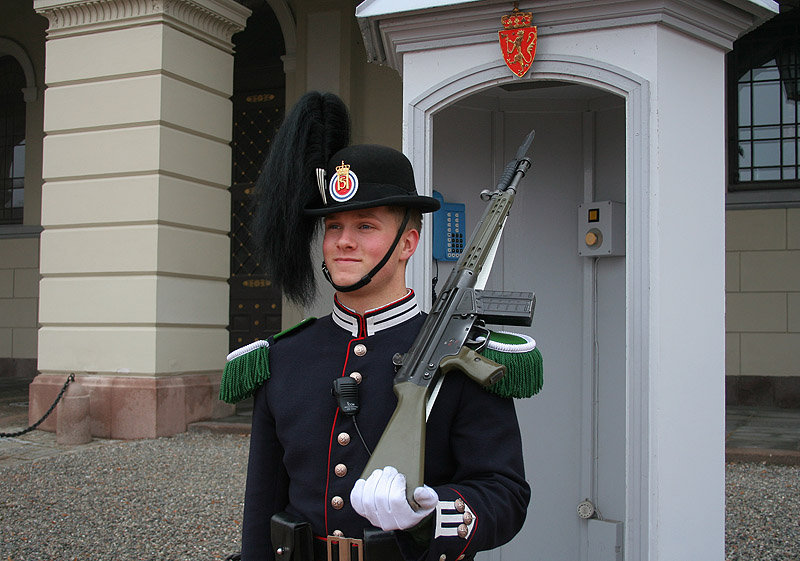 One of the young Palace guards. I cracked a few jokes and managed to get a smile out of him.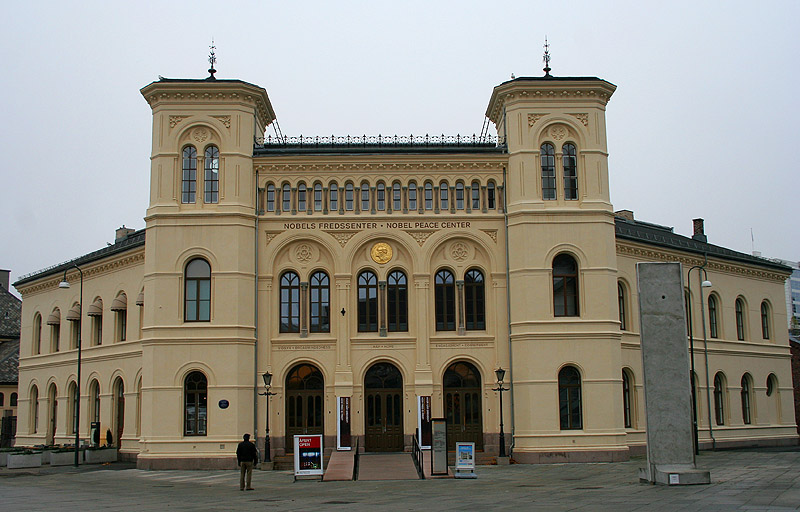 The Nobel Peace Center.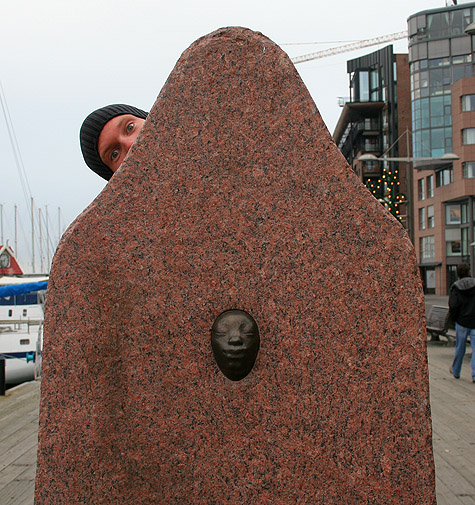 Down by the waterfront.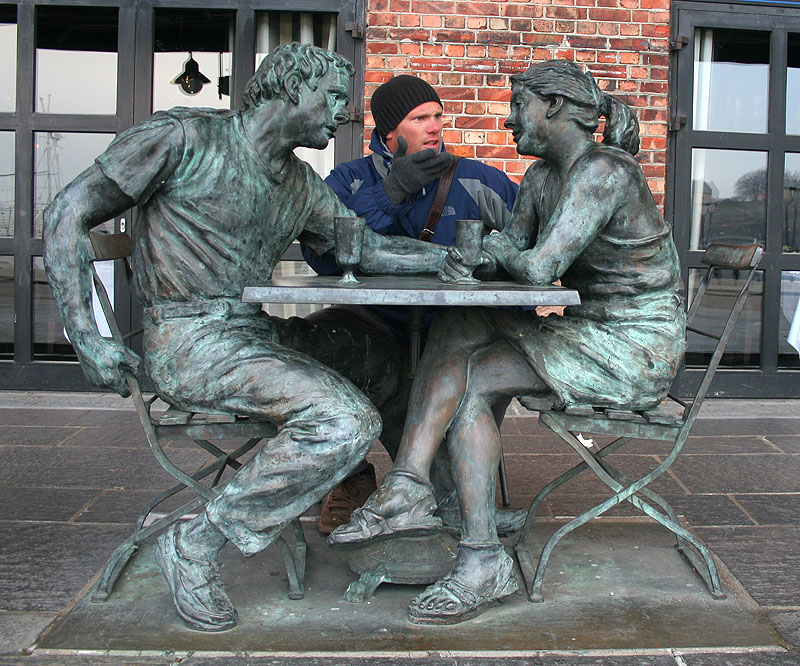 No matter how hard I tried, there was just no convincing her.
(I guess she had a heart of stone).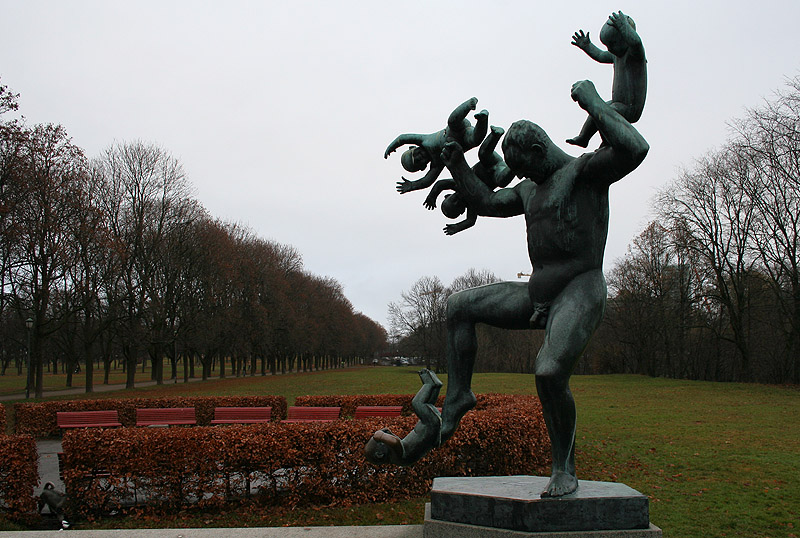 Frognerparken, containing 212 rather odd sculptures by Gustav Vigeland.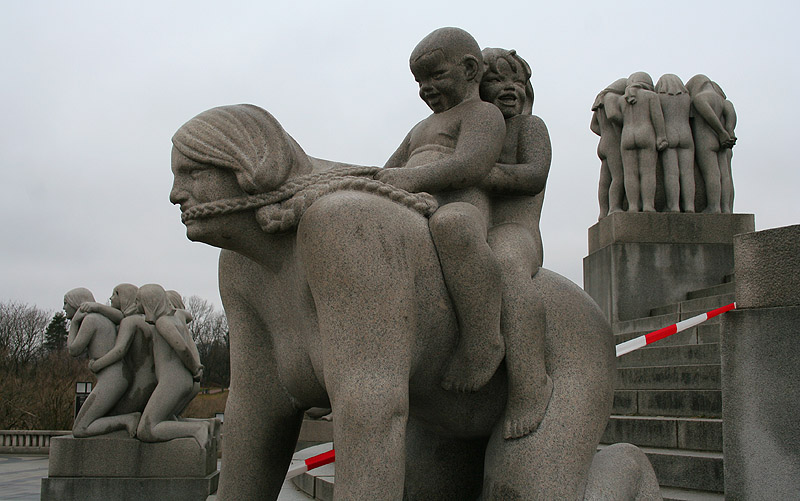 No idea where he got his inspiration from, but he obviously wasn't much of a fan of clothing.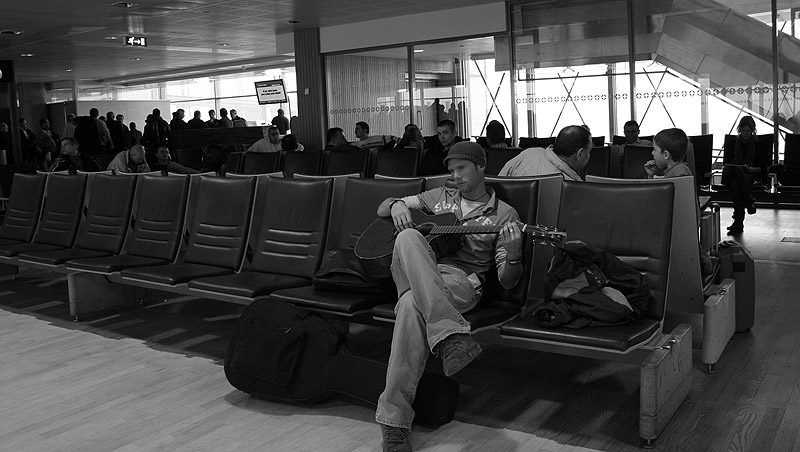 Entertaining myself while waiting in Oslo Airport, for my flight to Estonia.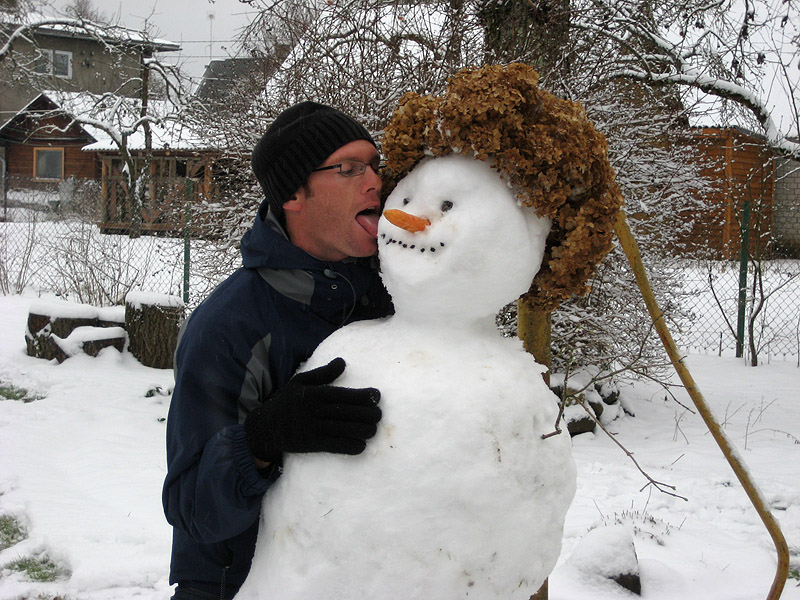 We made snowmen - my first time ever! I had to be shown the basics, but quickly got the hang of it.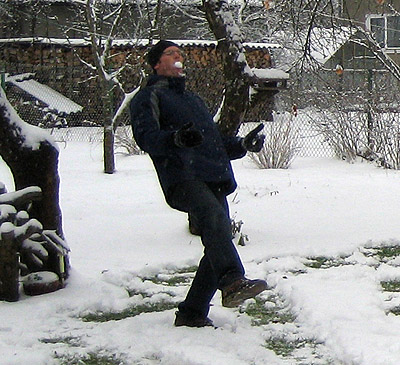 And we threw snowballs. I developed a new catching technique.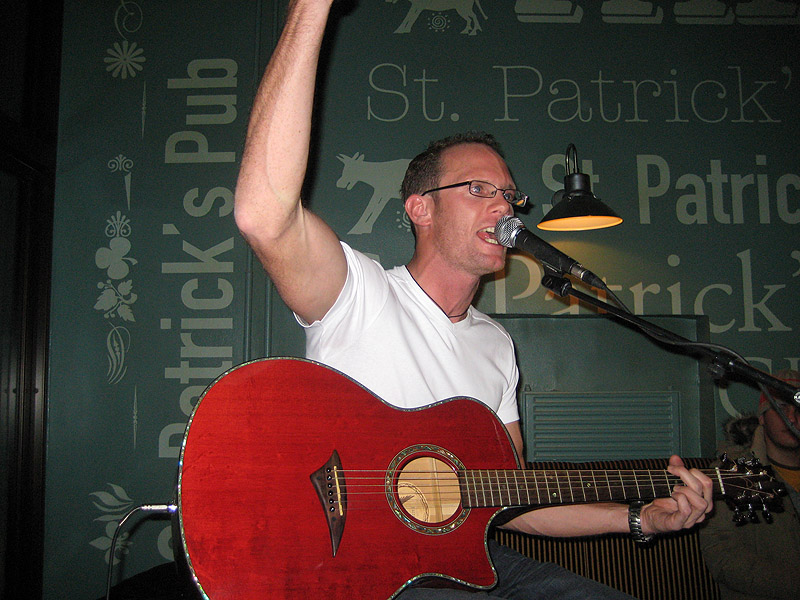 My last gig in St. Patrick's Pub.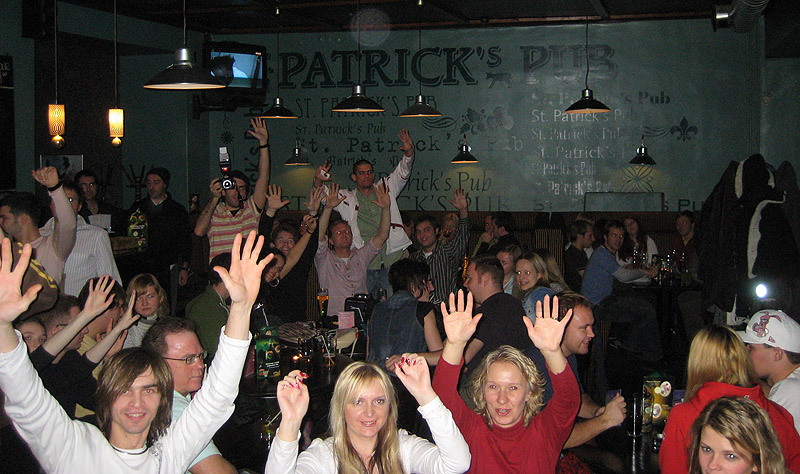 Audience participation.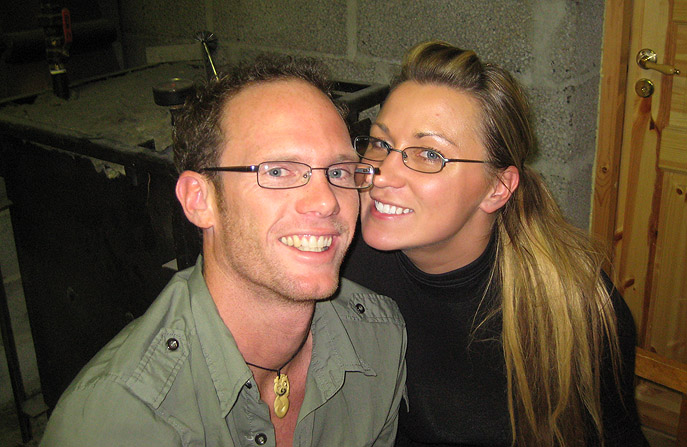 Christmas 2007 in Estonia - three weeks early but still a great time.
Häid Jõule kõigile! (Merry Christmas everybody!)



< previous&nbsp&nbsp&nbsp&nbsp&nbspnext >