Location: somewhere off the coast of the Bahamas
Local time: Sunday, 1:15pm
Music: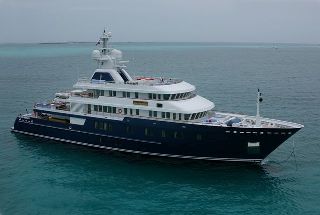 Well a lot has happened since my last update. And as I type this, I'm somewhere off the coast of the Bahamas, staring at the crew computer and drinking good coffee. But I'll get to that later.

Flying into St. Martin from Paris was a piece of cake. I was picked up at the airport on the French side by a friend, and we drove across the border to the Dutch side of the island where I was to stay. Couldn't've been simpler.

It was strange being back on that little Caribbean island after two years. So many things have changed (it's getting rediculously over-developed), yet so many things still seem the same. I stayed in a crew house with other yachties looking for work, and did manage to find a couple days of daywork to keep me going. I signed up with all the crew agencies, hung out at the yachtie bars etc, but in the end I found a job through one of my roommates back in the hostel in Nice, France. He had previously given me the email address of his cousin who worked on a megayacht. So I emailed him, and a few days after arriving in the Caribbean, got a call from the Captain of the M/Y (motor yacht) 'Polar Star', offering me a deckhand position. Hurrah!

I managed to get into town in Fort Lauderdale to purchase an MP3 player before we left. I really need my music! It's a Microsoft Zune 30GB one - seems ok, but I haven't had the chance to even put any music on the damned thing yet...

Anyway, enough for now. Today is the crew's day off (unless you're on watch, up in the Bridge) - my watch was from 5-8am this morning, so I'm all done for the day. Then tomorrow we start to wash down the boat and scrub the decks (a mammoth task on a boat this size!).


< previous&nbsp&nbsp&nbsp&nbsp&nbspnext >