Location: Cyberlink, Philipsburg
Local time: Monday, 11:15am
Music:

It's been a month since I last managed to update my diary, so I know it's high-time I did something about it, and I've finally found (well, set aside) some time (and a friend's laptop) to do it. Three weeks ago we moved out of the little (and overpriced) studio apartment in Simpson Bay - the landlord was kinda psycho-freaky, and I don't take well to threatening notes being left taped to the front door, written in crazy-person semi-dyslexic scrawl (think 'The Shining'), but that's another story. So now we're living in a great house in Simpson Bay and it's still only two mins from the beach and much cheaper and more spacious, so... gotta be happy about that one!

Well, after spending a fair few hours in the recording studio of a friend, the Jukebox Heroes have their first single. It's currently being played on two of the island's largest radio stations - Island 92FM on the Dutch side, and Radio Calypso on the French side. It's called the 'Dutch Side Song', and is about the trials and tribulations that go along with living here. In the middle of the song is the 'Bridge is up Blues' rap, which I'll explain.... Anyone that's been associated with the island knows that the drawbridge in Simpson Bay that opens and closes six times a day for the megayachts to enter/exit the lagoon can create traffic hell, and you end up very late for whatever you need to do. Consequently you get the 'Bridge is Up' blues - stuck in the hot car in bumper-to-bumper traffic stopped in one direction, while the other direction is car-free (they're stuck on the OTHER side of the bridge). So it's a little phrase I've coined that I hope sticks. The bridge-is-up-blues. The song is quite catchy, and people are coming up to us saying how much they like it. We've sold several copies on CD at our gigs, and will be appearing on the local TV channel next week for one of our gigs. A few weeks ago we were interviewed and played the song in the studio, which also appeared on TV each night for that week. And yes Mum, a copy of the song is in the mail.

I have a drum kit arriving in a few days. We made a big purchase off Musician's Friend (dot com) for some new equipment, including my new shiny red drum kit, which is now sitting on a ship coming across from Miami. We have found an enthusiastic bass player (a young Dutch guy called Mark) who is fast learning as many songs as possible so we can perform them at the Heineken Regatta in early March. This will be our first real 3-piece performance, and I can't wait to get behind the drums again after so long of just beating the one djembe drum!

Now that I'm getting a drum kit, I need something to carry it around in don't I? So, I've bought another car. A little silver 1990 Toyota Corolla station wagon, 4-speed manual (I'd forgotten how much I prefer this to an auto), with new mags and tyres and working AC!! It's really nippy and a great car to drive and I'm really happy with it. Lots of room for the drums in the back. So now I'm cleaning up my blue Nissan and will be trying to sell that ASAP.

Krista and I have joined the gym, and I try and go as often as possible and am starting to feel vital again. I've found it can be hard to remain healthy and on top of your game here whilst performing music every night. The staff at every venue glady ply us with free food and alcohol, of which the latter can get a bit excessive and the following mornings a bit painful. So after throwing myself headfirst into the St. Maarten party scene I'm now back out of it and drinking lots of water and running and gymming and sunning and swimming and stuff. Go me!

I killed my old Nokia 8310 the other night, leaving it to sit in a puddle of water beside the bed. The next morning I couldn't access the 160 numbers in the damn thing, so had to buy a new phone which pissed me off. But I'm enjoying the new 6100 with colour screen. As for camera phones, I still think they're a bit silly and am still planning on spending way too much money upgrading my existing digital camera!

Well, enough about me. I hope everybody is doing fantastically, and don't forget to email me sometimes.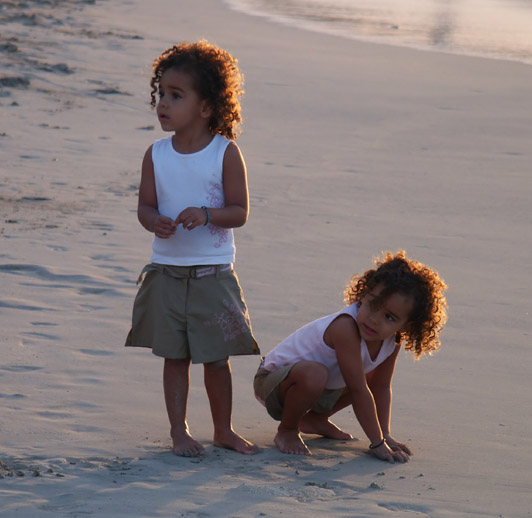 A couple of adorable little French twins on the beach outside one of our gigs a few weeks back.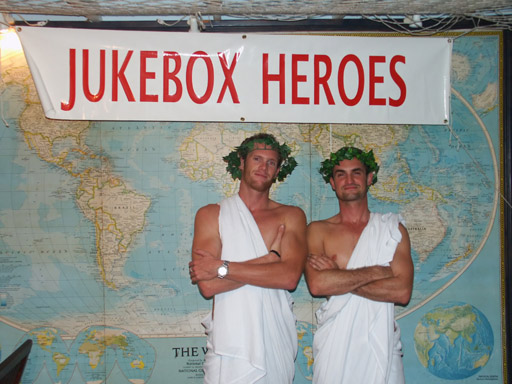 We came suitably-attired for the toga party gig...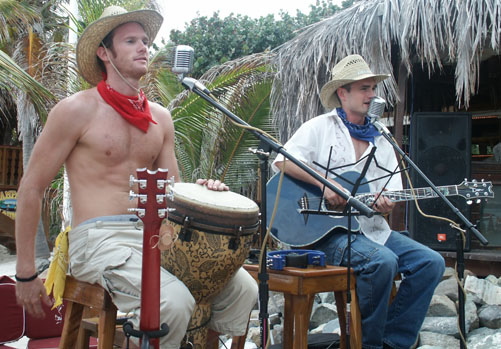 ...and kinda dressed up for the cowboy gig...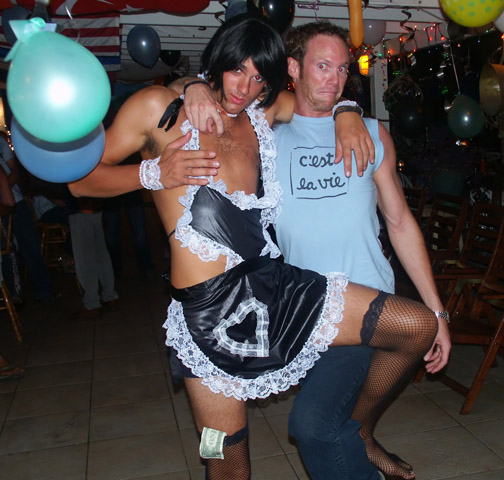 ...but you gotta draw the line somewhere.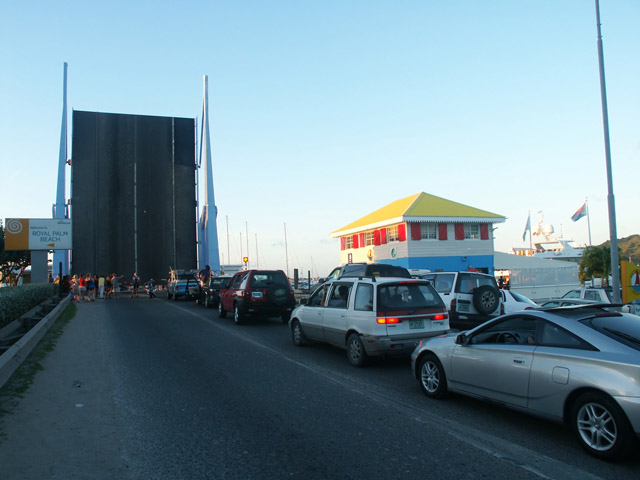 The Bridge Is Up blues. The drawbridge in Simpson Bay, which opens every day at 9am, 9:30am, 11am,
11:30am, 4:30pm and 5:30pm, and makes many people pull their hair out, lean on their horn,
or simply spontaneously combust in the heat.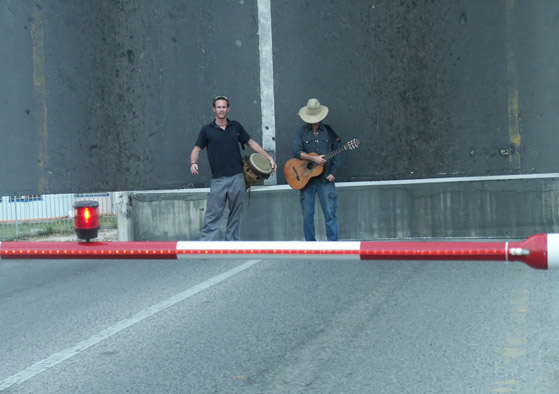 On the first day of the release of our song on the radio, we got it timed to play during the 5:30pm
bridge opening, and walked up and down the line of people sitting in their cars offering free shots
and telling them to listen to Island 92 to hear our song. Proactive marketing. God loves a trier...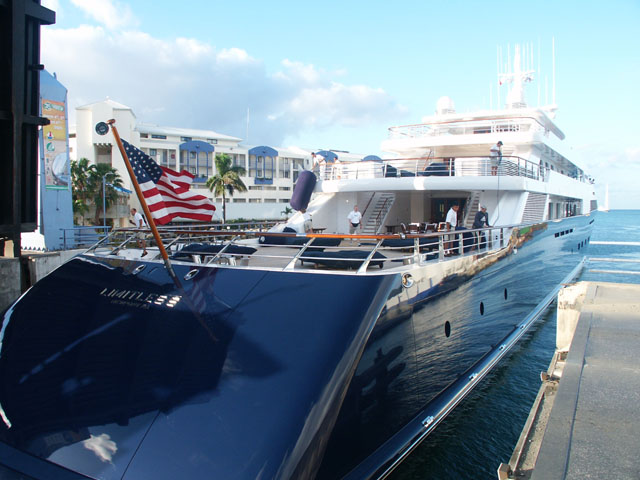 Limitless, the 318ft behemoth owned by the CEO of the Gap, Limited, and Victoria's Secret lines. This was a
special 7:30am bridge opening (I can't believe I made it up that early just to photograph this for you) for
Limitless to leave the lagoon, on its way to the Miami boatshow. A while back Limitless helped to fund the
widening of the drawbridge so that it could fit through the damn thing!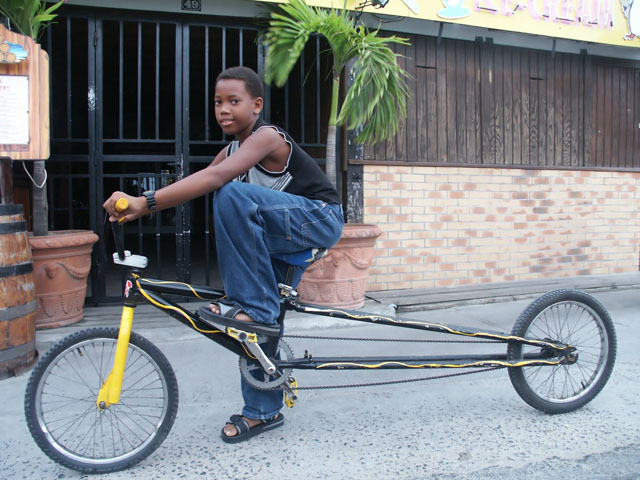 Chick magnet, Caribbean styles.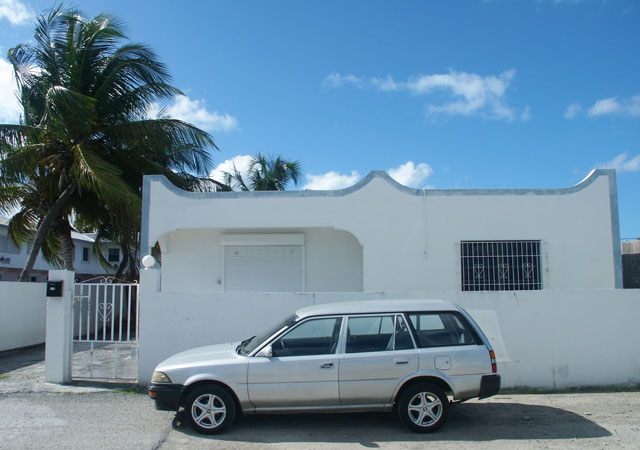 The new silver rocket. It "runs on the smell of an oily rag" as we'd say downunder. The new house is behind.
Notice the all-important storm-shutter electric roller door over the front door - vital during hurricane season.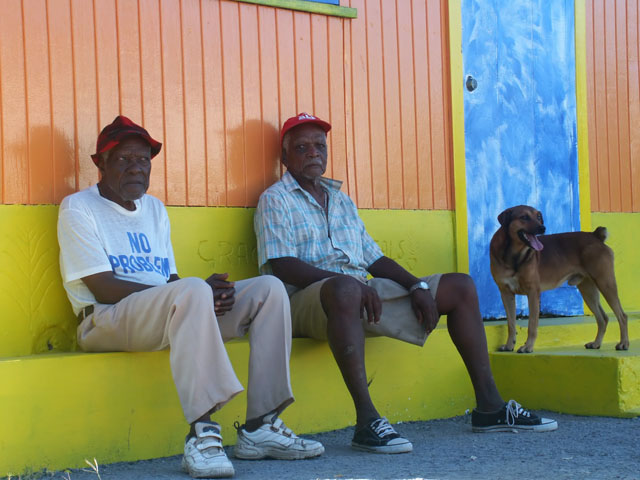 A photo I took in Antigua a while back. The old guys were astounded with my digital camera.
The dog was indifferent.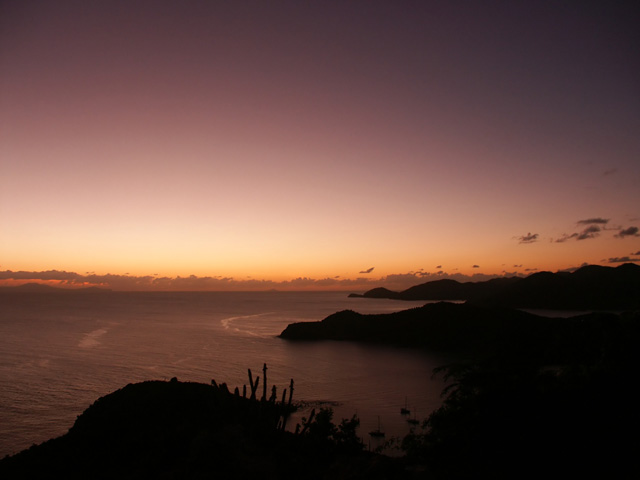 The view atop Shirley Heights in Antigua.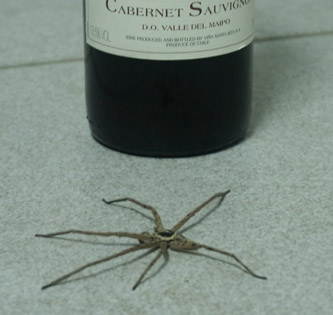 A rather imposing-looking spider I found in the bedroom
the other night. Those legs go all the way up baby.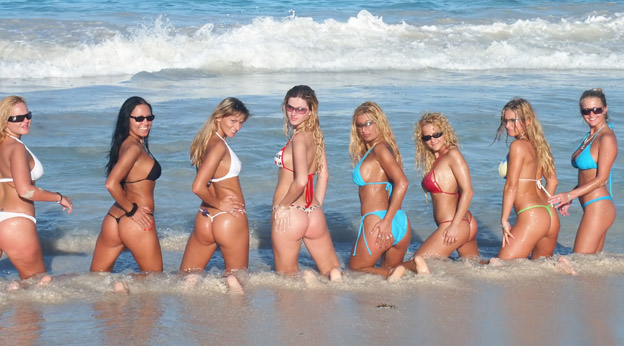 And so, I'll leave you with this. The Hawaiian Tropic girls posing on Orient Beach one day, during a break
in the middle of our gig. Oh frolic frolic!



< previous&nbsp&nbsp&nbsp&nbsp&nbspnext >