Location: JP & Lorna's, Pelican Keys
Local time: Tuesday, 12:10pm
Music:

Pretty microphone huh? I love these things. People always comment on how cool they look. Anyway, enough about our mics... the music is getting pretty regular for us now. Five weekly gigs at the moment, with another regular one beginning next week. And being paid in the strong Euro dollar is a plus too. Currently the JukeBox Heroes are completing an original song for the radio - it's a light-hearted commentary on the Dutch side. We have friends at Island 92FM on the Dutch side, and Radio Calypso on the French side, so hopefully we can get it some decent airplay, which would be fantastic.

So after a temporary stay at a condo complex in Point Pirouette, we've found a studio apartment right on the edge of the beautiful Simpson Bay beach. Yesterday I found a dead crab at my doorstep. I go to sleep to the sound of the waves and the palmtrees outside my window, but unfortunately, I wake up at 4:30am to the sound of the bloody roosters cock-a-freakin-doodle-dooing next door (where they're being bred for cock-fighting, nonetheless). They say you get used to it. Sometimes I can sleep through it, but it's slowly driving me nuts, and I've told the landlord than I'm looking for another place. She's cool with it. In Simpson Bay it can be extremely challenging to find a place, but I dunno if I can get used to noise of these damn birds. (I thought they were supposed to start up at dawn, not just after midnight!!). There's a "possibly available on the 15th" apartment just down the road that my old landlord might have for me...

Okay, big-picture time. This island is a strange one. A rollercoaster ride. Sometimes I just love living here, while at other times it seems like there's a new stressful situation that arises every day. And it's always over such petty and trivial things that it does my head in. I throw my hands in the air and ask myself why I came back here in the first place. Sometimes I just miss living back in the real world, coz St. Maarten sure isn't it. For now I try to enjoy the fact that I'm in the Caribbean making good money making good music. Dammit, Les and I make great music. But I'll have no qualms or doubts about leaving come the end of the season. For where, however, is a decision that I won't be able to make for a while yet.

Okay, now for trivial little insignificant details... I couldn't find Milo in Europe, and while in Spain I really started to get a hankering for it. Well I finally found some back here at the local Chinese convenience store ("Happy Value", which is just down the road from the bigger "7 Alive"). Anyway, the 'new and improved' Milo sucks if you ask me. Too malty and not chocolately enough. Bummer 'bout that.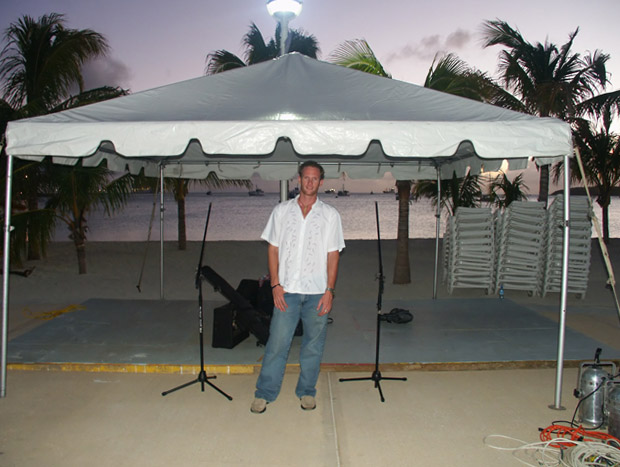 Standing under the tent on the boardwalk in Philipsburg, before the setup for the New Year's Eve gig.
Not a bad spot to play some tunes really.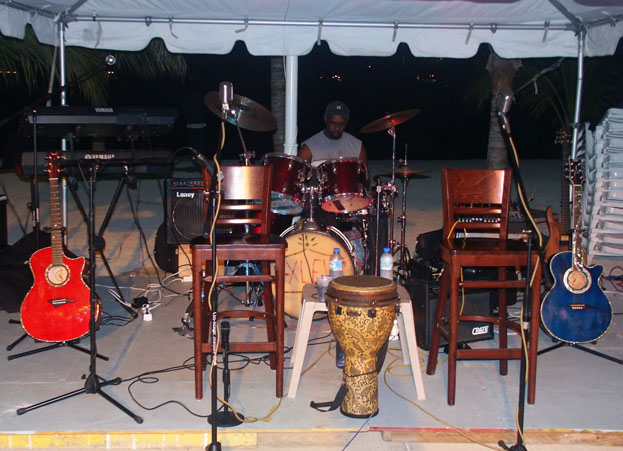 The full band set-up on New Year's Eve. Les and I fronted it with our equipment, while the Next Level band,
three black French dudes, set up behind us with theirs (that's Joel at the drums). Together with a French
female singer, we formed the 6-piece band that played to the masses in Philipsburg, right before the
midnight fireworks display in the harbour.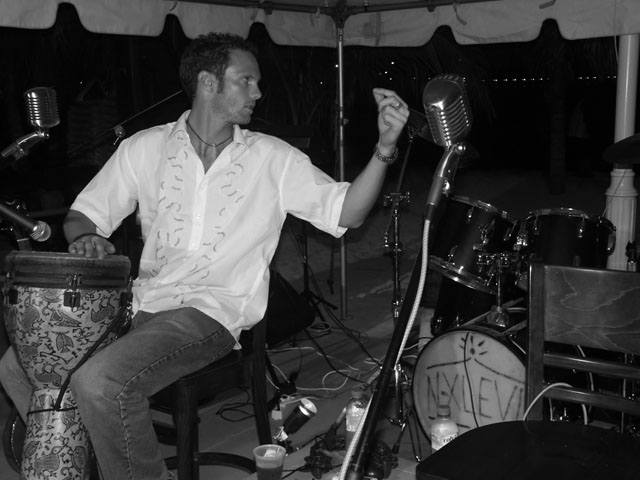 "And a one, and a two, and a one two three four!...."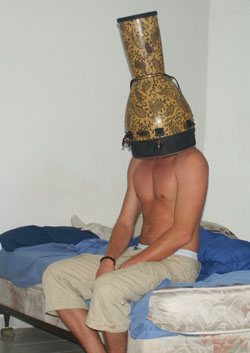 Drumhead. Inspecting the internals
of my djembe a few days ago.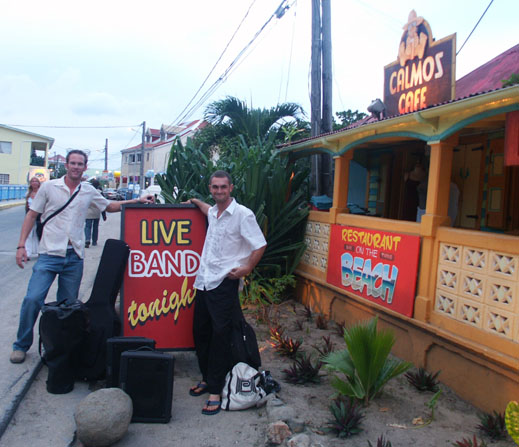 Outside our Tuesday night venue at Grand Case on the French side.
A trendy little beach restaurant called Calmos Cafe.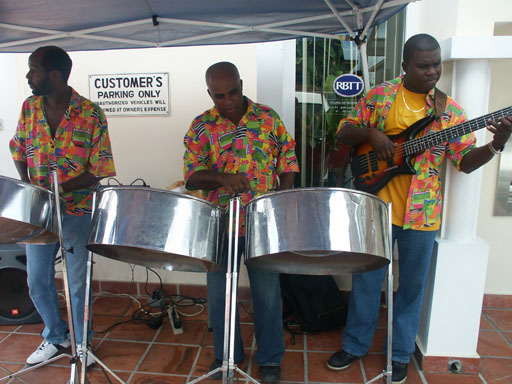 Music is everywhere in the Caribbean. During the Christmas period many of the local
banks hired steel drum bands to play outside during the day. Cute.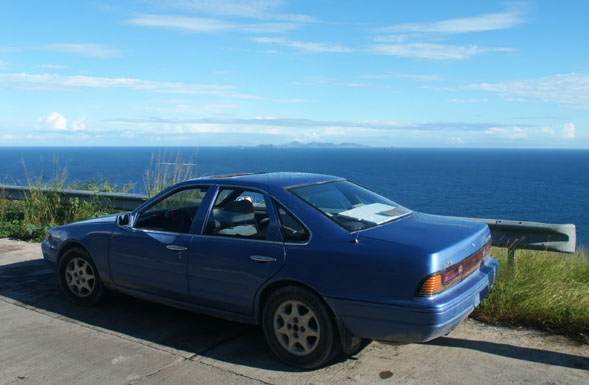 The JukeBox Limo - my new ride. That's the 'lifestyles of the rich and famous' island of St. Bartholemew
(St. Barts) on the horizon, where Denzel, Oprah, John Travolta etc converged for New Year's.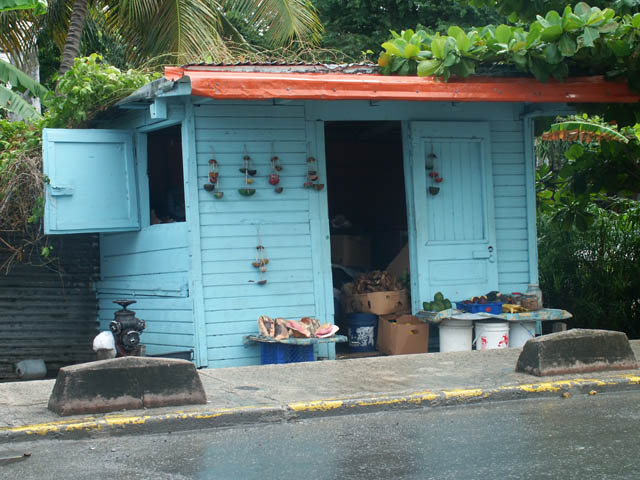 A little fruit & vege shack nestled between buildings in Marigot on the French side. Just some local flavour
I snapped through the car window on my way past.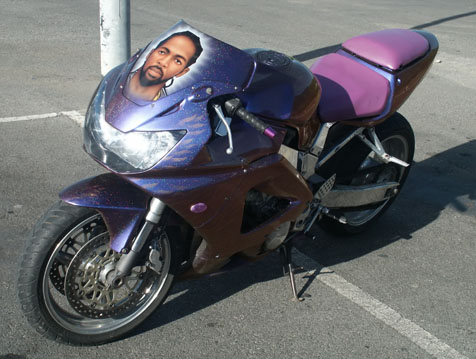 There's some nice bikes on this island, but I really can't get into
what they do to them sometimes.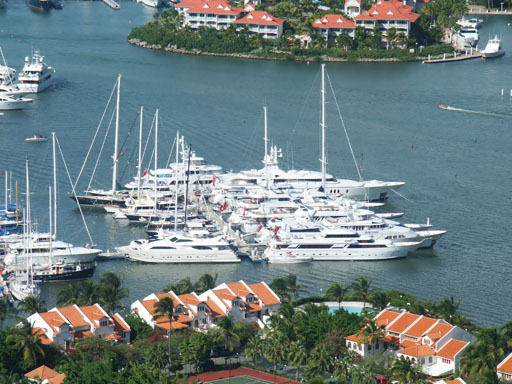 Money money money... just one of the megayacht marinas within the lagoon.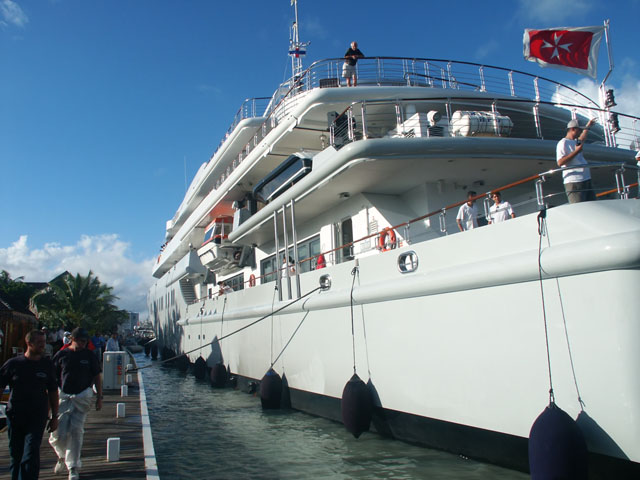 An example of the size the boats can reach - this one was moored port-side-to at Palapa Marina.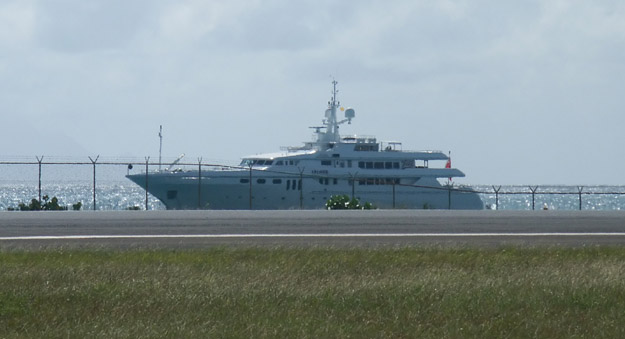 A megayacht (or 'superyacht' in Europe) anchored in Simpson Bay.
The photo shows the airport runway in the foreground.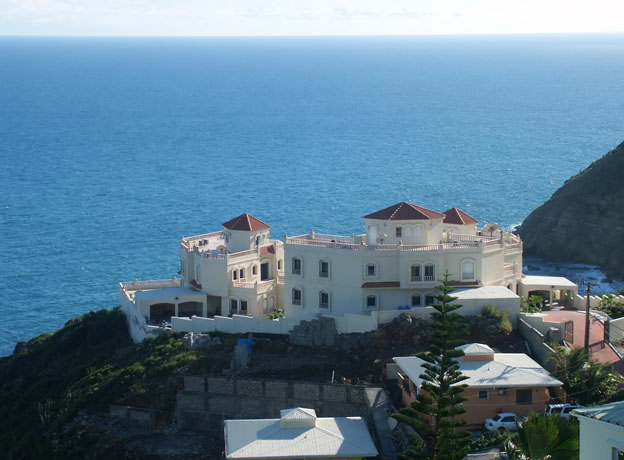 There's some real wealth around here...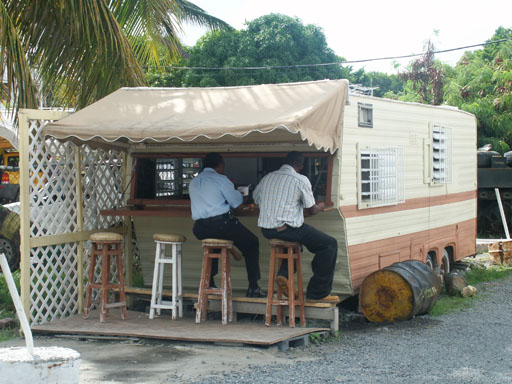 ...but the locals are pretty down-to-earth.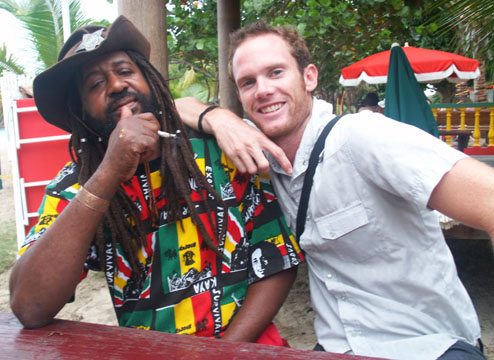 Kali (spliff in hand) and I, chilling out after the first performance at our newest
regular gig, last Sunday. He's the owner/manager of Kali's Beach Bar at
Friar's Bay on the French side. A native of St. Martin and as rasta as they come.



< previous&nbsp&nbsp&nbsp&nbsp&nbspnext >