Location: Palma de Mallorca
Local time: Thursday, 7:50pm
Music: Spanish gibberish behind me

A dock walker. That's what I've become. Every morning from 8am we're talking our way past security guards, into the megayacht marinas. Up and down the docks we trudge... "s'cuse me, don't suppose you've got any daywork going do ya?" A hundred times a morning. Well, that's what it feels like. Dock prostitutes.

As yet, nothing's come of it, although I'm sure the 2-3 hrs of walking each day is reducing my cholesterol level. A few leads, a few "maybe next week"s, but nothing that puts cash in my wallet (which, incidentally, was killed in the washing machine the other day).

After a little luck and timing, we managed to move into a 'crew house', in the 5th floor of an apartment building. The bedroom has spectacular views over Palma bay, the yachts and the huge gothic cathedral. There's a kiwi couple and a girl from Uruguay living with us, all in the boat industry.

The Balearic island of Mallorca (pop. 785,000 and a 7hr ferry ride from Barcelona) is much larger than I'd expected, and the city of Palma (pop. 300,000) is a mix of charming old palaces, cathedrals and bridges in the Old Town, and rows of identical high-rise resorts lining the waterfront around the bay. Palm trees line the avenues, which are filled with tour buses ferrying British tourists around the island. Food is surprisingly cheap, but eating out can still add up. And it's hot - 30 degrees most days, but it's apparently cooled down since last month.

It's not the Mediterannean equivalent to Sint Maarten that I had been half expecting. It's too big and impersonal. You never get that "I'm living on an island" feeling. It's a nice place, but I could never stay here long term.

The streets aren't as crowded as Barcelona, where you must drive with your foot planted on the gas, and one hand resting firmly on the horn, whilst completely disregarding your fellow man.

There's not much in the way of live music venues here, so I don't think it's worth the JukeBox Heroes paying the place much attention. And the bars I've visited are packed with Aussie, South African, British and kiwi sailors. Hurrah.

I'm sure that if I had a job paying me good money on a (semi) regular basis, I might view Palma in a different light and really enjoy living here, but right now it's a bit demoralising! I miss the lifestyle and disposable income I had in Sint Maarten, and am really starting to look forward to another successful season of music back in the Caribbean. I'm also excited about finding a delivery crew position on a boat and making my first trans-Atlantic crossing...

----------
Update
Since beginning this entry (on the beach on paper, a few days ago), we've managed to organise a ride outa here. We are to be delivery crew aboard the 88ft sailing yacht 'Opium' (check out www.sailopium.com), leaving on the 7th of October for Gibraltar and then the Canary Islands (off the west coast of Africa) where we'll spend about 3 weeks, in Las Palmas. From there we'll make the final leg of the trans-Atlantic crossing to the Caribbean island of Antigua, arriving around the 23rd of November, at which point we'll leave the boat. From there it's an easy over-night sail to Sint Maarten (if we can find a ride), or a cheap 45 min plane ride.

Opium is a beautiful luxury yacht built in 1998, with all the trimmings, and I'm really excited about the voyage. Long nights and hot days in the middle of the ocean, with the only entertainment being my guitar, 7 other people, a 36" plasma screen and DVD collection, and gourmet food prepared by the on-board chef. Nice.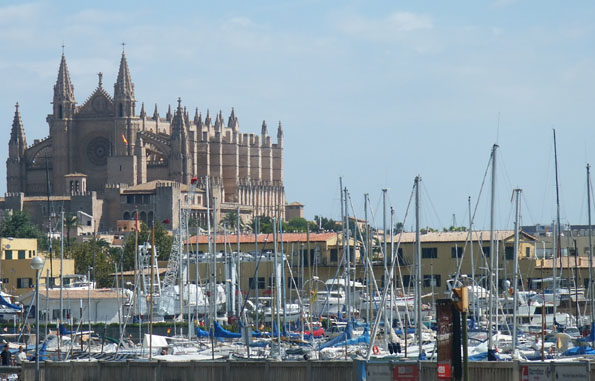 The gothic cathedral, overlooking the bay and Palma's old town. Built in the 1200s, it stands on the site
of a Mosque (strangley enough, Muslim history is very much entrenched in Spain).
Inside, it contains a number of Gaudi designs.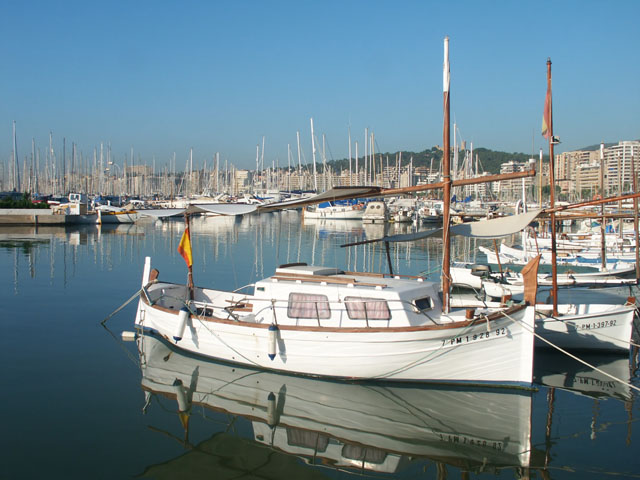 Not one of the larger megayachts to be seen in Mallorca, but still somebody's pride-and-joy.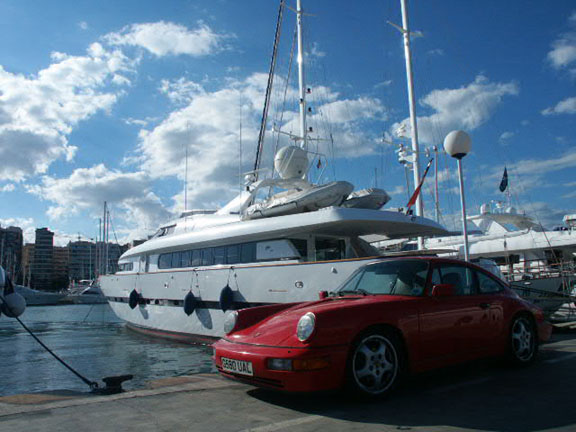 This is more like it!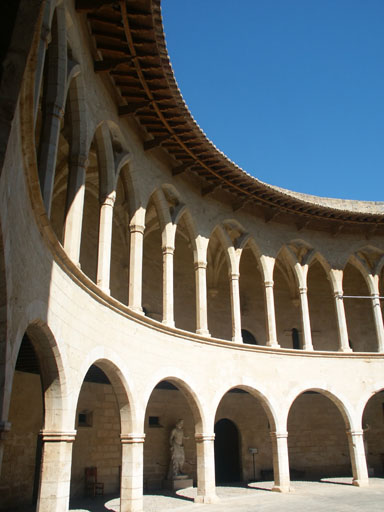 The inner courtyard of Castle de Bellver, originally built
as a royal residence in the 1300s.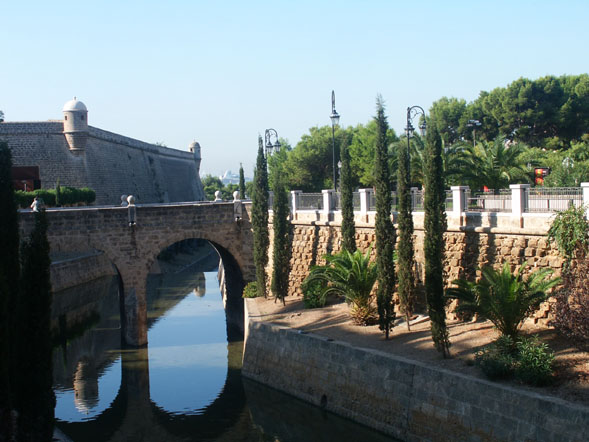 One of the many bridges over the waterway that lines the orginal city walls of Palma's old town.



< previous&nbsp&nbsp&nbsp&nbsp&nbspnext >