Location: Fort Lauderdale, Florida
Local time: Sunday, 10:30pm
Music:


In Antigua, working 8 to 5 Monday to Friday meant we thankfully had weekends off, allowing quality beach time, or, in my case, some quality wakeboarding time. I had also managed to secure a regular Thursday night gig at Skullduggery Cafe, the local yachtie bar. That turned out to be bloody fantastic actually - they had their biggest night since they could remember, and eventually asked me to stop playing because they'd run out of beer and ice and couldn't keep serving the clients. (*ego boost!*)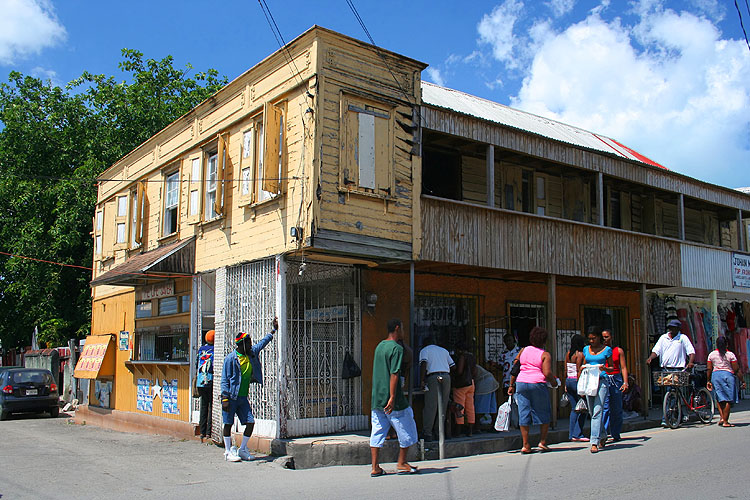 Antigua, like most other Caribbean islands, is fairly poor, and the capital, St Johns (pop 25,000), is certainly no exception.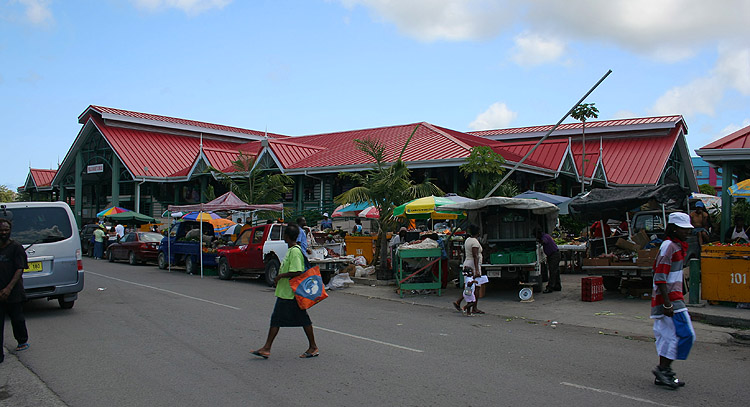 The local fruit and veg market...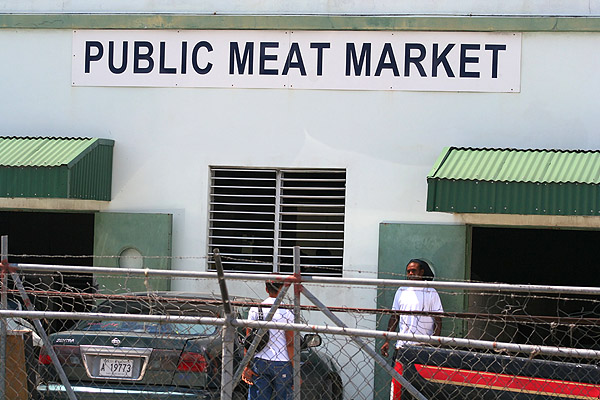 ... and the local dating service?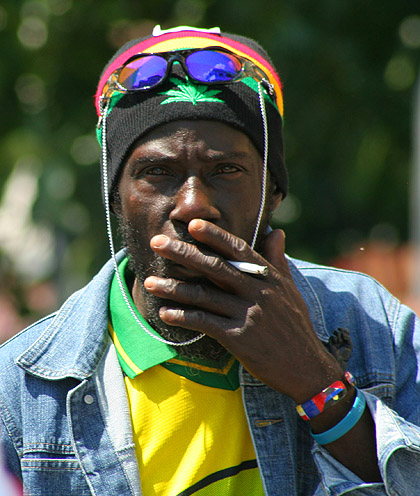 When you've got a joint, it doesn't matter what you wear!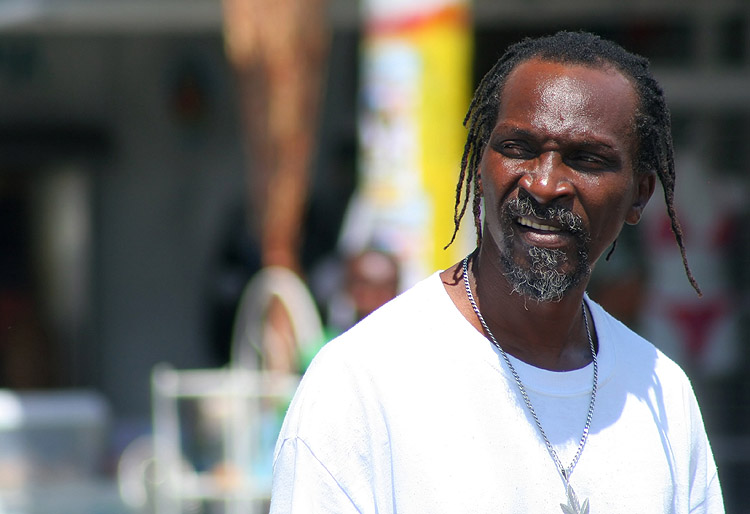 Some local faces...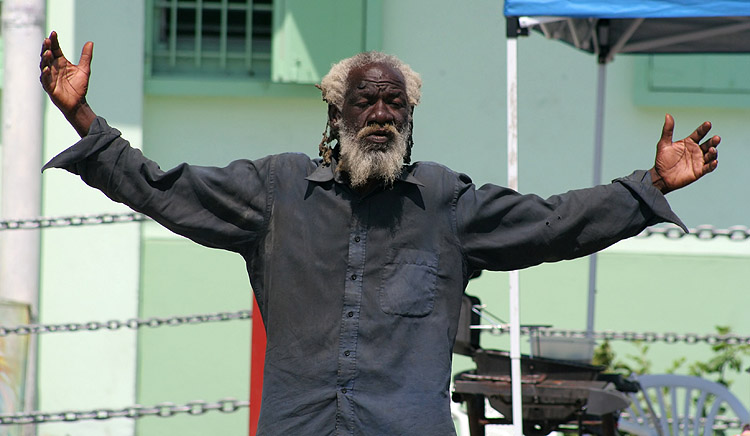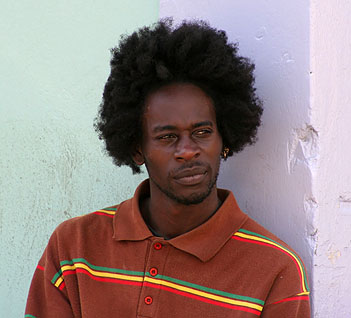 Afro Man.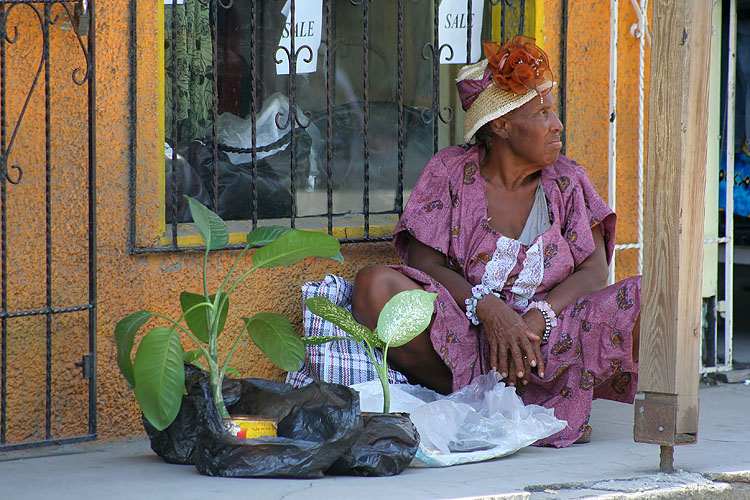 An old lady selling plants on the roadside.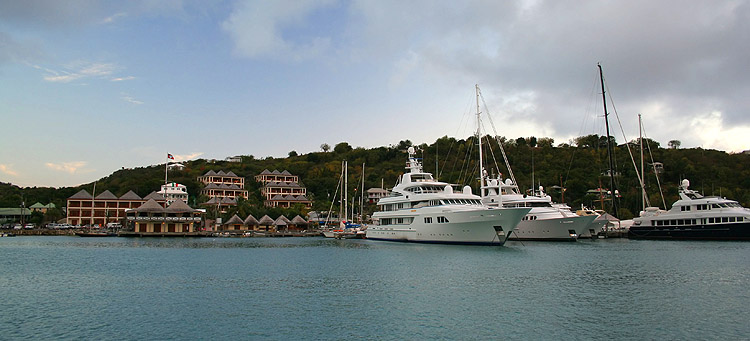 Looking from the boat towards the small cluster of restaurants (and Skullduggery Cafe) in Falmouth Harbour in Antigua.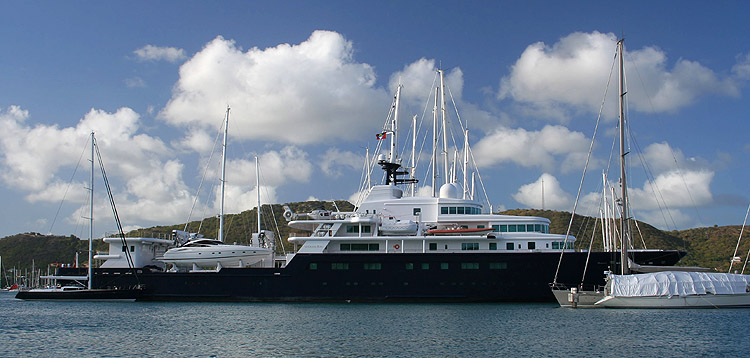 While in Antigua, Le Grand Bleu - the 370ft (114m) private yacht - pulled up beside us on the dock. We were no longer the
biggest boy on the block. That's a black 70ft sail boat moored along side - it normally sits on chocks up on deck. There's also a
68ft powerboat sitting on the deck. Both barely ever get their bums wet. Le Grand Bleu was once owned by Roman Abramovich,
Russia's richest man, who now owns the Chelsea football club. But in June last year, he gave the boat away to his friend.
Never mind - he still has three others, plus the 525ft (160m) Eclipse currently being built in Germany. It's a tough life!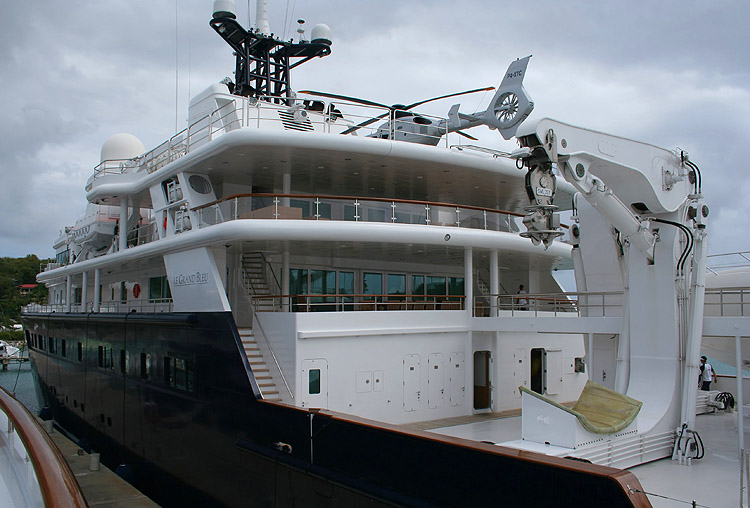 One of the monstrous cranes used to lift the sailboat onto the deck. The multi-million-dollar EuroCopter hellicopter sits on the heli-deck above. (Photo taken from the bow of Polar Star)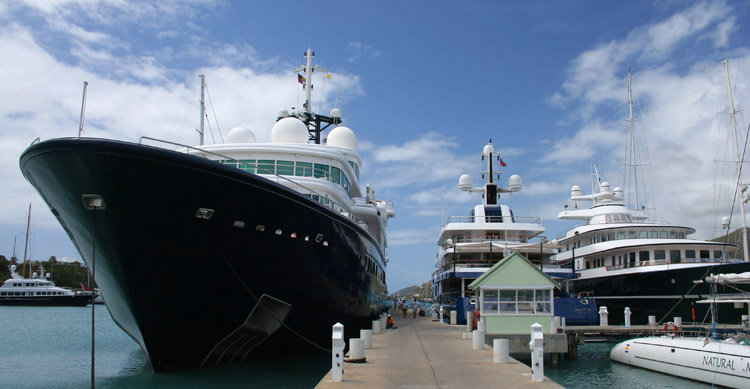 We're the 'little' guy in the middle!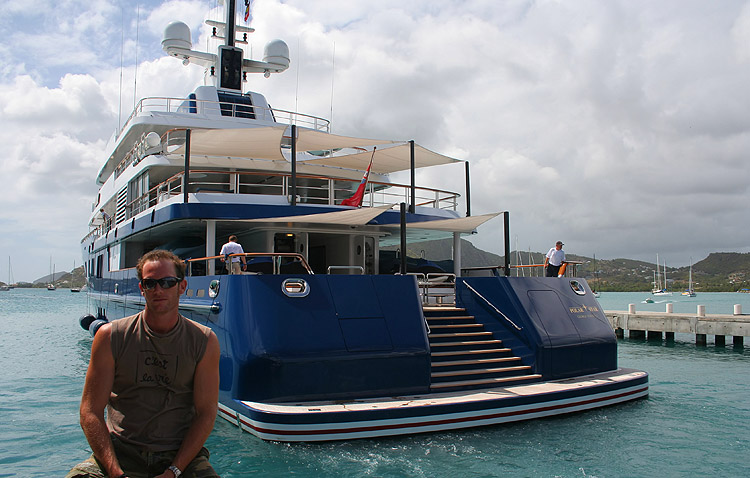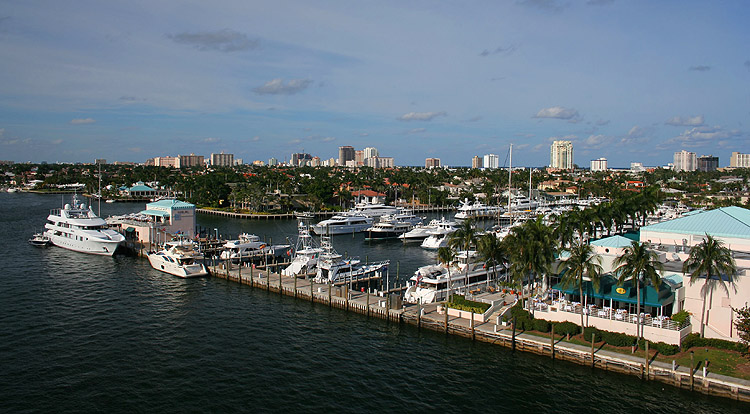 Fort Lauderdale is full of waterways that go right up to the million-dollar houses, and pleasure and tour boats cruise past all day every day.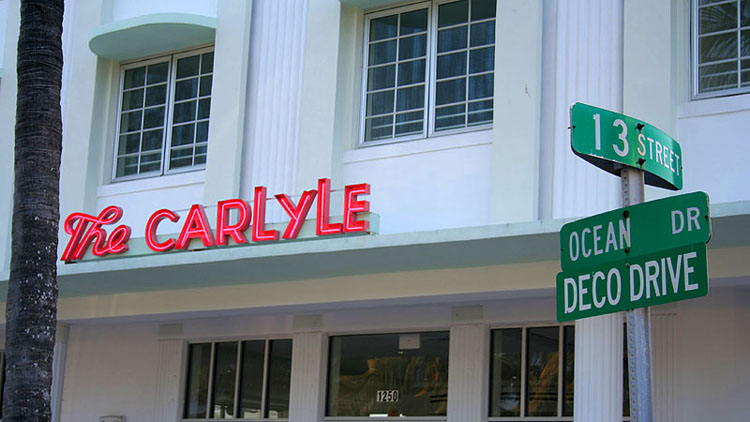 I took the train to South Beach Miami last weekend. It's supposed to be famous for it's 'art deco' architecture.
I wasn't so impressed... it wasn't any better than Napier in New Zealand.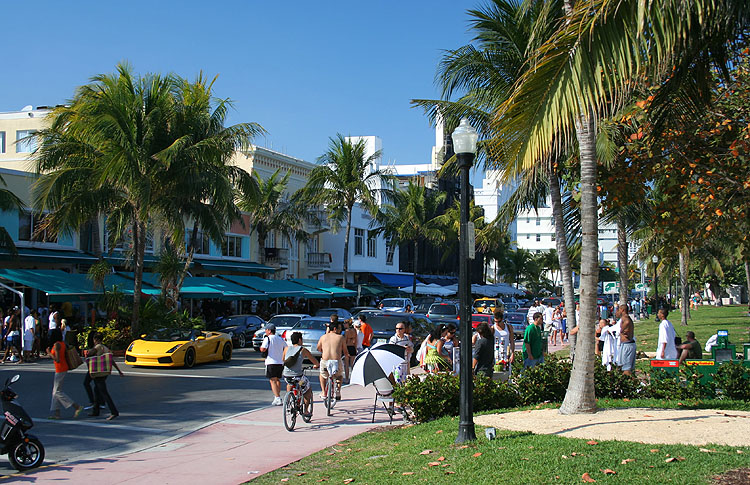 It was jam-packed full of students on Spring Break... a lot of posers, and a lot of rich kids driving daddy's car up and down
the beach-front. The place to be seen.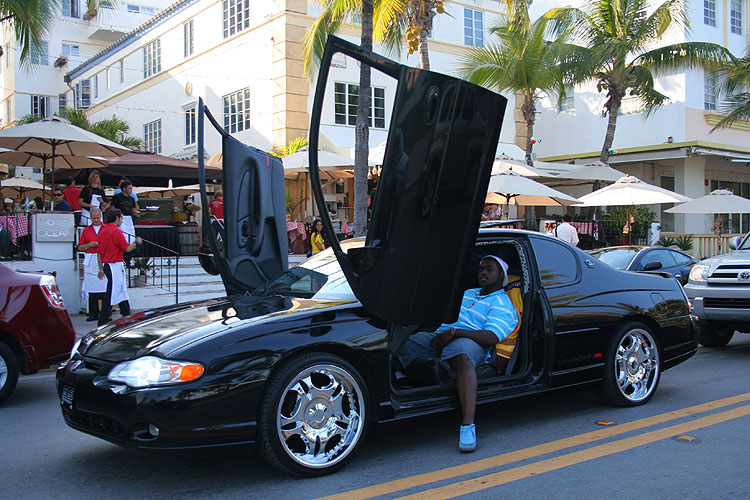 'nuff said.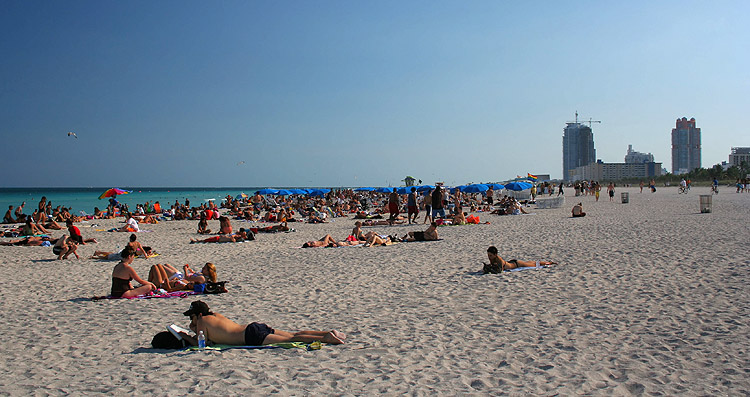 Other than being very wide, the beach itself is really nothing special.
Or perhaps my opinion's been spoiled by too many Caribbean beaches.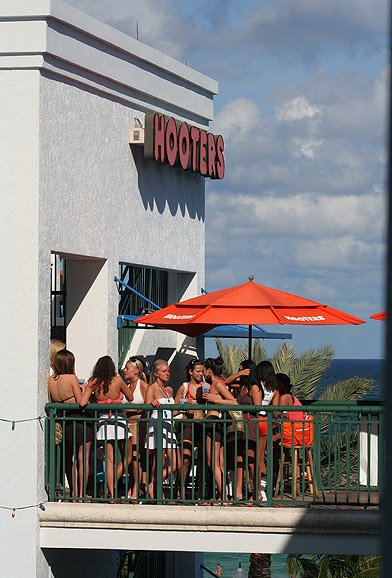 I'd only ever heard about it on TV (Al Bundy loves to go there in
Married with Children), but there's a Hooters bar on the
Fort Lauderdale beachfront. Again, nothing special. The only
thing unique about it is the waitresses strutting around in tiny
Hooters outfits.



< previous&nbsp&nbsp&nbsp&nbsp&nbspnext >