Location: Nice, France
Local time: Thursday, 1:25pm
Music:

Oh I forgot to mention that I went to Italy the other day, for work. Not boat work, but the guy that called me got my phone number from a boat. He needed somebody to help him move from Nice to Tuscany Italy. Thus I was finally able to meet the full cost of the course in Sweden, and to see a little bit of Italy. Their new house was in Viareggio, so once I'd finished the job, it was only a 20 min train ride to check out Pisa and its famous leaning tower. Unfortunately I've still yet to see the major attractions of Italy - Rome, Florence, Venice etc. One day.

I'm still waiting around for a boat job here in Nice. I've been put forward for perhaps 6 in total now, but as yet haven't heard back about that 'dream job' I mentioned in my previous diary entry. Recently I've been weighing up a move to Fort Lauderdale (Florida), where I've heard from a few friends that there's loads of boats and work going. However the cheapest ticket I can find (Nice-New York) is US$482, so for now I'm trying to hold off on that and find a job here. I'd rather cross the Atlantic (if I have to) on a boat, getting paid for it.

A new development as of last night is that I'm flying out to Estonia, my 'second home', on Saturday. I had a call from friends there who want to pay for my (return) ticket so that I can head over, see everybody, and produce a web site for their new company. As I've (hopefully) got job interviews lined up at some point back here in France, I'm not gonna be able to stay for too too long, but still, it's gonna be great catching up with everybody again.

By the way, I now have a guestbook, if you care to sign it. (At the moment it's empty!)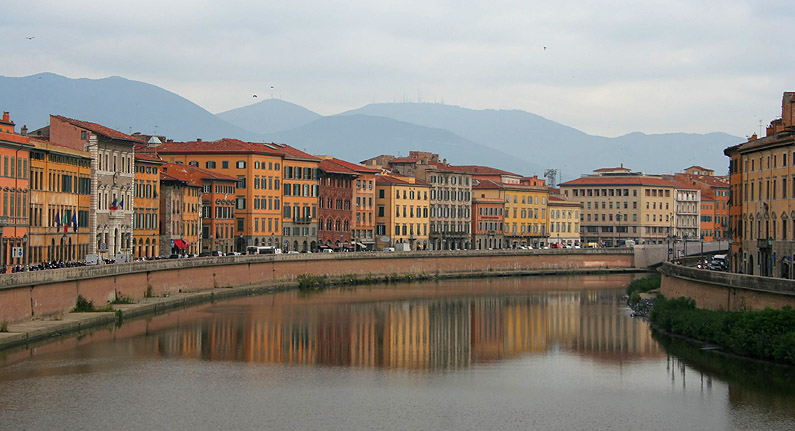 The town of Pisa (pop. 89,000)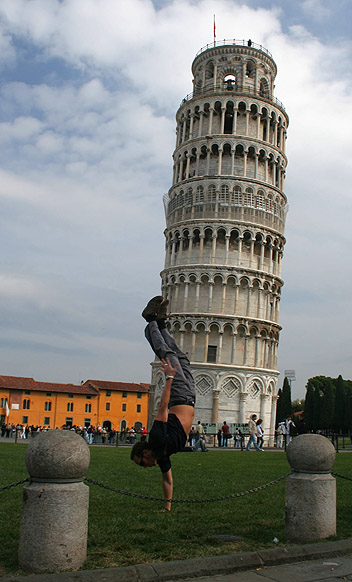 The obligatory one-hander, in front of La Torre di Pisa -
the cathedral's free-standing bell tower, in the
Campo dei Miracoli (field of miracles). The 56m tower
was begun in 1173, and started leaning only 5 years later, due
to a weak soil foundation. It was re-opened to the public in 2001
after being closed for 10 years, during reconstruction and
stabilisation efforts. The tower has since been declared stable
for at least another 300 years.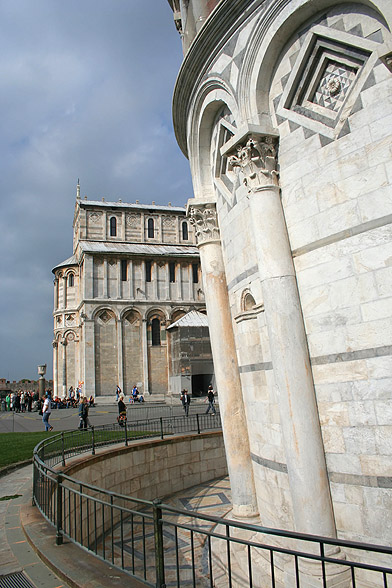 A shot of the tower's base.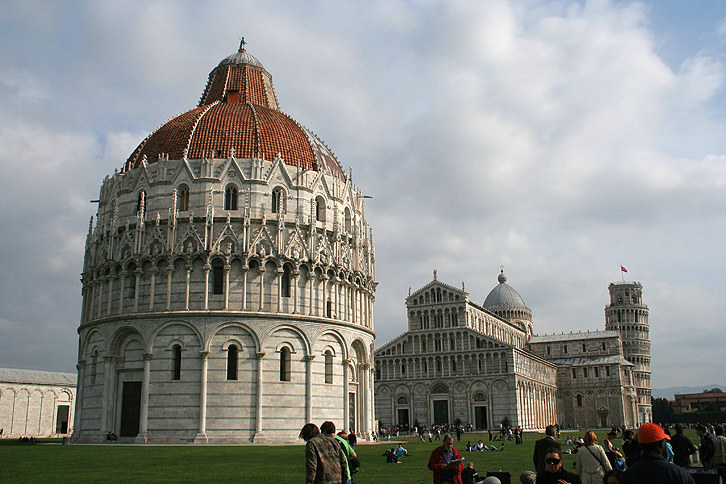 The cathedral's baptistry.



< previous&nbsp&nbsp&nbsp&nbsp&nbspnext >