Location: Märjamaa, Estonia
Local time: Thursday, 3pm
Music:

We arrived in London to the obligatory grey, wet weather. It just wouldn't be England without it. After spending £8 each to get from Stansted Airport into the city (the equivalent of dinner for two here in Estonia), we wandered around (schlepping our heavy bags along with us) and ended up at Buckingham Palace (which I've always found to be rather dull), then Picadilly Circus. After waiting on the ground inside the Victoria tube station (our feet were tired!), we met up with my old school friend Terry, who's now living and working in London. (Thanks for letting us crash at your place dude!) The following day we woke to a text message from Estonia. My new camera had finally arrived back from getting repaired in the States and was sitting in Customs awaiting collection. Bloody brilliant. After a little fuming and swearing, we went out and hit the usual London sights - the Houses of Parliament and Big Ben, along the river past the London Eye (giant ferris wheel), across the Millennium Bridge, lunch on the steps of the St. Paul's Cathedral, and then shopping heaven (for Krista, anyway) at the always-bustling Camden Markets.

The next day we rose at the ridiculous time of 3:30am to walk (30 mins) to the airport bus at Golders Green. We landed in Salzburg Austria rather exhausted, but exited the airplane to clear, crisp alpine air - there were huge mountains on three sides of us. We picked up the rental car (a 2005 Renault Megane turbo diesel wagon - great to drive, very economical, and most importantly a quality sound system) and then slept for a couple hours at the hotel. We wandered around the Salzburg old town, got lost trying to find the car, and arrived late (but only just) to pick up Mum and Dad from the train station (arriving from Zurich). They were the same as I remember them, and I soon forgot that I hadn't seen them in almost two and a half years.

The home of Mozart, Salzburg is a quaint little city full of grand old buildings and gingerbread houses. Not to mention the hundreds of tourist-trap shops and stalls selling all sorts of crap, from Mozart chocolate, to Mozart glasses. After receiving a €21 parking ticket, we got out of the city and drove around the amazing alpine Salzkammergut lakeland district, with crystal blue lakes surrounded by towering rocky mountains. Having a rental car provided us with so much more freedom than I'm used to when travelling - it was great getting off the beaten track. I wish Mum and Dad could pay for a rental car in every country I visit! We had dinner that night in little St. Gilgen - typical schnitzel, bratwurst and a local Austrian brew (Stiegl, since 1492), which in my humble opinion was a little bland.

The following day we hit the road. The Austrian roading system is well sign-posted, of good quality, and the 130kph speed limit makes much more sense to me than the silly 100kph back home. We visited Kristallwelten, the Swarovski crystal factory (a special event for Mum!), drove through the smaller alpine city of Innsbruck (two-time host of the Winter Olympics), where we had another of the local brews, and then on to Munich Germany. But I'll leave that for an upcoming entry...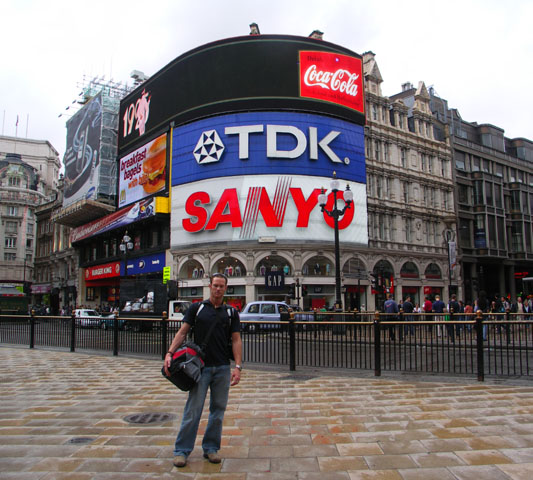 The obligatory Picadilly Circus photo, and the over-packed bags I was humping around.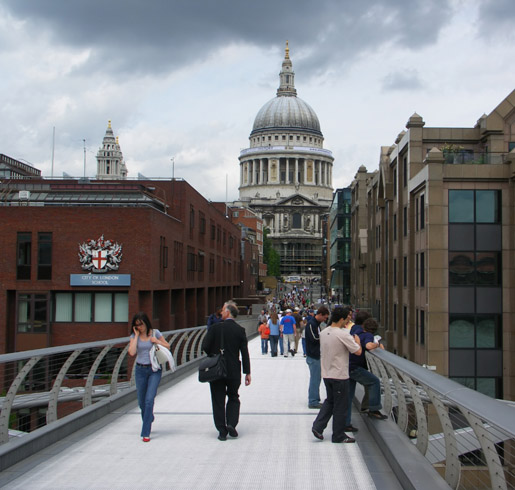 Looking down the Millennium Bridge at St. Paul's Cathedral,
designed by Sir Christopher Wren in 1673.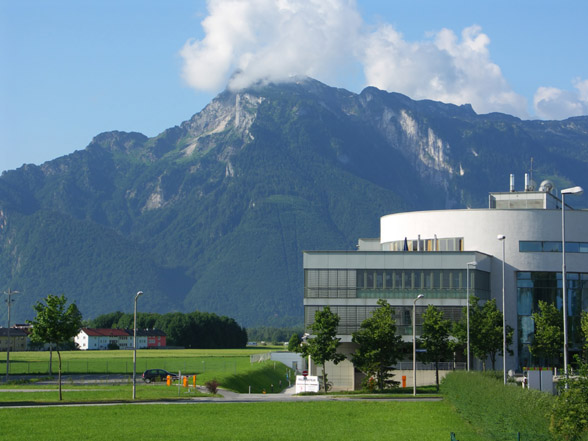 The view from our hostel/pension in Salzburg, of a German alpine range barely 5km away.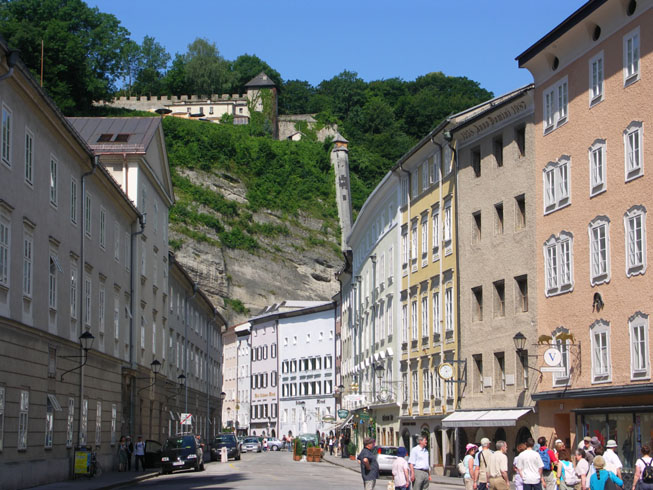 Salzburg altstadt (old town) lies beneath a huge rock cliff, topped by the castle.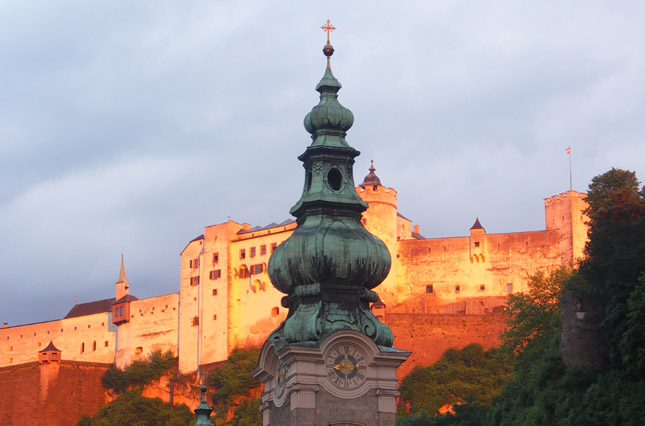 The 11th century Hohensalzburg Fortress overlooking Salzburg, spectacularly caught in the late afternoon sun.
It is one of Europe's largest castles, and has never been captured by enemy forces.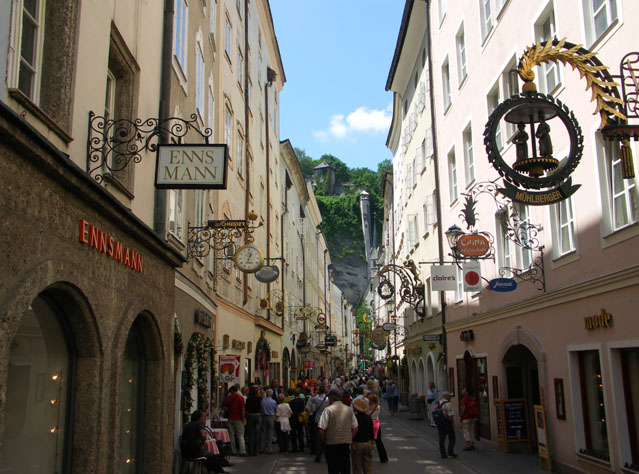 The main pedestrian street of Salzburg's old town has strict regulations about keeping in theme.
Even the McDonald's sign was intricately ornate.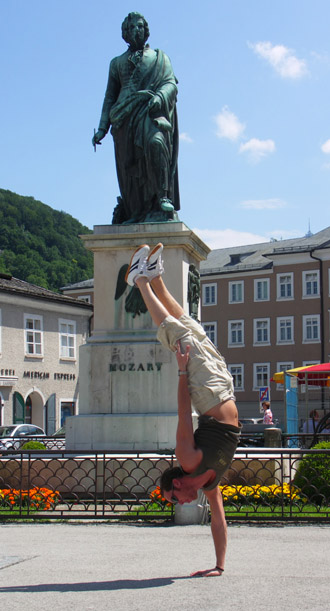 In following with my 'handstand in every country',
here's one in front of good ol' Mozart.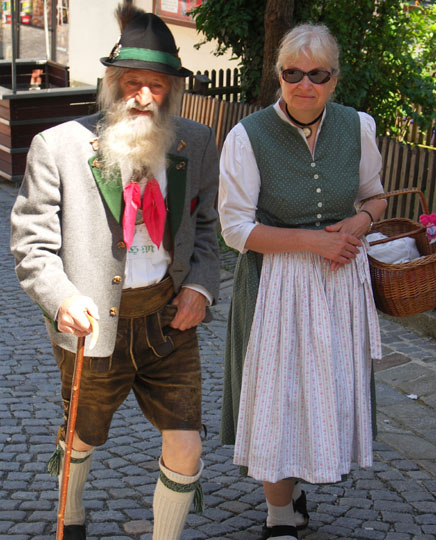 A couple of cute old-timers wandering the streets decked out
in their national costume. A prime photo opportunity.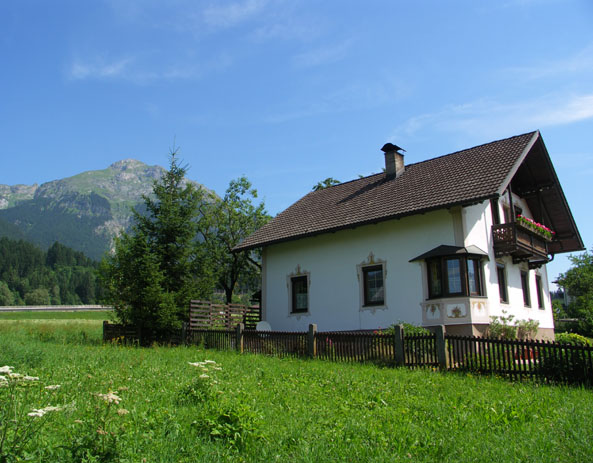 A typical Austrian home - very well taken care of, tall sloping rooves with large eves,
and always having well-tended flower boxes below the windows.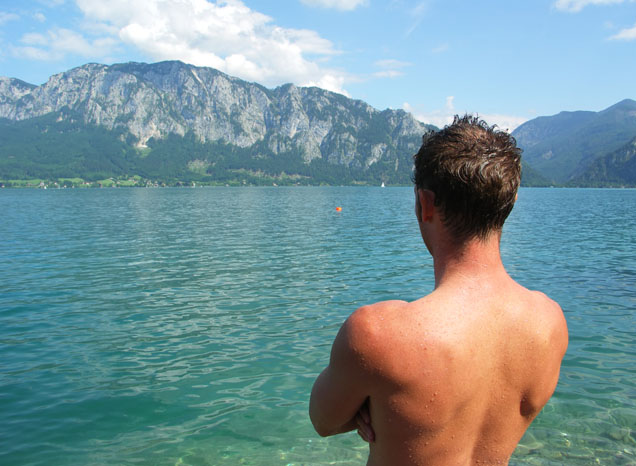 It was 30 degrees and I couldn't resist pulling over, stripping to my boxers, and diving into this clear blue lake.
One of my good memories of Austria. (After a little persuasion I managed to convince Krista to jump in too.)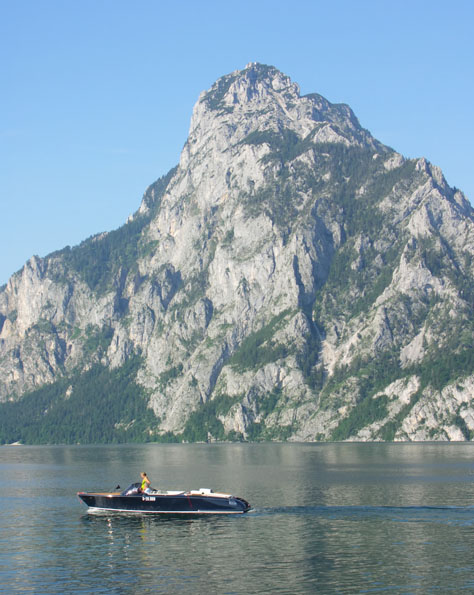 One of the locals crusing past in their weekend boat. You can just make out
a building at the top of the peak. I bet they have a million-dollar view!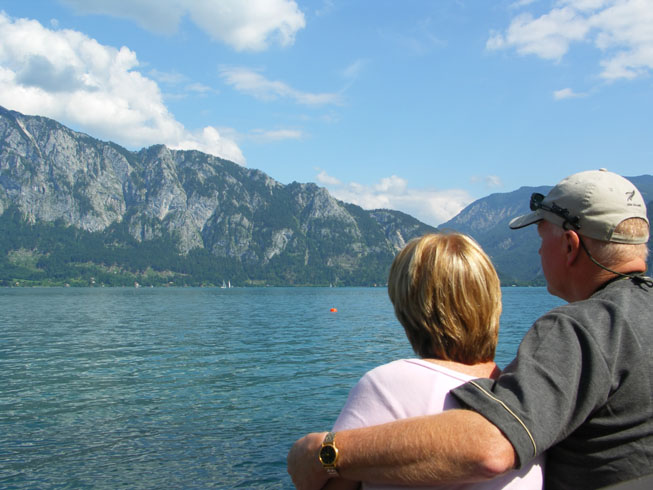 After weeks of hectic sightseeing in Italy and Greece, Mum and Dad
really enjoyed taking time out to just chill beside the lake.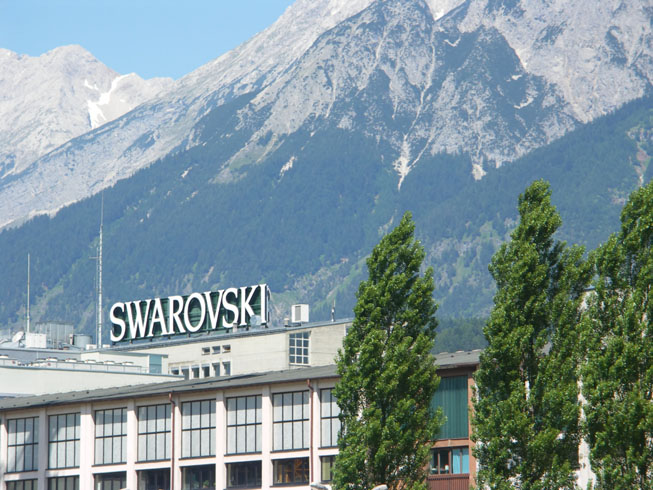 The Swarovski factory enjoys a great picturesque setting.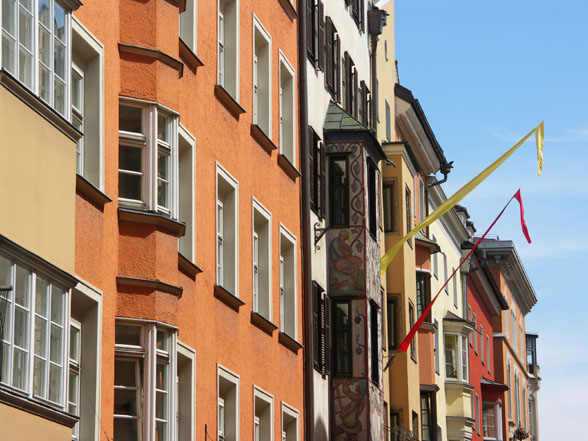 Some of the colourful old buildings lining the streets of Innsbruck.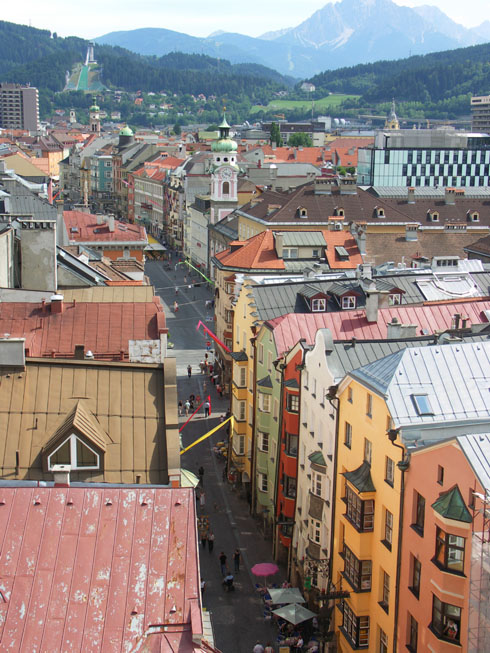 Looking out over Innsbruck from the 15th centure Stadtturm (town tower).
Notice the ski jump for the winter olympics in the background.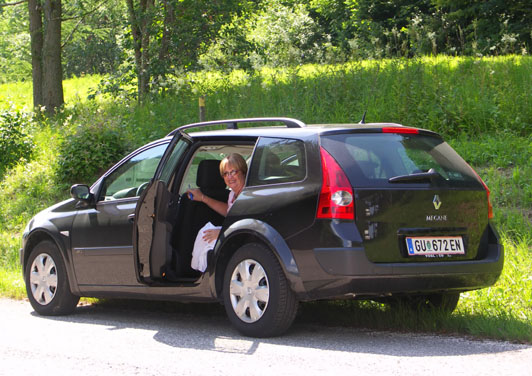 Mum in her spot in the rental car.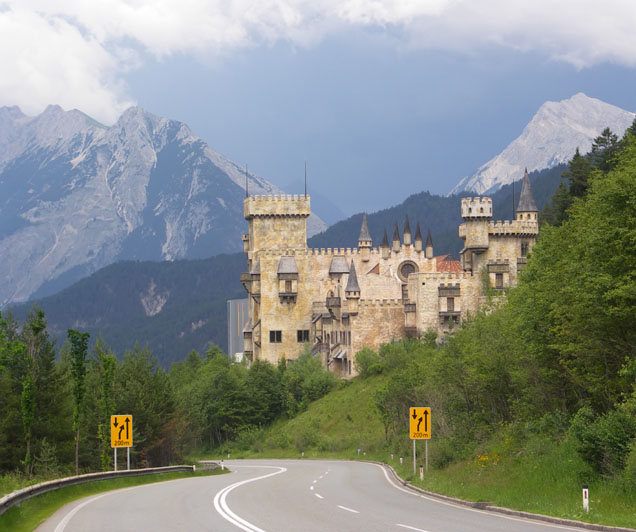 A castle we passed on our way to Munich. Looking at it up close, I actually think it was fake
(you can see a modern building poking out to the left of it), but I'll never really know.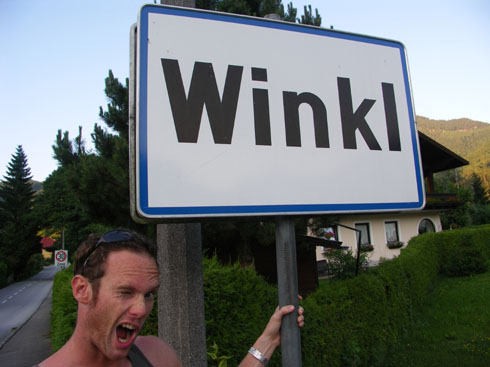 < previous&nbsp&nbsp&nbsp&nbsp&nbspnext >